The Official Newsletter of the University of Puthisastra (UP)-Vol.29 for 01st Dec 2019 Download
White Coat Day Ceremony for MD student and Medical Laboratory student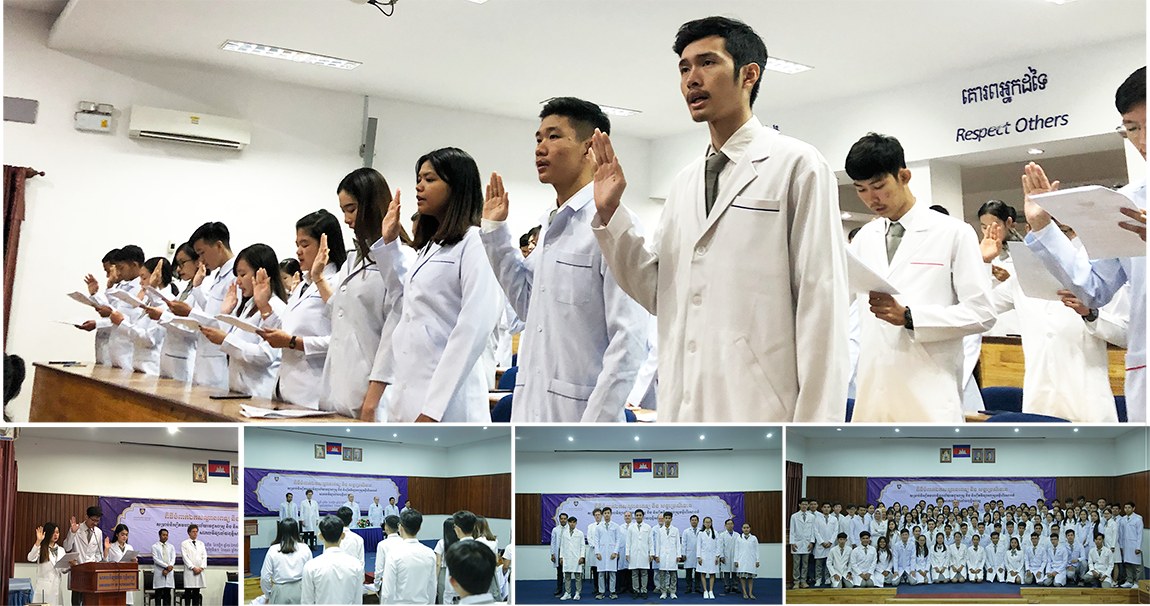 On October 31, 2019 Faculty of Medicine and the Department of Laboratory Sciences, University of Puthisastra held a White Coat Day Ceremony and Oath for Medicine and Medical Laboratory Technology students. A total of103 students participated in the ceremony which had the great honor of being conducted in the presence of Professor Ian Findlay, President and Vice Chancellor, University of Puthisastra.
UP HOSTS FIRST COURSE ON CBCT IN CAMBODIA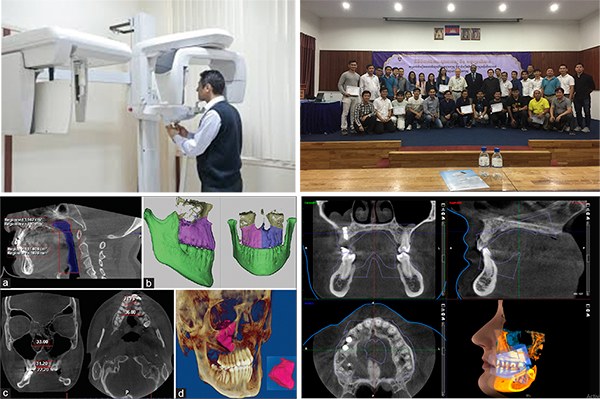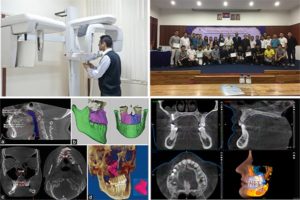 UP recently hosted a 1-day course on Cone Beam Computed Tomography (CBCT) which also included lectures on digital and panoramic radiography. The lecturer was Professor Phrabhakaran Nambia, Specialist in Oral Maxillofacial Radiology, from MAHSA University in Malaysia. The course was attended by dentists, trainee oral maxillofacial (OMF) trainees, and dental students from 3 universities. Professor Phrabha gave a detailed and well-illustrated talk about how CBCT works, indications for use, and how images can be manipulated and interpreted. The number of CBCT machines is rising in Cambodia, as they have important applications in areas such as implant surgery, third molar surgery, orofacial trauma and OMF pathology. UP itself is planning to purchase a CBCT machine in 2020, which will help us to provide the highest quality dental services to our patients as well as excellent training for our students.
We would like to hear from you ! send your comments, news, testimonies to upvoice@puthisastra.edu.kh
what's up on campus
• 18 Nov-2019
ICT BA Y4 Exit Exam
• 23-24 Nov-2019
National Entrance Exam
• 28-29 Dec-2019
National Entrance Exam for Associate Degrees
• 4 Dec-2019
Internal Exit exam for MD, DD, ADL, ADM, PH
• 10 Dec-2019
International human rights day
Memorandum of Understanding Signing between Hebron Medical Center and University of Puthisastra
UP celebrated its MOU signing UP on 25th November 2019 between Hebron Medical Center and the University of Puthisastra. The MOU was signed by Dr. Hyungsuk Lee, Medical Director of the Hospital, and Prof. Ian Findlay, President and Vice-Chancellor of UP. Prof. Kang Yang, Director of External Affairs of Hebron Medical Center and Prof. Sandro Vento, Dean of the UP Faculty of Medicine, were present.
This important MOU will allow UP medical (MD) students to get clinical training and practice real skills at Hebron Hospital which is one of the most modern and well-equipped Hospitals in Phnom Penh.
UP Lab Tech students exchange to KKU, Thailand
Students from UPs Medical Laboratory technology were delighted to visit Khon Kaen University, Thailand as part of a long standing exchange program. Students experienced many exciting discoveries and opportunities as well as participating in activities including campus tour with local students, orientation with to Dean Associate Medical Sciences, culture sharing and visiting the National Blood Center. Students practiced their own medical laboratory skills at the Srinagarindra Hospital and also joined the International conference on Medical Technology at the Avani Hotel. This exchange program has been a very good eye-opener for them to improve themselves and share these experiences with their friends back home.
MoU signing between UP Faculty of Pharmacy and Ucare Pharmacy Chain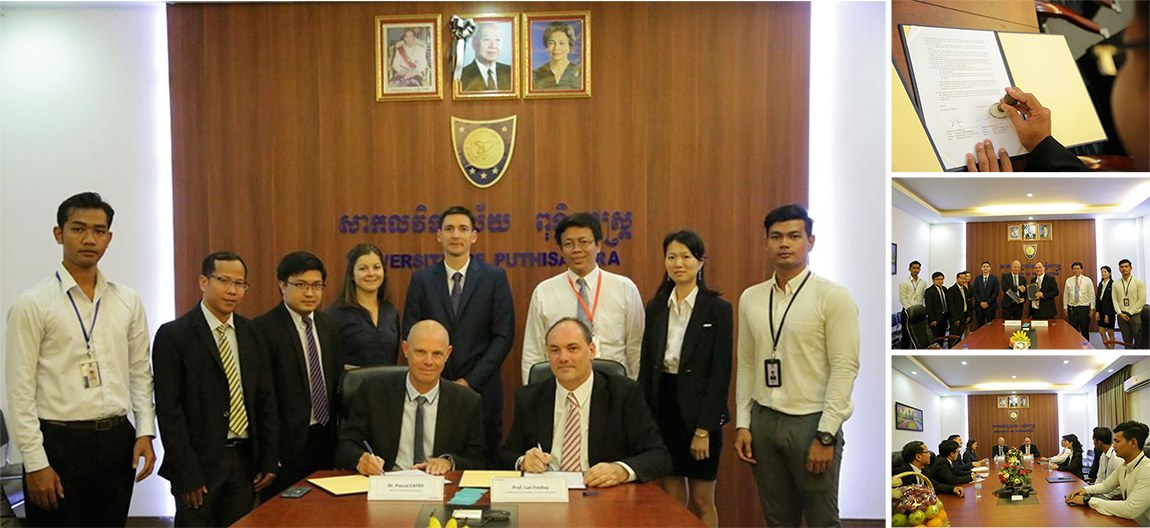 On November 26, 2019, UP celebrated a MOU signing ceremony between UP Faculty of Pharmacy and Ucare Pharmacy, the leading, biggest, and oldest pharmacy chain in Cambodia. The MOU is aimed at reinforcing the quality and accessibility of community pharmacy across Cambodia. Through this collaboration, UP and Ucare will work together to ensure that our students and alumni have the opportunities to be able to fully use their pharmacy knowledge and skills to effectively serve their community.
Ucare pharmacy chain will provide technical support such as training, internship and job opportunities to UP pharmacy students and alumni giving UP pharmacy students a great opportunity to be ready for Work from day 1 at the 23 branches of Ucare.
UP is very proud to host the "Blockchain in Cambodia" presentation last week by Dr. Kendrick, lecturer and president of the Cambodian Blockchain community, and Mr. Chhay, Co-Founder of Serey.io, which a new generation of social media based on blockchain. The session gave a quick summary of Blockchain applications in Cambodia and ended with an introduction to HyperLedger.
4th Health Community Project conducted by the Department of Laboratory Sciences
From November 21st to 23rd, 2019 UPs Dept of Laboratory Sciences, conducted their 4th Health Community Project on "Medical Laboratory student and Buddhist monk's health" at Prasat Neang Khmao Buddhist Primary School and Monastery, Char Village, Roveang Commune, Somrong District, Takeo Province.
This exciting project created activities for medical laboratory students to contribute to medical laboratory health community, charity events, and local projects. This community project was sponsored by UP, KUANG HSIEN Medical Instrument Co., Ltd., Pocari Sweat Cambodia, and Samaki Medical Laboratory.
UP Year 4 Dental Student was awarded a scholarship at Hiroshima university, Japan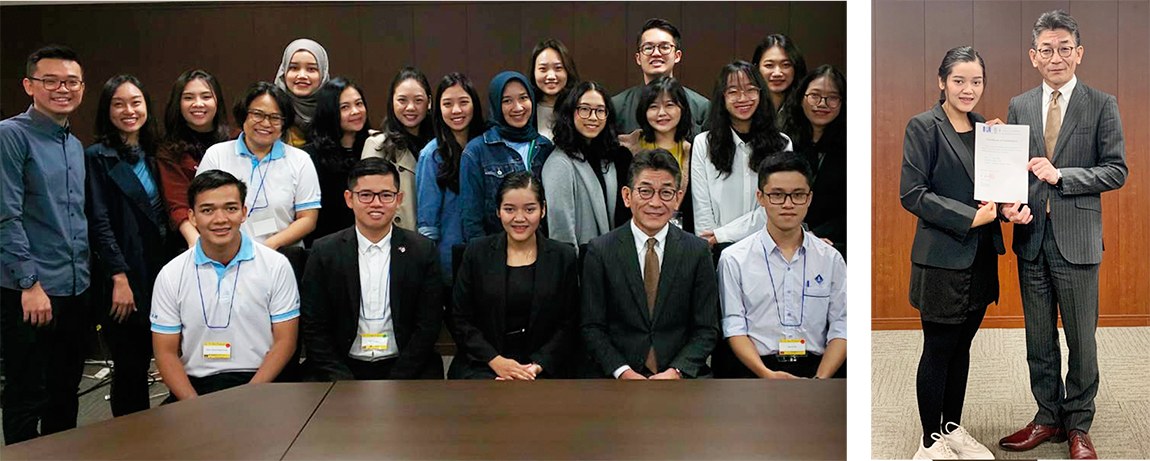 UP is very proud to announce that Year 4 Dental Student Soun Somaly was awarded a scholarship to attend a 10 day training program for dental students around Southeast Asia at Hiroshima University in Japan. Somaly won the scholarship because of her outstanding academic record, and her community service and student association activities. Somaly reported that she learned a lot during the visit, which will help her as she continues her studies at UP. During her time in Japan Somaly focused on learning more about dental sciences as well as seeing first-hand how the Faculty of Dentistry at Hiroshima University operates. Hiroshima University is one of the top Universities in Japan, and a longstanding UP partner providing opportunities for students to travel internationally and participate in a range of social, cultural and academic activities with other students.
Many UP dental students now have the chance to travel abroad to many countries for exchanges or conferences, including Thailand, Malaysia, Indonesia, Australia, USA, Taiwan and Japan.
On Sunday 24th November, UP Football Team played a friendly match against Bayon Wanderers FC. This was the first time that a team from this University had played a competitive game against an external team. Although Bayon went on to win the game by 6 goals to nil, their team consisted of players from Europe and Africa and were physically bigger, stronger and far more experienced than the boys from UP. However, coach Dave Spencer was proud that his team battled until the end, all players giving 100% effort.
"This was a learning experience for all my players," said Dave. "We can now take the things we learned today into future games, making the team stronger and more confident. I want to thank everyone who came along to support the team today, and special thanks to my assistants, Daniel Gillard and Sangdor Mak."
The team hopes this is the first of many games they will play in the future. UP Football Club holds weekly training sessions at LBN Sports Ground, under the guidance of coach Dave Spencer, and anyone from the university is invited to join.
UP Faculty of Pharmacy won recognition at international stage
UPs Faculty of Pharmacy had the opportunity to represent its visions, missions, and remarkable advancement on the global stage recently.
UP Faculty of Pharmacy is now a member of the following 5 prestigious international organizations:
1. Member of FIP (International Pharmaceutical Federation), and listed as a world school of pharmacy
2. Board member of ASEAN Association of Schools of Medical Technology (AASMT)


3. Member of Asian Association of Schools of Pharmacy (AASP)
4. Member of ASEAN PharmNET (education and research network)
5. Member of World Union for Herbal Drug Discovery
We hope that our faculties, students and alumni will see these as great opportunities to develop themselves to be a qualified pharmacist locally and globally and make contributions to the country and the world. To be excellent Ambassadors for themselves, UP and Cambodia all over the world
UP has become a member of the management board of ASEAN Association of Schools of Medical Technology
Dr. Chea Sin, Dean of Pharmacy and Mr. OUK Soksereivotanak, Director of Laboratory Sciences, University of Puthisastra officially became management board members of ASEAN Association of Schools of Medical Technology (AASMT) at the 7th AASMT's management board meeting at Lombok, Indonesia on 11th November, 2019.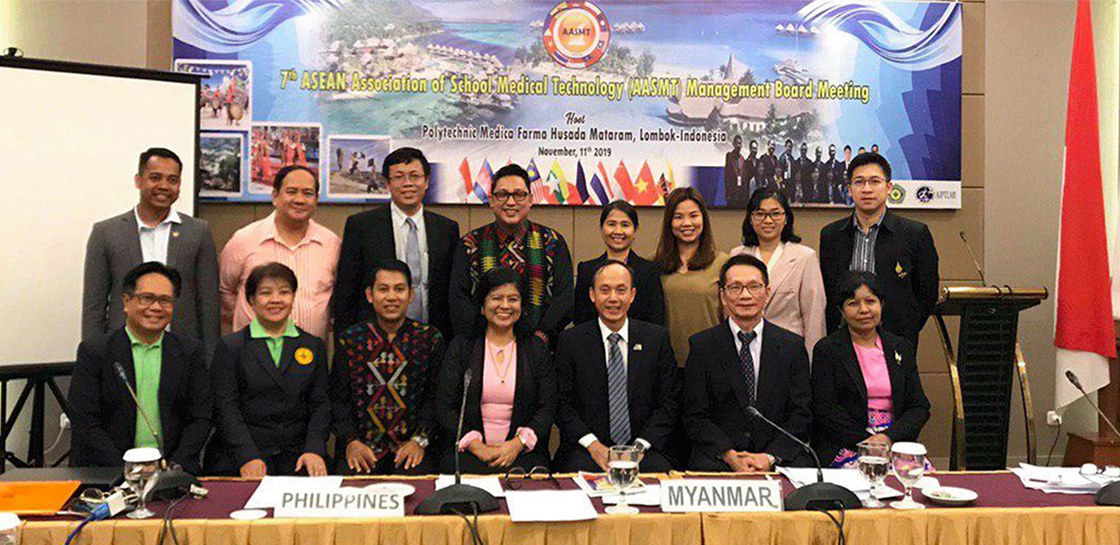 Call for abstract submission for the 3rd Pharmaceutical Research Conference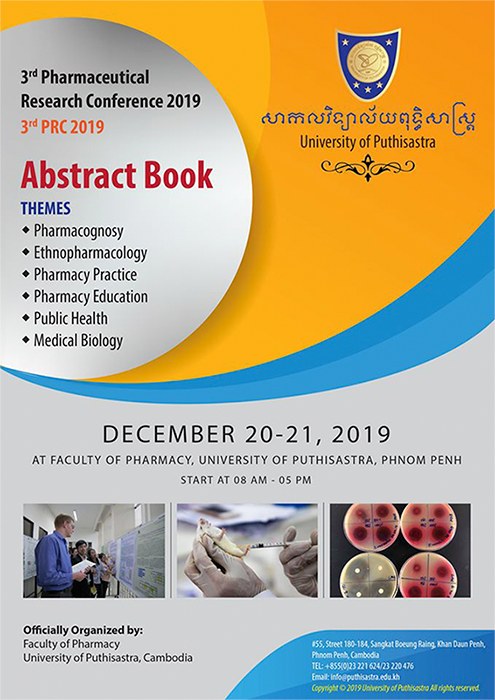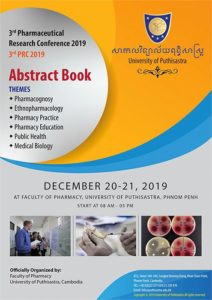 120 dental students from 3 dental schools in Cambodia were involved in a periodontology workshop at UP on 29 October. This workshop focused on basic periodontology, and was conducted by Dr Thann Vuthy, one of only two specialist periodontists in the country.
The Faculty of Pharmacy is thrilled to announce the 3rd Pharmaceutical Research Conference which is going to be held at University of Puthisastra on 20-21 December, 2019.
We are calling for abstract submission from both local and international researchers to present their researches within pharmacy during this conference. This conference will be a great opportunity to allow researchers to contribute and learn about modern advances in pharmacy.
At the same time, dozens of research papers from UP pharmacy students are being presented allowing students to advocate for their science and share their research findings with the public.
This is visibly a great time to meet up with researchers and possibly coming up with many new inspirational perspectives for the new year!
FACULTY OF DENTISTRY HAS VISITORS FROM AUSTRALIA, JAPAN AND THE UK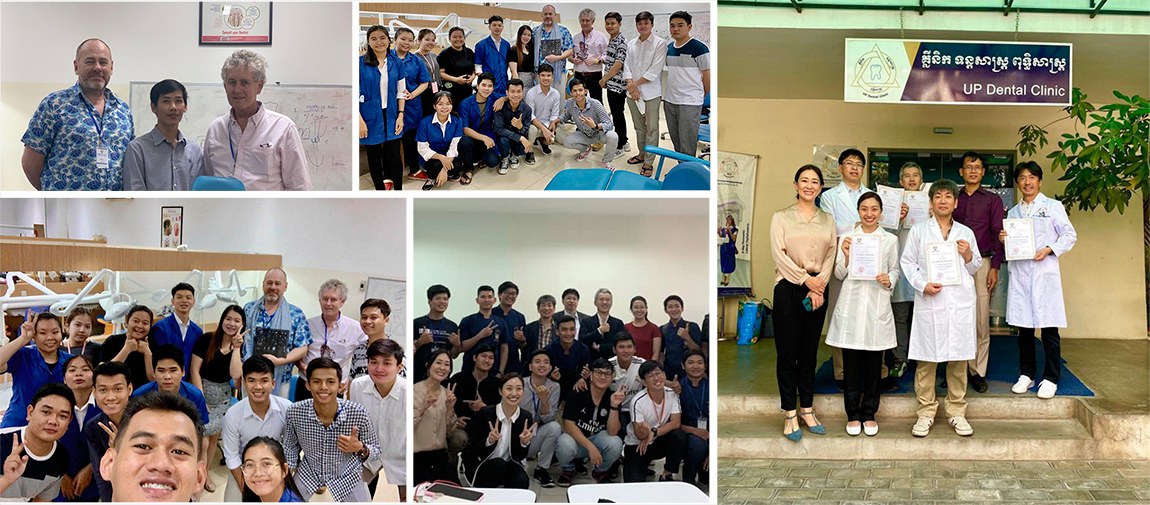 UP was visited last week by 5 overseas dentists. Two prosthodontists from Australia – Dr Geoff Borlase and Dr John Payne, are both regular visitors. They had a busy week of teaching students from year 4 and year 7 – covering topics including complete denture making, patient communication (Dr Geoff is also a trained psychotherapist), treatment planning, and full mouth rehabilitation. Dr Geoff and Dr John also spent time with our dental clinic team to find ways to improve the quality of our service.
In addition, on Friday UP welcomed 4 Japanese dentists from Denriche Asia Co Ltd who gave 2 lectures and observed students working in the clinic.
Finally, we welcomed Dr Kenneth MacDonald from Scotland, who conducted training on dental assisting for year 3 students – including hands-on assisting practice in the SIM lab. Dr Kenneth also checked our emergency drugs and equipment in the clinic, and made some useful suggestions. Dr Kenneth has been coming to Cambodia for over 8 years and normally conducts a high quality 1-week dental assistant course under the NGO One-2-One Cambodia, a valued partner of UP.
UP welcomes visits by overseas experts who can bring new and upto date knowledge to our staff and students, and improve the quality of our education.
UP Research Champions spread their research everywhere

Research champions, who are supervised by Dr. Tineke Water and the UP Research team have taken time out of their budy schedules to volunteer their time to help spread the word about healthcare research to patients and the public, and especially those groups who are currently less likely to take part in research.
Firstly the Champions, attended the Policy Lab Program, organized by the Future Forum. This Forum with its mix of research and policy making motivated the champions to develop four different micro-interventions to tackle non-communicable diseases in Cambodia. The next stage is sharing their micro-interventions during the Biennial Conference of the Comparative Education Society of Cambodia "Education for Shared Community and Prosperity" early next month in the city of Angkor, Cambodia. Well done to our Champions!
2nd intake for the Bachelor of Science in IT, starting 16th December 2019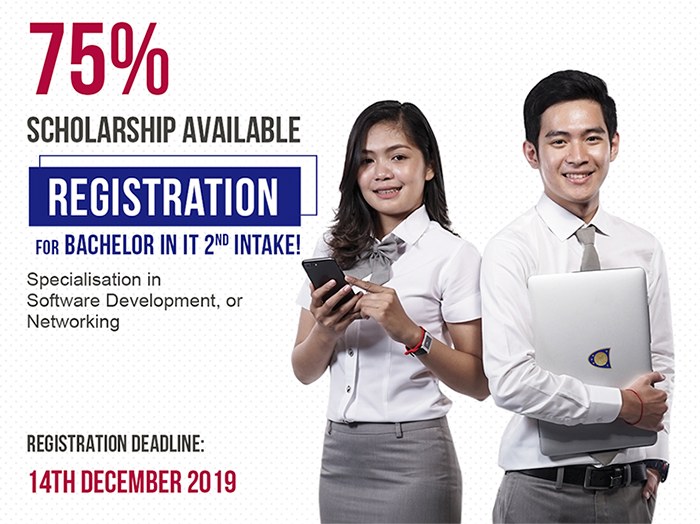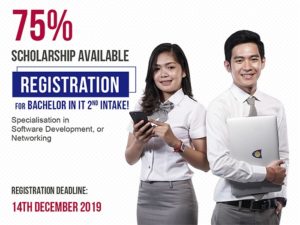 The ICT department is welcoming a new batch of students this
December for its program in Information Technology and specialisation in Software development or Networking.
This program is designed for those interested in a career in Web
development, Mobile development, Project management, Database, System and Networks, Cloud Infrastructure, Cyber Security…
Registration Deadline: 14th December 2019 12pm
More information at the Information Office, Building A. "
DIES-NMT Cambodia 2019-2020 Program
Mr. Chhea Sophearom, Assistant Dean of Faculty of Pharmacy and Mr. Boy Vibol, Teaching and Learning Coordinator, University of Puthisastra (UP) were selected to attend the Phase I of the DIES-NMT Cambodia 2019-2020 program on Academic Deans: Roles, Challenges, and Solutions which was conducted from 25 to 27 November 2019 at CamEd Business School. The Phase II of this program will be held from 27 to 29 April 2020 at Phnom Penh International University (PPIU). The main purpose of this program is to develop the capacity of higher education management, particularly deans, vice deans, department heads, and IQA officers throughout Cambodia. This program receives the technical and financial support from DIES-National Multiplication Trainings (NMT) program-Germany.
The training committee has invited local and international trainers and expert from Germany, Philippines, and Malaysia. By the end of the 3-day training, they both are able to clearly understand roles of the deans in local and international higher education context, the conflict management that the deans face and how to address those issues effectively. They have also developed their personal action plan (PAP) to improve their own faculty. It was really a great training. Participants have built a professional network for their future collaborations with local and international institutions.

Associate Degrees of Nursing, Midwifery and Laboratory Science is now open for application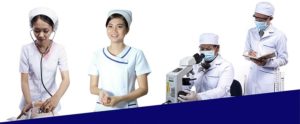 Join the TOP university in Cambodia (UniPage).
Open for application in Associate Degree of Nursing, Midwifery and Laboratory Science (Academic Year 2019-2020) at University of Puthisastra!
National Entrance Exam Application forms are
available at the Information Office from now onwards and will be closed by December 13, 2019 at 5:30 pm.
For more information, please contact 023 221 624 or email: info@puthisastra.edu.kh