The Official Newsletter of the University of Puthisastra (UP)-Vol.28 for 16th Nov 2019 Download
UP IS NOW NO 1 UNIVERSITY IN CAMBODIA!!!!

The huge improvements that UP is making to healthcare education has now been internationally recognized – UP is now the top university in Cambodia according to The UNIPAGE World University Rankings (https://www.unipage.net/en/universities?country=114).
The UNIPAGE World University Rankings recognizes UP's exciting initiatives of:
Ongoing curriculum improvement to World Standard
Embedded English language (the language of Health) into the curricula – free of charge
Communication skills – critical to effectively care for patients
Critical thinking and soft-skills courses from Year 2. Essential skills for 21st Century
Essential Anatomy is now installed in new computers in the UP Library. Free of charge.
Free fast WIFI & upgraded computers and projectors
Many visiting international experts delivering world best-practice knowledge and skills
International visits for students and staff – giving students world-class experiences
Dedicated Learning and Teaching department – to improve curricula, improve our teaching and provide modern teaching methods
Dedicated Research Hub – to maximize student research opportunities
Learning lounge and Career Corner – to maximize student success
Brand new eLearning Centre
UP at the top of the rank in the UNIPAGE World University Rankings means that UP students are now recognized
internationally and have much better opportunities to study and train abroad.
UP offers English program from the dedicated Faculty of English and Employability which is a special feature of UP because it is an extra value-added service to all UP degree students. UP specializes in providing students with a high proficiency in English – the international language of Health and IT and the language of International success. This gives UP graduates a huge UP advantage when working in an international environment or with multinational organizations. UP provides this intensive health-focused English program free of charge.
UP looks forward to seeing UP graduates becoming health care Leaders not just in Cambodia but across the World. We are delighted in the progress that UP is being recognized across the World as well as making a real difference to Cambodian lives.
This is great news for all UP students and staff, not only that but we are making UP even better! Some very exciting developments in coming weeks!
There is no better time to be studying at UP!
We would like to hear from you ! send your comments, news, testimonies to upvoice@puthisastra.edu.kh
what's up on campus
• 18 Nov-2019
ICT BA Y4 Exit Exam
• 23-24 Nov-2019
National Entrance Exam
• 28-29 Dec-2019
National Entrance Exam for Associate Degrees
• 4 Dec-2019
Internal Exit exam for MD, DD, ADL, ADM, PH
• 10 Dec-2019
International human rights day
Memorandum of Understanding between Cho Ray Hospital and University of Puthisastra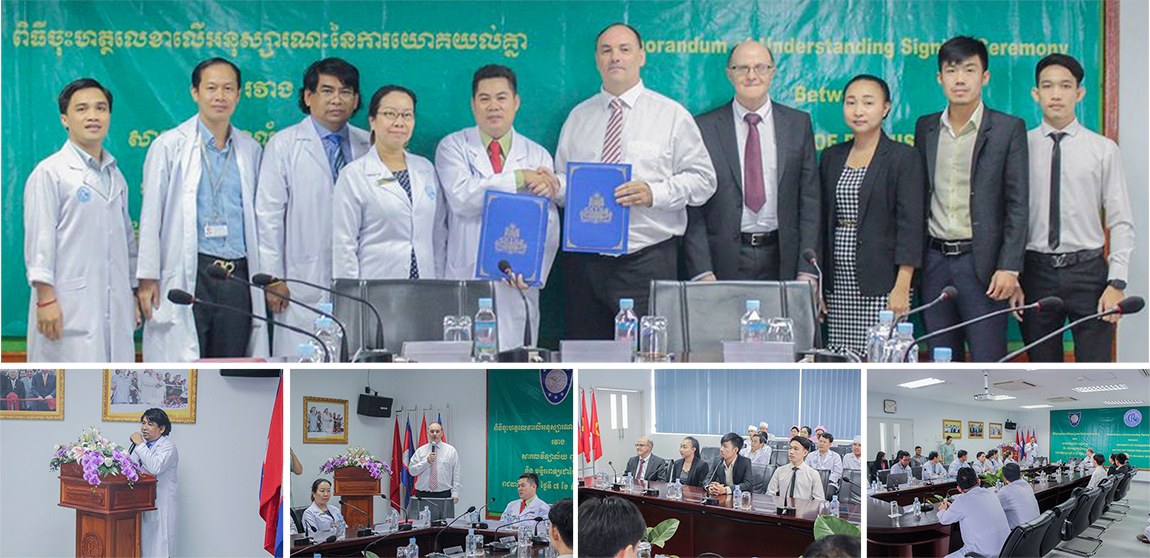 A ceremony took place at Cho Ray Phnom Penh Hospital on 7th November 2019 to officially signed a Memorandum of Understanding (MoU) between the Hospital and the University of Puthisastra.
The MoU was signed by Dr. Ton Thanh Tra, General Director of the Hospital, and Professor Ian Findlay, President and Vice-Chancellor of UP. Cho Ray Phnom Penh Hospital officials, doctors and nurses and representatives of UP Faculties were presented, including Prof. Sandro Vento, Dean of the Faculty of Medicine.
The MoU will allow medical (MD) students, Pharmacy students, Nursing students, Medical Laboratory students to get excellent clinical training in one of the most modern and best equipped Hospitals in Phnom Penh.
11 UP pharmacy students passed the competitive Semi-final Kinal Health Research Prize 2019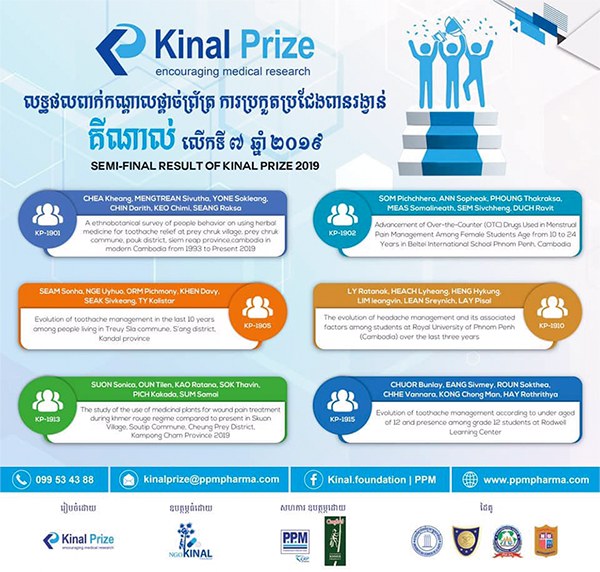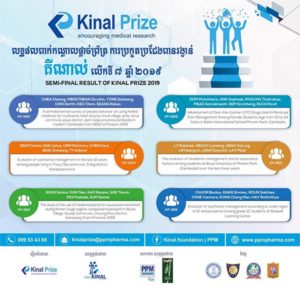 Every year, Kinal Health Research Prize encourages health sciences students to get involved in research.
This year the competition was tough with more competent young researchers from different medical universities in Cambodia.
After the intense work four (of 6) groups in which UP Pharmacy students were taking part, were selected for the semi-final round. The Faculty of Pharmacy of
University of Puthisastra is trying its best to support students to win the Final Prize 2019!

MOU signing between the University of Puthisastra and MUCH
The University of Puthisastra and MUCH Mobile Health Care signed a MOU to jointly develop a nursing program for registered nurses to specialize in the area of nursing management in the home. Mobile nursing services are well-established in many countries where patients can receive a high standard of nursing care in their own homes by a specialist registered nurse.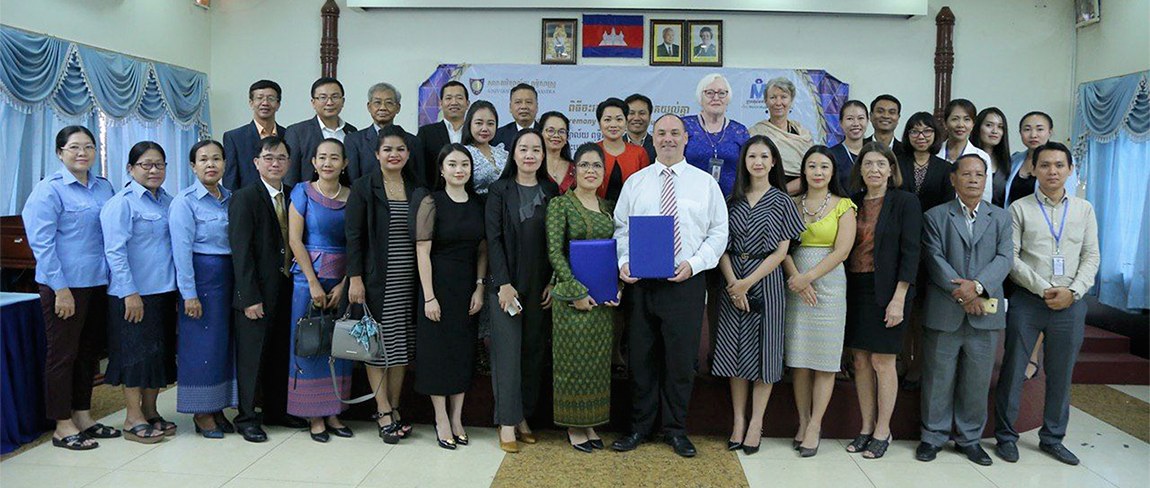 With the growing affluence in Cambodia and a shortage of hospital beds, home care nursing is a fast-growing specialist area of health care delivery.
Patients and their families can employ a full time nurse to care for a family member who either requires continued nursing care after discharge from hospital or is chronically ill, in the comfort of their own homes. Evidence shows us patients rehabilitate much faster in their own loving environment; as well as easing the overcrowding in hospitals while enabling the growth of an internationally recognized nursing specialty.
While UP has a proven academic track record at National Exit Exam, its students also graduate as well-rounded compassionate health care professionals. All UP students' gain experience contributing to the health care of communities across Cambodia as well as exposure to international visiting
lecturers, and opportunities for overseas study trips and participation in international conferences and symposiums.
MUCH Mobile Health Care company was established in 2016 under approved licenses of Ministry of Health and Ministry of Commerce, Cambodia. The company provides a wide range of health care services 24/7 in clients' homes as well as other settings including Nursing Care, Home Physiotherapy, Home Call Doctor, and Home Care service in Phnom Penh and its surrounding cities. The company also offers health care services for clients who seek medical care and treatment in abroad. Having seen the demand for these services increase significantly, the company is being proactive in increasing the numbers of highly qualified skilled nurses. They believe that building the company partnership with a specialist health science educational
institution, will go a significant way to addressing the skill shortage in health services and in the nursing profession specifically.
This MOU between University of Puthisastra and MUCH Mobile Health therefore, aims to establish a Continual Professional Education program for registered nurses –newly graduated and experienced nurses- to develop specialized knowledge and skills competency in the area of ambulatory care nursing.
"We believe that through this collaborative effort, we should be able to draw nurses' attention to the high value of a career in nursing especially in home health care and that various job opportunities will be opened up for them in the future. They may be given an opportunity to either work with MUCH Mobile Health Care company or its partners. This increased job opportunity may in turn help attract nurses to the nursing program.", said Ms Dyphan Phirum, CEO MUCH Mobile Health Care.
The Ambulatory Nursing Care Management course is the first of its kind in Cambodia. It is a certificate course that will fulfil the regulatory requirements of Continual Professional Development for registered nurses to remain licensed to practice. In addition, course participants will be qualified to apply for a job at MUCH. The MOU between UP and MUCH is a milestone in Cambodia's nursing profession as it offers Cambodia's nursing professionals a skills upgrade that will improve their employability and potentially increase their incomes.
The 2nd Pharmacy conference!!!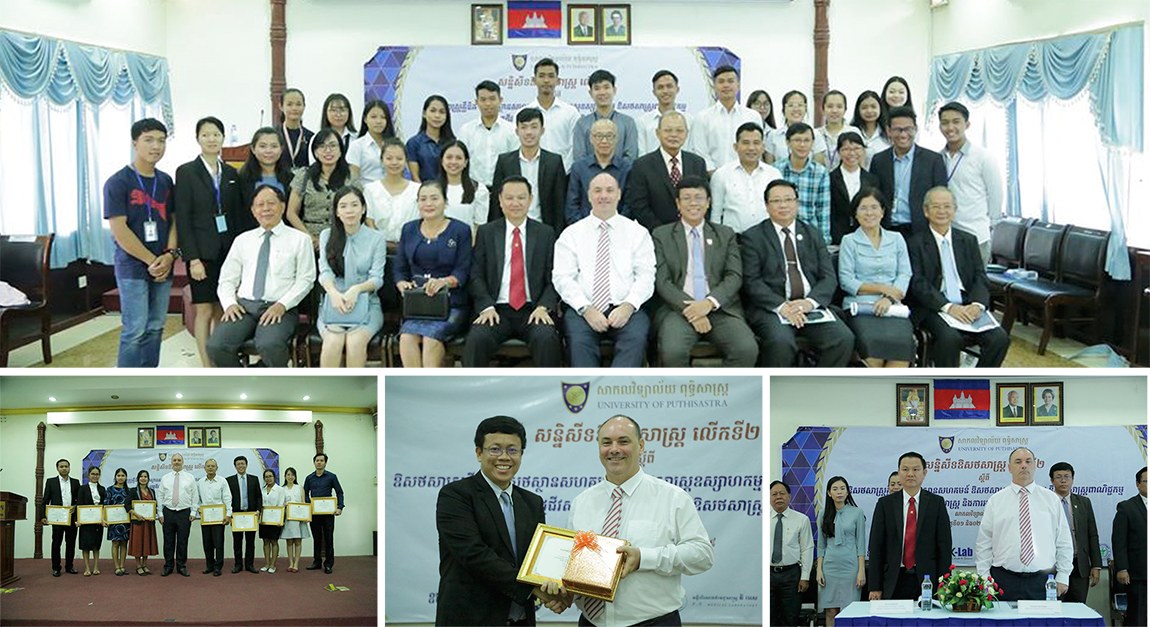 Professional development is a huge part of pharmacy, and attending conferences is one of the major kinds of professional development. In early November, the Faculty of Pharmacy of University of Puthsiastra hosted its 2nd Pharmacy conference to gather all pharmacists across Cambodia to share their experiences within pharmacy while networking and developing deep, endearing relationships with colleagues. This two-day conference ended with another fruitful achievements for both participants and organizers.
There were around 225 participants who are students and professionals from different institutions including the Pharmacy Council of Cambodia, Pharmacist Association of Cambodia, X-Lab Co.;Ltd, Pharma Product Manufacturing (PPM), University of Health Sciences, International University, and Health Sciences Institute of RCAF and other UP partners.
The conference was carried out through various sessions, in which the presentations and panel discussions were held under 6 themes: clinical pharmacy, community pharmacy, commercial pharmacy, industrial pharmacy, medical biology and education, focusing on the following major scientific topics:
Review of the roles of clinical pharmacists in ASEAN countries
Role of pharmacists in hospital pharmacy
The roles of clinical pharmacists in Cambodia
A clinical Pharmacist-Canadian Perspective: Helping patients reach treatment goals. 2 real cases from personal experiences
Setting up a community pharmacy in Cambodia
Challenges in the implementation of clinical role of pharmacists in Phnom Penh
Challenges for local manufacturers to meet the international standard requirements
Pharmaceutical product development
Pharmaceutical quality control
Preparation for a job in medical biology after graduation
Challenges in working as a medical biologist in the field of hematology
Knowledge, skills and attitudes needed to succeed in a profession as a medical biologist
The need of medical representatives in Cambodia
Challenges of working in a pharmaceutical distribution company
The progress of drug management in the public sector from 1979-2019
Continuing Professional Development (CPD) for pharmacists in Cambodia
Thanks to all of our wonderful speakers, honored guests, conference attendees, and exhibitors, 2nd Pharmacy Conference 2019 was our best ever! We are looking forward to the 2020 Pharmacy Conference!
Great start for this new academic year for Faculty of Business Entrepreneurship & Technology!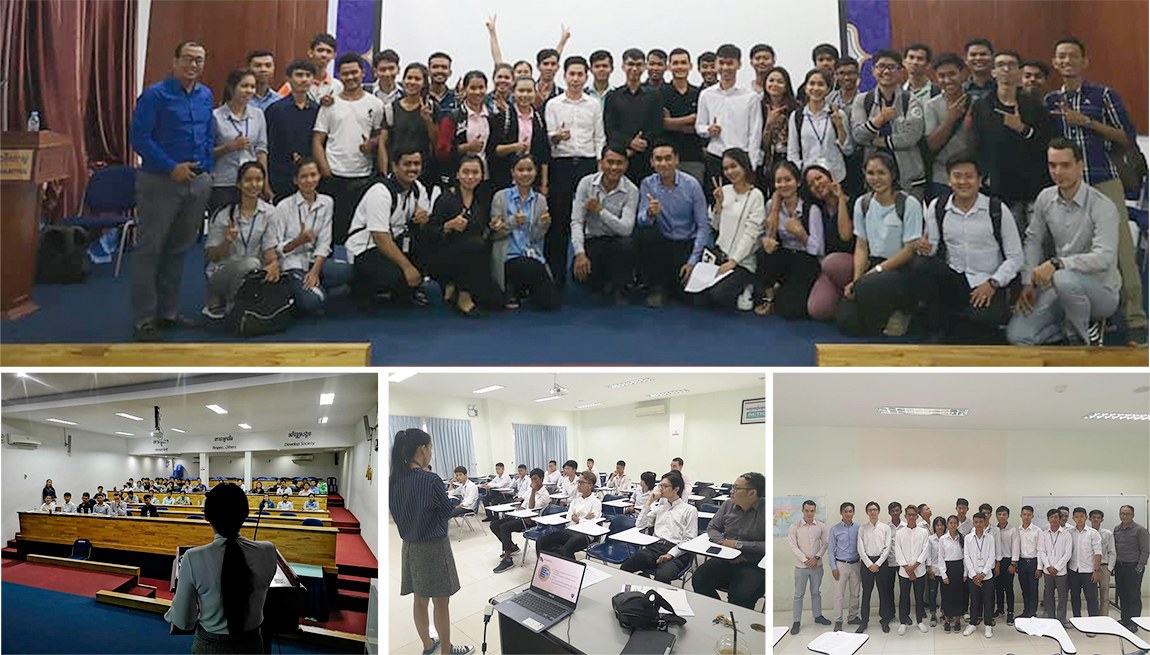 During our orientation day, our ICT students were informed / reminded about UP policies, our practical approach and project oriented teaching methodology, the department activities and their schedule. Lecturers introduced themselves and shared about their experience in the subjects they are teaching. No doubt, it will be another exciting year for our ICT students! We wish success to all our students!

The use of plants as medicines has a long history in the treatment of various diseases in Cambodia. Plants especially those with ethnopharmacological uses have been the primary sources of medicine for early drug discovery. However, with its limited infrastructure and lack of expertise, Cambodia could not actively get involved in herbal drug discovery.
Recognizing this importance UPs Dr. Chea Sin, Dean of Faculty of Pharmacy and Dr. Keo Samell, the head of Pharmacognosy are taking part in the World Union for Herbal Drug Discovery in a hope of activating this vital pharmaceutical domain in Cambodia. In the future, there will be not only the
research activities on herbal drug discovery but the standardized natural products will be also available for sale at UP
Periodontology Workshop for Dental Students at UP

120 dental students from 3 dental schools in Cambodia were involved in a periodontology workshop at UP on 29 October. This workshop focused on basic periodontology, and was conducted by Dr Thann Vuthy, one of only two specialist periodontists in the country.
The event was organized by UP dental students in order to improve their knowledge in periodontal examination, diagnosis, and treatment planning. Everyone was delighted with the course because they received a lot of current information and they could ask many questions. The course complemented the excellent teaching UP dental students had already received from UP Head of Periodontics, Dr Tak Ranuch.
UP is the leading dental school in Cambodia for continuing education for students and dentists and hopes to hold more such courses in the future.
Dr. CHEA Sin unlocked golden potentials for UP Pharmacy after his latest trip to
China

Dr. Chea Sin, Dean of Faculty of Pharmacy, went to China from October 19 to October 26, 2019 as invited speakers to join two conferences: The International Symposium on Medicinal Resources of Countries along One Belt and One Road, and 2019 Hunan Innovative International Conference on Biomedicine and Chinese Medicine. The participants were from India, Pakistan, Malaysia, Sri Lanka, Philippines, Thailand, Saudi Arabia, China, and Portugal. He was the only one invited participant from Cambodia.
During that trip, besides presenting two research findings , he had learned many things related to drug development from the medicinal plants to the lead compound, and finally the clinical trial. These have motivated him to involve in the drug development using Cambodian Medicinal Plants. Moreover, he also made a lot of friends particularly with deans and professors from China as well as from other countries.
The followings were the remarkable achievements from his trip:
Chinese Deans and Professors, together with deans and professors from other countries would like to hold the next international conference on Medicinal Resources of Countries along One Belt and One Road in Cambodia at University of Puthisastra.
Prof. Jun Wu, Vice Dean of School of Pharmaceutical Sciences, Southern Medical University called for the joint-research with University of Puthisastra.
Prof. Hou Xiaotao, from school of pharmacy, Guangxi University of Chinese Medicine would be pleased to welcome UP staffs for trainings on traditional medicine laboratories, together with other ASEAN countries.
Prof. Wang Wei, Hunan University of Traditional Chinese Medicine, together with the university president, welcomes UP to visit his laboratories.
Dr. CHEA Sin is invited to join as invited speaker during the International Conference on Natural Products and Human Health-2020 in India by the Prof. Ramesh K. Goyal, Vice Chancellor of Delhi Pharmaceutical Sciences and Research University.
All others partners are willing to come to Cambodia to share the knowledge and experiences in research on natural products.
Well-done, Dr. CHEA Sin and we really appreciate his effort and commitment to make UP the leading pharmacy school in Cambodia.
Faculty of Medicine 2019-2020 Student's Orientation

Professor Sandro Vento, Dean of Faculty of Medicine of UP, Dr Chhim Sarath, deputy dean of research UP and medicine staff conducted new student's orientation at UP on 4th November 2019.
This student's orientation discussed the medicine study program in UP, stimulation labs and clerkship and internship to students from year two to year seven students. 149 medical students participated in new academic year 2019-2020.
Prof Vento opening remarks encouraged students to keep focusing on their studies and also clerkship and internship. Then, Doctor Titya provided school curriculum which students have to follow faculty attendance requirement and pass mark in order to complete their credits. It was also a great opportunity for students to give their feedback.
UP Pharmacy students are aiming high professional standard at the white coat ceremony

"Two weeks ago we began our new academic year, we attended our first white coat ceremony for incoming pharmacy students. So impressed were we by the event that we feel compelled almost duty bound to spread the word, for few outside of academia are likely to have heard of these ceremonies" said the representative students of PH21 and PH22.
The Faculty of Pharmacy at UP was delighted to host the White Coat Ceremony (WCC) to welcome new pharmacy students in mid-November. But what exactly IS a white coat ceremony? Everyone knows the white coats in question- they've been worn by doctors and scientists since the late 1880's to protect skin and clothing. But the idea of the white lab coat, as used by physicians and doctors, was initially to distinguish themselves from those without academic credentials, snake oil salesmen, and homeopaths. These days, the white coat is synonymous with professionalism. The ceremony itself extended for all health sciences students.
For the faculty of pharmacy, this ceremony marks the beginning of their professional work with 106 students going through the tradition. We asked students how they felt and what this ceremony meant to them.
Chap Sopeavy: "For me, the white coat ceremony felt like a huge achievement in my life, even though it was only the sign of the beginning of the program. I feel that the white coat ceremony gave me a feeling of achievement in the sense that I finally made it, getting that much closer to fulfilling my dream." John Sophearom: "It highlighted my purpose for entering the pharmacy school and provided me with more motivation to be a successful student pharmacist". Hoeob Pengheang: "Taking place before the start of my pharmacy education, the White Coat Ceremony marked the day in which I accepted the obligations of the pharmacy profession and committed myself to honor, responsibility and respect. This ceremony emphasized the importance of excellence not only in the classroom, but also in the community to ensure quality patient care". Yin Chhorvivann: "It felt like a dream comes true – 'People will rely on me as a pharmacist, I can make a difference in people's health life"