The Official Newsletter of the University of Puthisastra (UP)-Vol.27 for 31st Oct 2019 Download

UP Learning and Teaching Workshop 2019


The University of Puthisastra continues to work hard to provide best practice Learning and Teaching for our students, and we are very fortunate to have some outstanding lecturers and researchers as part of our academic team. On 18 and 19 October 2019, more than 140 of UP's lecturers and researchers joined our intensive Learning and Teaching Workshop to continue the development of best practice Learning and Teaching experiences.
UP has devoted considerable resources to improving learning quality. We empower our lecturers to be knowledgeable, skilled and innovative facilitators of life-long learning. As expert practitioners, our academic team bring enthusiasm for their discipline area to share with our students to empower them to become the best career professionals and community members. Together, our academic team leads and inspires UP students with knowledge and skills to be innovative, address challenges, take risks and seize opportunities when they graduate. Together, we work to develop outstanding graduates for Cambodia in Health Sciences (Dentistry, Medical Laboratory, Medicine, Midwifery, Nursing, and Pharmacy) and ICT.
At the Workshop, our academic team further developed skills and practical experience in:
The Philosophy and Psychology of Learning, (and why it is important to learning and teaching)
Students' different learning styles, (and how this should inform teaching practice)
The foundational links between Program Outcomes, Course Learning Outcomes, Assessment Plans, and Lesson Plans (and why they matter)
Developing Assessment Plans that reflect Course Learning Outcomes and offer the best opportunities for students to demonstrate their learning achievement
Building Great Lesson Plans (supporting Program Outcomes and Course Learning Outcomes)
Using UPOP – UP's Moodle Online Learning Platform to support better, more efficient learning and teaching experiences for our students
The Workshop was very interactive, supportive and practical. Participants joined in some thought-provoking conversations, discussed challenging education theories, concepts and practice, and engaged in activities that demonstrated the importance of "connecting" all aspects of Learning and Teaching for our students.
Our academic team practiced implementing Bloom's Taxonomy of Learning in the development of our courses and assessment tasks, adapting to students' different learning styles, and incorporating UP's Vision and Values into great learning experiences.
It was very exciting to see UP's academic lecturers and researchers working together, challenging and supporting each other, to continue the improvements in quality learning and teaching in Cambodia, at UP.
We would like to hear from you ! send your comments, news, testimonies to upvoice@puthisastra.edu.kh
what's up on campus
• 01-Nov-2019
Deadline of national entrance exam application
• 09-Nov-2019
Independence day
• 10-12 No 2019
Water festival ceremony
30 UP Staff and Students Attend Big Rotary Event at Dara Airport Hotel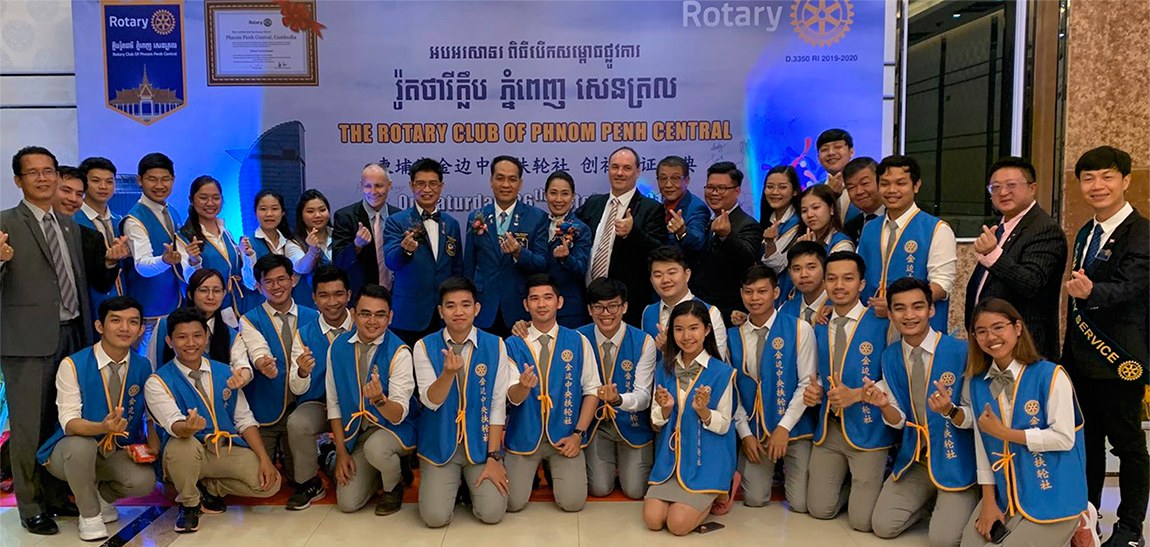 The President of UP, 4 staff, and 25 dental students were invited last weekend to the Installation Ceremony of the new Rotary Club of Phnom Penh Central at the Dara Airport Hotel. The event was hosted by Club President Yuon and other members of this the first Khmer speaking Rotary Club in Cambodia. Dignitaries had come from Thailand, Taiwan and some of the other Rotary Clubs in Cambodia to be at the event, which included speeches, singing and a fabulous dinner. Our UP students were given special aprons to wear, and were encouraged to form the first Rotaract Club in Cambodia. UP was mentioned several times in the speeches and club members made us feel very welcome. We look forward to a very good partnership with Rotary in the future.
UP LONG DISTANCE RUNNING CHAMPION WINS
GOLD!
Muy Ngim Eng is a pharmacy lecturer at UP. She has been participating in competitive running events for more than 5 years. This week she competed in two events – and won both! The first was the Bokor Mountain Half Marathon. Against a mostly international group of men and women, she was the first women to reach the finish line. The second win was at the National Championships in the 5000 meters event at the Olympic Stadium. This was also a selection trial for the Cambodian National Team to train for the SEA Games. Ngim Eng trains 5 days per week, running​​​​​​ between 50 and 100km, usually in the evenings. She mostly runs alone, but sometimes joins others at Olympic Stadium on weekends when she has free time. Congratulations to Ngim Eng – who is now a national star! We hope that this will inspires the students and get more participants in UP Running Club that already has 150 members.

DENTAL STUDENTS AND STAFF ATTEND THE 14TH ANNUAL IDCMR CONFERENCE IN KUNMING, CHINA

From 18-19 October three staff and 10 students from the UP Faculty of Dentistry attended the annual meeting of the International Dental Collaboration of the Mekong River Region (IDCMR) at Kunming, China. It was also a celebration of the 40th anniversary of the establishment of the School of Stomalology in Kunming. They had put together a full and very interesting program. Our students joined with those from UHS to perform a traditional song at the Gala Dinner, having practiced for many weeks.
Two thesis groups lead by Sie Sokmeng ("Caries progression and nursing habits in Cambodian 1-year old children") and Raksmey Socheat ("Orthodontic practice among Cambodian general dentists") presented their research, and Sie Sokmeng won an award for his poster. There was also time to attend the 2019 Kunming International Dental Expo and China Dental Microscopy Congress nearby. This huge event had on display products from hundreds of companies in China, with a focus on dental microscopy. Our friends from Zumax company were there and were happy to hear that their donated dental microscope is being put to good use. They have offered a "train the trainer" course to one of our endodontists if they are interested in the future. Next year the IDCMR will be in Jogjakarta in Indonesia.

Teleconference: IPSF APRO & UP Pharmacy, Cambodia
Founded in 1999, the Asia Pacific Regional Office (APRO) is the oldest IPSF (International Pharmaceutical Student Federation) regional office. The 1st APPS was held in Singapore in 2001. APRO is made up of diverse cultures, languages, and pharmaceutical societies within the Asia-Pacific region; 17 countries, 23 associations, approximately 55,000 members and more than 8 different languages are used in this regional office. This passing week there was a teleconference between UP pharmacy students and assistant dean of Faculty of Pharmacy with the people in charge from IPSF APRO to discuss how to prepare UP pharmacy students to be part of IPSF APRO. As part of this organization, UP pharmacy students will widen their opportunities for exchanges and scholarships.

DENTAL STUDENT EXCHANGE TO UiTM, Malaysia

UiTM is one of the largest public universities in Malaysia and is the home of one of the 13 dental schools (6 public and 7 private) in Malaysia. UiTM has 170,000 students at their campuses across the country, and there are 17,488 staff members. Dental students at UiTM study for 5 years, and many go on to do post-graduate programs for example Master and PhD degrees. UP dental students have been visiting UiTM on an exchange program for the past two years.
Last week 8 UP students from years 4 and 7 visited UiTM for a week and engaged in a range of educational activities. They attended lectures on oral pathology and periodontal disease, learned more about how to read radiographs, and observed the treatment of patients in their modern and extensive dental clinics. The students were interested to see how the UiTM students communicated with their patients, and obtained informed consent. They observed the efficient work flow, how they carried out clinical procedures, and how they were very strict on cross-infection control. In addition, the UP students had a chance to see patients with maxillofacial trauma in their hospital.
The UP students greatly appreciated the warm welcome from UiTM staff and students, the hostel accommodation, the bright pink (!) uniforms, and the transport to and from the airport. Our team found the Malaysian students were really friendly and helpful. They would love to come again in the future if it was possible.
School of Medical Technology Conference in Ho Chi Minh city, Vietnam
On October 18, 2019 Mr. OUK Sokereivotanak, Director of the Department of Laboratory Sciences, Faculty of Health Sciences and Biotechnology, University of Puthisastra, participated in 2019 conference of Vietnam Schools of Medical Technology and the Fifth Congress Preparatory Meeting of ASEAN Association of Schools of Medical Technology (AASMT), 2020 in Ho Chi Minh city, the Socialist Republic of Vietnam. Mr. OUK Soksereivotanak was formally invited by Professor Dr. Vu Quang Huy, President of ASEAN Association of Schools of Medical Technology (AASMT) and Head of the Department of Medical Technology of the University and Medicine and Pharmacy, Quality Control Center, Ho Chi Minh city, Vietnam.
Mr. OUK Soksereivotanak presented on the topic of "Strategy to improve Medical Laboratory Technology education and international cooperation at University of Puthisastra". The Department of Laboratory Sciences joined as a member of the ASEAN Association of Schools of Medical Technology (AASMT) in 2016 and has officially become a permanent trustee on the board of this association since the Fourth Congress in Yangon, Republic of the Union of Myanmar in November 10, 2018.

Experience sharing by a year-5 pharmacy student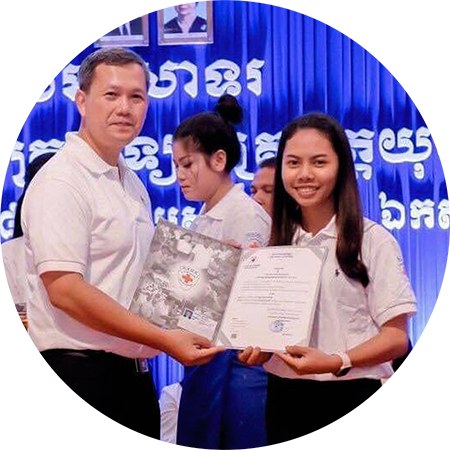 My name is CHHE Vannara, a year-5 pharmacy student at the University of Puthisastra (UP). I am writing to share my experiences that I have been facing so far in my life as a student at UP. I have volunteered in many health science fields including being a translator for Singaporean medical doctors during the Project SABAI and Project LOKUN since I was in year 2. These projects are bi-annual humanitarian projects in Cambodia, initiated by students and doctors from National Singapore University, aiming to reconnect villagers to the nations healthcare system as well as to improve villagers' health and living conditions. I have learned a lot from these projects both soft and hard skills. I could apply what I have learned from school during the implementation of these projects, especially I was so glad to be able to help the folks to understand about their health issues and take a good care of their current health conditions.
Additionally, I learned how to plan a project while improving my communication skills and building diverse friendship between Singaporean doctors, students and Cambodian students. At year 3, my classmates and i conducted the 2nd Project parasitology in Takeo province, Cambodia. I was an education team leader. We educated a good health hygiene practice to primary school students.

Don't be a little frog in the well! At year 4, I did my one-month internship in a community pharmacy at the Faculty of Pharmaceutical Sciences of Khon Kean University, Thailand. I gained a lot of knowledge in community pharmacy in Thailand, which I could bring it to fill the gap in Cambodia. Furthermore, I also joined the 6th International Pharmacy Summer School (IPSS) at Muhammadiyah University of Yogyakarta, Indonesia. The theme was under the "Indonesian Herbs Medicine: Potential Ingredients as Healthy Cosmetics". In this program, I participated in different lectures, lab activities, Inter-professional education, and case discussion, tutorial and herbal health centers visit. Surprisingly, on the final day of IPSS program, I was awarded as the most active participant. Currently, I have just finished my one-month internship in Research and Development Department at Pharm Product Manufacturing (PPM). At the same time, I am also a member of Samadech Techo Youth Doctor Association TYDA. TYDA is a volunteering doctor association that regularly provides free medical care, medical check-up and treatment for people in remote areas throughout the country. Every month, TYDA always has a mission in each area with a purpose of providing free healthcare to the locals.
One more thing, I have been also selected for the 2019 Voices of Youth training program with UNICEF Cambodia. UNICEF Cambodia's Voices of Youth 2019 is the project to advocate on behalf of children in Cambodia. UNICEF Cambodia are working on different themes and global issues such as Water, Sanitation and Hygiene (WASH), Education, Child Protection, Health and Nutrition including mental health, Social Policy and Research and Climate Change and the Environment. I am particularly interested in WASH. I created the storytelling and made a video related to WASH theme. A week ago, I had training about Biosafety and Security in Laboratory Medicine toward ISO 15190 Requirements by National Institute of Public Health/ National Public Health Laboratory. I joined this training because I intend to continue my Master degree on Medical Biology. After I joined this training course I widely comprehended about a good standard biosafety and security practice in laboratory. Last but not least, I enjoy doing those things and I am going to do my best for a healthier Cambodia. In the future, I would like to get a scholarship to study abroad. I hope that the experiences that I have had during my study will enable me to achieve my goals.
YEAR 4 DENTAL STUDENTS SAY "OPEN WIDE"!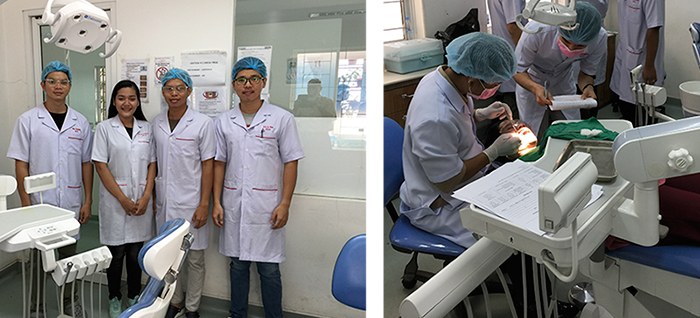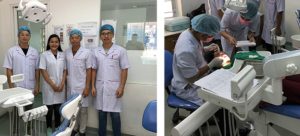 Although it is still semester break, many dental students in Year 4 have been coming to the UP dental clinic and volunteering for the weekly Prison Dental Service. Having passed the required theory and preclinical subjects (such as local anesthesia, simple extractions, basic restorative dentistry, and oral health assessment) they are now ready and able to start treating patients for the first time. Under close supervision the Year 4 students are now confident to put into practice what they have learnt in their first 3 years. UP staff and students needing a check up or cleaning should not hesitate to make an appointment at the clinic with one of our keen young dental students.
The 2nd Pharmacy Conference 1st to 2nd November 2019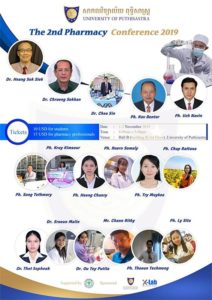 With the success of the inaugural Pharmacy Conference last year, the University of Puthisastra (UP) will be conducting its 2nd Pharmacy Conference 2019 on November 1-2, 2019 within its campus at Hall B, Building B, 3rd Floor. This conference is held to share knowledge, experiences, best practices, and success stories by pharmacists who have been practicing in and outside Cambodia.
Aligned with the government's encouragement for continual professional development, this conference is designed to be a platform for professionals in the pharmaceutical industry to meet and share their experiences. Not only being able to hear different stories from various pharmacists across the country, the participants will also have a chance to find out more through interactive question and answer sessions while networking during the coffee breaks at the conference.
Invited speakers such as Dr. Heang Suy Siek from Canada, Dr. Chroeng Sokhan, Dr. Ou tey Putita are regarded as highly professionals in their related field. The conference will cover 6 themes of pharmacy profession such as Clinical Pharmacy, Community Pharmacy, Industrial Pharmacy, Commercial Pharmacy, Medical Biology and Pharmacy Education.
Invited guests include representatives of the key members of medical laboratory, pharmacy, hospital, university, and pharmaceutical industry such as DKSH, Pharma Product Manufacturing, RHAC etc.
All pharmacists, pharmacy students, and other health professionals who are interested in joining this conference are required to register prior to the conference and pay USD10 for students and USD15 for pharmacists and other professionals.
The organizing committee believes that this would be a golden opportunity to collaborate with related companies/industry to effectively provide customers the good health care services or products.
This event is also designed to serve as a platform for pharmaceutical companies and relevant industry members to present the participants about the latest products and services which might be useful for participants' work advancement and business success. We are delighted to invite interested industry members to sponsor and participate in the exhibition at the 2nd Pharmacy Conference 2019.
MEETING OF UP DENTAL TUTORS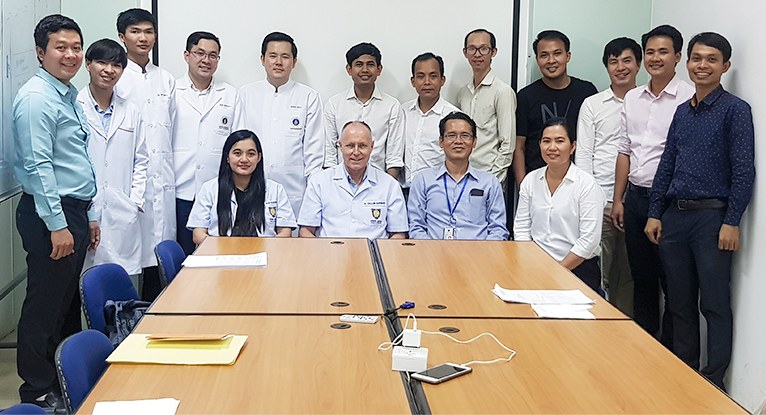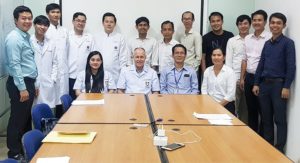 Last week the Faculty of Dentistry organized a meeting of our Clinical Tutors before the start of Semester 1. The meeting was led by Dr Horn Sereybot and Dr Bich Sothea, clinic managers.
A wide range of topics was discussed, including clinic forms and protocols, student assessment, clinic rules, quality improvement, private patients, and the role of the clinical tutor. The participants shared their views, and enjoyed the pizza provided. We are presently putting in place a range of clinic improvements over the next few months, and the tutors will play a key role in this.
UP Launches Tiny Coding Cats Program

UP's Faculty of Business, Entrepreneurship & Technology is proud to partner with Raintree, Saturday Kids from Singapore and Smart Axiata to pilot Tiny Coding Cats – an early-stage creative coding course designed to inspire curiosity and resourcefulness called.
Targeted at 100 students aged 8-12 years old, this free program runs every Saturday from 5th October to 16th November 2019 at UP. Students will get a chance to pick up technical, problem solving and creative thinking skills through computer programming course.
The objective is to inspire the next generation of creative and curious young minds through technology.This program is offered free of charge to provide equal opportunity to interested students from any financial background. All applicants have to pass the selection criteria to join the class and it is open to students who have no prior experience in computer programming. After completing the course, students will be able to produce their very own game and animation.
UP is delighted to support this exciting program by providing four students who are currently pursuing their degree in Information Technology as instructors for the program.
Through Tiny Coding Cats, our students receive an opportunity to be upskilled with Saturday Kids pedagogy and classroom management skills with mentorship from Raintree's community of civic-minded progressive educators, while meaningfully engage in their expertise to impart their knowledge to the young minds.
In addition to being centrally located in the city, one of the key reasons for the course organizers deciding to choose UP as a training venue is because of the high speed wireless internet on campus which is currently provided to all UP students at no extra charge. High speed wireless internet access is necessary to the success of the course and UP is one of the very few training venues that can provide classrooms with free Wi-Fi for the expected 100 students that participate in the program.
While UP's students will get hands on experience as instructors in computer programming, their participation in the program together with a Singapore digital curriculum developer, Saturday Kids, that has trained over 5000 students in Singapore and Tokyo, Japan is evidence that UP's Degree program in Information Technology meets international standards.
UP WELCOMES DR SRENG RITHY, PROSTHODONTIST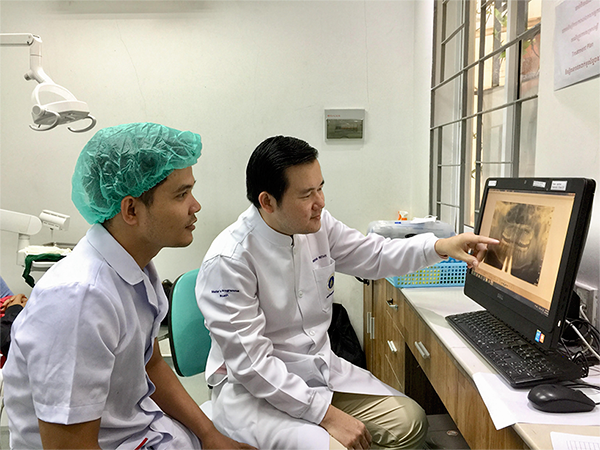 Dr Sreng Rithy has recently joined UP as a lecturer and clinical tutor in prosthodontics in the Faculty of Dentistry. He has recently completed his MSc in Prosthodontics at Mahidol University in Thailand, and joins our other prosthodontic specialists working part-time at UP.
Dr Rithy originally graduated from IU, and is happy to have the opportunity to pass on his knowledge and skills to UP students. This semester he will be joining Dr Soeurn Visal (prosthodontist) in teaching complete dentures to year 4 students. His Masters thesis was on the topic "Antifungal Activity and Surface Hardness of a Soft Lining Material Incorporated with Eugenia Caryophyllata Oil". UP welcomes Dr Rithy to our growing team of dental specialists.
VISIT BY ROTARY CLUB OF PHNOM PENH CENTRAL

A delegation of 4 office holders of the new Rotary Club of Phnom Penh Central visited UP recently to meet with staff and students from the Faculty of Dentistry. The club was interested to hear about the community work of the students, in particular their prison work which is now in its 4th year. The students described how many prisoners are in pain and require urgent dental treatment which the UP students (in partnership with the NGO One-2-One Cambodia) can provide during their weekly visits to the prison. The Rotary Club encouraged students to set up a Rotaract club (which is like a Rotary Club but for young people) and decided to support the Prison Project with $200 per month so that it can continue its good work.
WHAT? NO TEETH? WE CAN HELP!
Year 4 dental students at UP are looking for patients with NO TEETH for their course in Complete Dentures this semester. Each student needs to make 2 sets of dentures while they are at dental school, and they are keen to start this year. With excellent teaching and supervision by Drs Visal, Dane and Rithi (all specialists in prosthodontics) as well as our two highly trained dental technicians Mr Kiny and Mr Seiha, the quality of dentures made at UP is very good. We use high quality teeth from Japan. In addition, we are excited that two prosthodontists from Australia – Dr John Payne and Dr Geoff Borlase (regular visitors to UP) will be coming in late November to help students with their cases. If you know someone who needs dentures made, please send their contact details to our clinic manager and we will arrange an appointment to see them in the near future.