The Official Newsletter of the University of Puthisastra (UP)-Vol.26 for 15th Oct 2019 Download
CHECK-IN @ UP 10-11 October 2019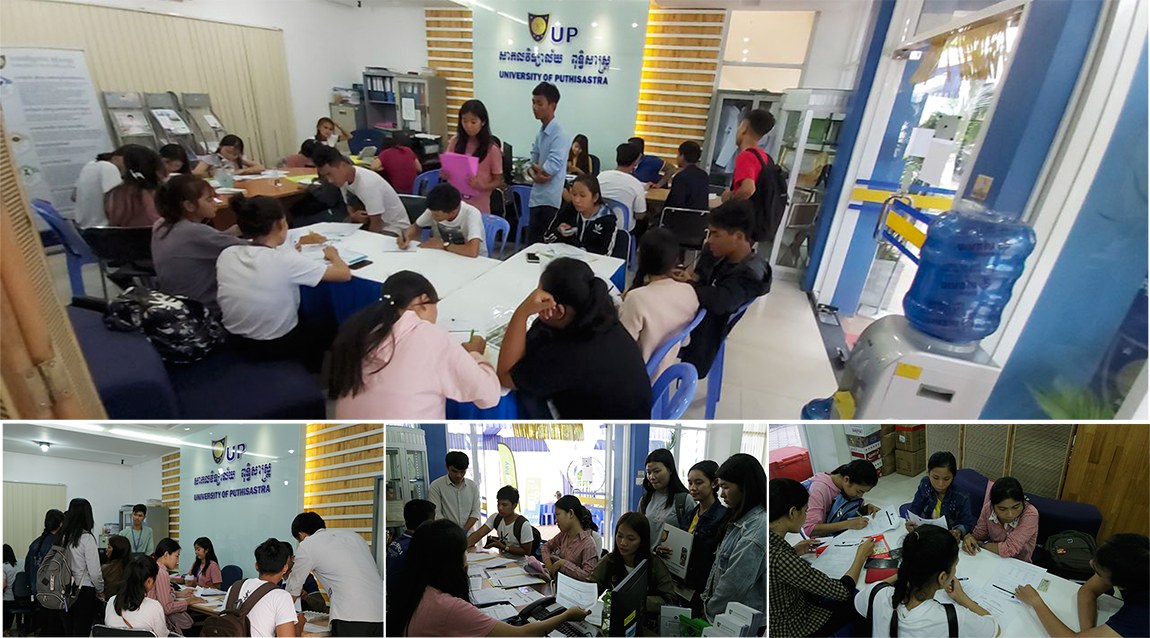 UP successfully completed its first ever Check-In @ UP Campaign on 11 October 2019. This event was specially created to allow students interested in our degree courses a chance to interact directly with the respective faculties and find out more about the difference that UP can provide to their major of choice.
Supported by our Facebook outreach campaign, over 300 students turned up over the 2 days with 91 of them taking up the offer of a waiver of Registration and Form Fees totaling $51. In addition to that 123 National Entrance Exams Applications forms have been sold these 2 days. This means that 123 students will be selecting UP as the first choice of University education after the National Entrance Exams.
We are look forward to receiving our future leaders in the health sciences industry in the new academic year and wish them success in their National Entrance Exams.
Student Senate Meeting
Lately, UP Students Senate had a meeting to put in the loop together in terms of two important major parts which are student senate hand-book and dress-code for the upcoming year. Regardless of our UP students' suggestions and concerns, we wouldn't have come to this successful stage. Through this cooperation,
together, we are trying to have all of the problem solved; we are looking forward to helping and building UP to be the best University in Cambodia.


We would like to hear from you ! send your comments, news, testimonies to upvoice@puthisastra.edu.kh
what's up on campus
• 15-10-2019
commemoration day of former king norodom sihanouk
• 23-10-2019
paris peace agreement day
• 24-10-2019
deadline of scholarship application
• 01-11-2019
deadline of national entrance exam application
UP DENTAL STUDENT EXCHANGE PROGRAMS IN 2020
UP has many opportunities for UP dental students to go on international exchange programs and conferences. Here are just some of the programs and conferences on offer in 2020:
1. Japan – Denriche exchange program – 2 students
2. Japan – Hiroshima University science exchange program – 1-2 students
3. Khon Ken University, Thailand – Up to 10 students, once or twice during year – 1-2 weeks
4. Mahidol University, Thailand – up to 2 students – 1 month exchange program
5. Universitas Indonesia – up to 5 students – 1 week
6. Mahsa University, Malaysia – up to 6 students – 1 week
7. Universiti Technology Mara – up to 10 students – 1 week
8. University of New England (USA) – 2 students – 2 weeks
9. Australia – James Cook University – 2 students – 1-2 weeks
10. Australia – AHHA exchange program (may include time at Sydney Uni) – 2 students – 1-2 weeks
11. Rotary Program to Taiwan – 2nd group to be confirmed – at National Yang-Ming University
12. IDCMR (International Dental Collaboration of the Mekong River Region) conference – Indonesia
13. SEAADE (Southeast Asian Association of Dental Education) conference – Thailand
Some of these programs are fully or partially funded. Exchanges provide a wonderful opportunity for students to learn at some of the best overseas dental schools, experience new places and new cultures, and share their own experiences with others. UP is well on the way to having most dental students participate in an overseas conference or exchange program, and presently over half our students have taken part. In addition, students who have completed year 1 can apply to join the 4-year international dentistry program at Hiroshima University.

WHY STUDY DENTISTRY AT UNIVERSITY OF PUTHISASTRA?
Dentistry provides an interesting and rewarding career. It particularly suits people who like to work with their hands, and who like to help others. The best
dentists are among the highest income earners in Cambodia.
Why choose to study dentistry at University of Puthisastra?
1. 100% pass rate in National Exit Exam
2. Most of our lecturers have Masters or PhD qualifications – mostly from overseas
3. Our clinical facilities are excellent – with modern equipment, including one of only two dental microscopes in Cambodia
4. UP is the only dental school with 2 fully trained dental technicians and a modern 30-chair dental simulation lab
5. Students get 4 years of clinical training, under the close supervision of some of the top dentists in Cambodia (mostly specialists)
6. Over half the UP dental students go on overseas exchanges, to Thailand, Malaysia, Indonesia, Taiwan, Japan, Australia and the USA (much more than at other dental schools)
7. Students get extensive practical experience working in schools, prisons and communities providing dental care for disadvantaged children and adults
8. UP dental students are involved in cutting-edge research which is contributing towards improving the oral health of Cambodians
9. UP welcomes overseas lecturers to bring the latest knowledge and skills to our students. Each year more than 20 visiting lecturers spend time at UP.
10. UP is a university with modern teaching and learning techniques, including problem based learning, peer assisted learning and case based learning. Its staff work hard to ensure you have the best education possible!


UP updates ITS NEW WEBSITE!!!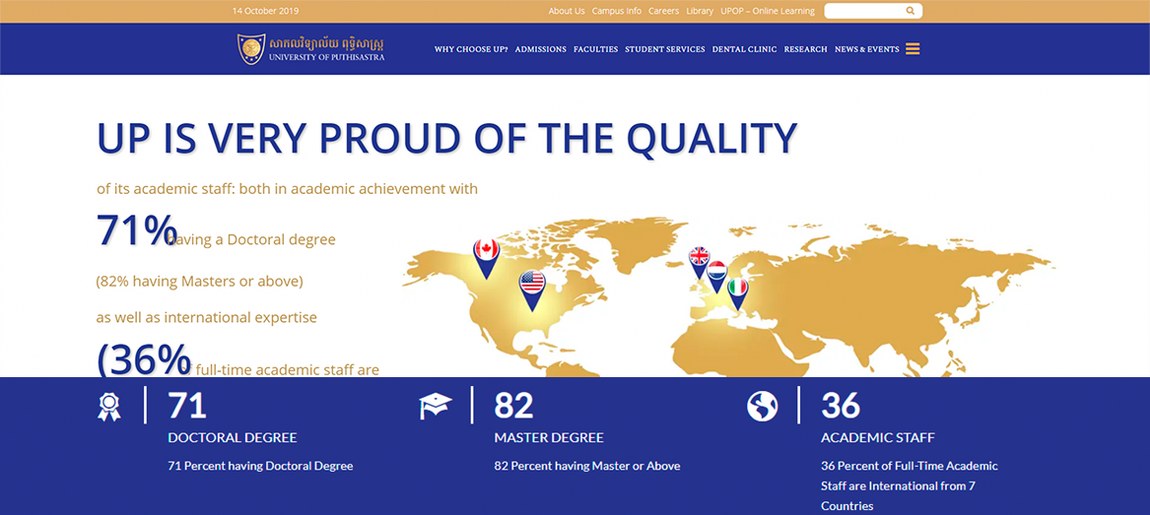 Congratulations to our IT team who have been putting efforts to update a brand new user interface with alot of insight information. Not only has UP launched its brand new website (in conjunction with Department of Marketing and Commercial), but IT has also substantially improved its services by massively expanding UP's free campus's WiFi as well as offering e-mail account to UP students and staff. Not only is our WiFi is free buts its now much more reliable and much faster than ever before.
You will also find our Latest News and UP Voice, detailing of the improvements and changes at UP as well as celebrating our students success.
Check it out now at www.puthisastra.edu.kh
UP students will have access to Digital Library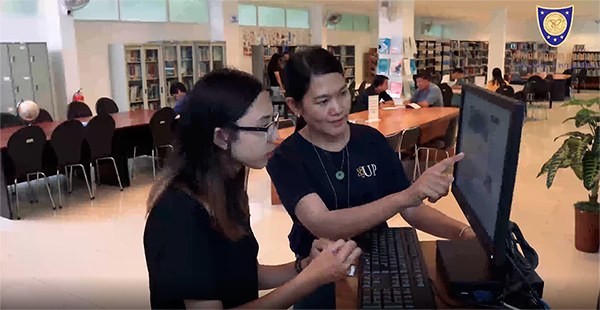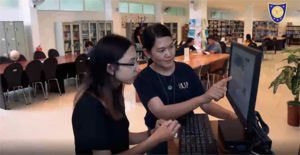 The Learning Centre is located in QLTS. It comprises two separate but interconnected units – Learning Centre Support (LCS) and the Digital Learning Centre (DLC) in which Digital Library will exist. The Digital Library will play an important role in supporting development of a next generation of library at UP, including selection of resources and support for student and staff access to and use of UP's Learning Management System, Moodle.
This will assist not only students but also staff by providing technology resources utilizing the Learning Centre's databases and integrated library system, as well as a variety of digital technologies.
UP FACULTY OF PHARMACY IS READY TO WELCOME THE 150 HIGH SCHOOL GRADUATES

The Faculty of Pharmacy, University of Puthisastra provides education on knowledge, skills, attitudes and behaviors necessary for research, practices and management within the field of pharmacy. Bachelor Degree in Pharmacy Program was designed to educate students with basic and compulsory knowledge related to community pharmacy, hospital pharmacy, industrial pharmacy, biological sciences and research.
Starting from year 2, students will practices at the university laboratories/simulated pharmacy, and have clerkship/internship within different hospital pharmacies, community pharmacies, hospital laboratories and pharmaceutical enterprises in order to strengthen their capacity through real practices. For 2019-2020, Faculty of Pharmacy was given a quota of 150 students' intake because of its fast growing quality pharmacy education and its abilities to support students to become qualified graduates.
Khmer Sight Foundation Mission!!!

Medical volunteer Dr. Roseleen supported the October 1-5, 2019 mission and helped raised over $5,000 for KSF in Ireland pictured here with all the wonderful volunteers. Khmer Sight Foundation hosted another mission from October, 14th to 18th 2019 at the University of Puthisastra, next to French Institute for poor patients with cataract. Khmer Sight Foundation provided free cataract surgery by UK surgeons.
To improve opportunities for UP students (as well as provide sustainable eye care) UP and Khmer Sight Foundation has launched upon a new ophthalmology complex at UP's campus. This one-stop center performs eye screening and clinical operations by international expert doctors as well as local Cambodian ophthalmologists. UP believes in giving students the best teaching by using the best equipment and the best teachers. Not only do patients benefit from international expertise and modern equipment but UP students have the opportunity to learn and train to equip them for their future career as health care professional
ONE-WEEK VISIT IN JAPAN BY YEAR-4 PHARMACY STUDENTS TO DISCOVER THE MEDICAL BIOLOGY WORLD WITH SYSMEX COMPANY

During the passing week, Dr. Ket Vansith led four year-4 pharmacy students namely PHON Sotheany, PHUY Meyli, EANG Sivmey, and NUON Vorleak to visit Tokyo with Sysmex company. They had a chance to visit the International University of Health and Welfare to learn about Japanese medical biology field. They said, it is true that in Japan, everything looks so clean and modern. When visiting the campus, they did not see a single trash.
Their laboratories are well-equipped and looking so new and professional making them feel like becoming the medical biologists. They learned new equipment and materials for medical biology analysis that they had never seen before in Cambodia. Moreover, they had a chance to speak with Japanese students and professors too. At the end of their stay, they went sightseeing in this big clean city such as visiting the temples and trying on the Japanese traditional costume Kimono, which was always one of their fantasies.
UP Participation at the BarCamp ASEAN 2019 Exhibition
UP Marketing Department and the Faculty of Business Entrepreneurship & Technology took part in the BarCamp ASEAN 2019 Exhibition from 12-13 October 2019 to promote our Bachelor and Master Degree courses in Information Technology. This is the fifth instalment of the annual event which in the previous year has recorded up to 10,000 participants.
UP took 2 booths at the exhibition, along with our peers such as NIPTIC and ITC, who offer similar courses in IT, and received overwhelming response from the participants, some of whom have indicated their interest in studying at UP and have left their contact details. We will be following up with them and hopefully, to welcome them into our family.

THREE-WEEK CLINICAL PHARMACY WORKSHOP BY DR. HEANG SUY SIEK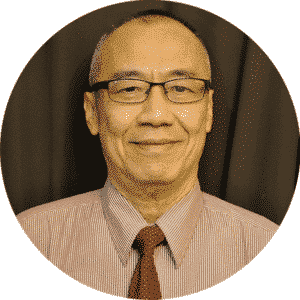 "A clinical pharmacist, who is he? What is the difference between a clinical pharmacist and a pharmacist in a traditional sense of the word? How does a clinical pharmacist help his or her patients reach their treatment goals?"
During his visit to Cambodia, Dr. SIEK is delighted to share his knowledge and experiences in clinical pharmacy. Dr. SIEK graduated with a Bachelor of Science in Pharmacy from the Faculty of Pharmacy and Pharmaceutical Sciences at the University of Alberta in Edmonton, Alberta, Canada in 1989. He completed his training in geriatric pharmacotherapy and was awarded the Certificate in Clinical Geriatrics from Edmonton General Hospital in Edmonton, Alberta, Canada in 1992. In 2013, he obtained a Doctor of Pharmacy degree from Anschutz Medical Campus, Skaggs School of Pharmacy and Pharmaceutical Sciences at the University of Colorado in Denver, Colorado, USA.
In May 2015 Dr. Siek became a Board-Certified Geriatric Pharmacist. Dr. Siek was a registered clinical pharmacist working in 4 long-term care facilities from May 1989 until his recent retirement in May 2019. While working as a clinical pharmacist, Dr Siek possessed additional prescribing authority and authorization to administer drugs by Injection from the Alberta College of Pharmacy. Dr Siek's past clinical experiences focus on geriatric pharmacotherapy and healthcare professional education on the clinical uses of drugs. Dr. Siek was a member of 4 multidisciplinary teams which includes the physicians, registered nurses, licensed practical nurses, occupational therapist, physiotherapist, nutritionist, recreational therapist and social worker. Dr. Siek also served as a member of the Pharmacy and Therapeutic Committee and participated in the Pharmacy and Therapeutic Committee and Medical Advisory Committee meetings on a regular basis. Dr. Siek also served as a member of the Antipsychotics Review Committees of 4 long-term care facilities. The committees meet monthly to review the appropriate use of the antipsychotics in the elderly. With his extensive knowledge and clinical experiences on pharmacotherapy Dr. Siek managed to help physicians, registered nurses and patients resolve many drug-related problems and bring about desired therapeutic outcomes. Faculty of Pharmacy is lucky to have him on board to train our staffs and students on clinical pharmacy.
Visit to NCTC and Thailand Lab International
From 24th to 25th of September 2019, with the support from X-lab Co.,Ltd, Mr. Hem Chanvatanak, Laboratory Manager, Mr. Chhea Sophearom, Assistant Dean of Pharmacy, University of Puthisastra (UP), and other 42 representatives from universities, industries and laboratories (both private and public sectors) had visited NSTDA Characterization and Testing Service Center (NCTC) and joint Thailand Lab International 2019 in Bangkok, Thailand.
On day 1, 30 members were selected to visit NCTC. The team were warmly welcomed by Dr. Natthaphon Wuttiphan, Senior Division Director of NCTC and his colleagues. After overall presentation of NCTC, the team visited 4 laboratories with ISO accreditation: the Physical Characterization Property Laboratory, the Chemical Analysis Section, the Biological Characterization Property Laboratory, and the Safety Pharmacological Assessment Laboratory. During the visit in each laboratory, Cambodian team had learnt further the principles and application of equipments and techniques such as Nano search microscope, Microscope spectroscopy, X-ray techniques, Gas Chromatography-Mass Spectrophotometry(GC-MS), Liquid Chromatography-Mass Spectrometry (LC-MS), Inductively Coupled Plasma-Atomic Emission Spectroscopy (ICP-AES), Inductively Coupled Plasma-Mass Spectrometry (ICP-MS), sample preparation, enzyme activity test, toxicology, pharmacology, microbiology etc.
At the end of the session, both teams came to a discussion on possible collaboration such as training (staffs and students), internship, joint research and testing services. On day 2, all members had attended the conference on different topics and visited exhibitions of laboratory products/accessories/ glasswares/reagents/equipment which was conducted in EH 102-104/BITEC/ Bangkok. There were participations from 250 leading suppliers, distributors, and sale representatives from 30 countries around the world.
This mission had brought all team members with deeper understanding and experiences of advanced technology in laboratories, built network with different specialists in ASEAN and the world and brought possible collaboration for their own institutions.

2 PHARMACY STUDENTS CAN'T WAIT TO PUBLISH THEIR MINI PAPER ON POLICY INTERVENTION TO TACKLE NCDS IN CAMBODIA
After four days and five nights in charming Kirirom (meaning Mountain of Joy) and joining the Policy Boot Camp, Marina and Vichheka who are both year-2 pharmacy students, are confident to make their voices heard in 'A big book of small ideas'. A book of small ideas is a book founded by Future Forum which gathers small ideas from the young researchers that are willing to make positive impacts in the community. During this boot camp, they learned so many new things and make several new friends while enjoying the forest of the National Park.
They learned about the root cause analysis using 4D approach (Diagnose, Discover, Develop, Deliver), Policy, and research methodology. Both students are interested in finding an innovative way to fight against the 21st Century Greatest Health Challenge- NCDs (Non-Communicable Diseases) in Cambodia. After using all of the tools provided during this training, the students found out that the prevalence of NCDs and their complications cannot be reduced until the people are sufficiently physically active.
From that analysis, they developed a micro-idea to increases physical activities among the locals from different perspectives. Marina is passionate in developing an innovative action to make office workers to exercise more whilst Vichheka is interested in developing greenery space to play with her classmates and other friends after school. Now they have about one month to develop a paper and possibly get a grant to realize their projects.
UP visit to Pasteur Institute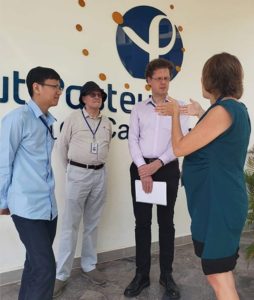 Friday 11 October​​​ Faculty of University of Puthisastra visited Pasteur Institute. Dr. Sandro Vento, Dean of Faculty of Medicine, Dr. An Srim, Deputy Dean of Faculty of Medicine, Tan Chantrea, Head of Department of Basic Sciences, Faculty of Pharmacy and Dr. Richard Huijbregts, Head of Faculty of Health Sciences and Biotechnology were welcomed by Dr Tineke Cantaert, Head of the immunology unit.
Dr. Cantaert gave a tour of both the diagnostic and research laboratory facilities at Pasteur Institute. The tour was followed by a discussion about how UP and Pasteur could collaborate further with involvement of students from Medicine, Pharmacy and Medical Laboratory Technology as well as the possibility of Pasteur staff teaching at UP.