The Official Newsletter of the University of Puthisastra (UP)-Vol.30 for 15th Dec 2019 Download
THE Big launch at UP, UP welcomes new students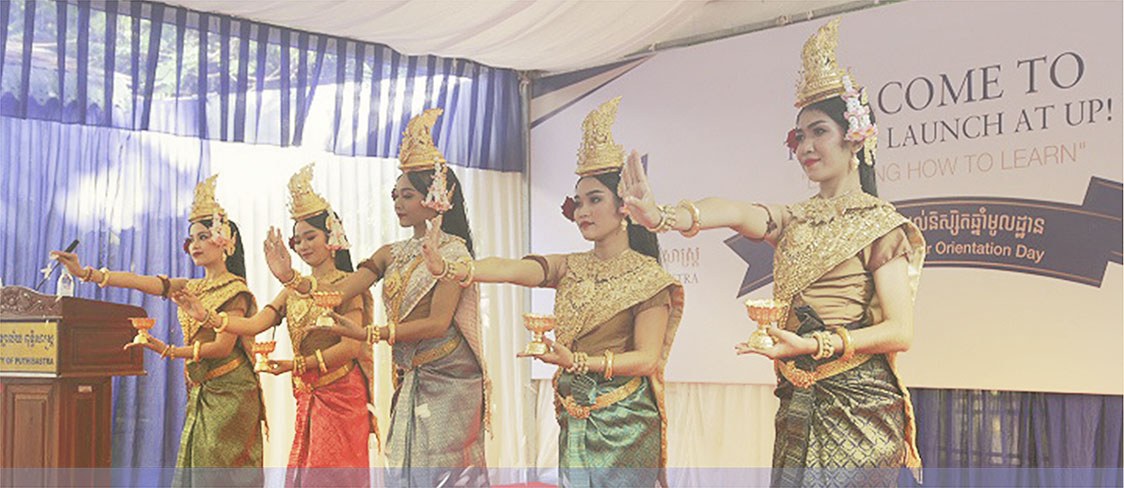 On 16 December, UP welcomed an excited group of 333 students as they joined UP for the first time. Big Launch is planned to mark the beginning of a new life with new routines and a new way of thinking. It also represents a time of new challenges and new opportunities. After the traditional Blessing Dance, students were addressed by the Vice Chancellor Professor Ian Findlay and then by UP's Chancellor, H.E. SOK Puthyvuth. His Excellency reminded students that they were setting out on set out on an exciting journey, and that they would be well supported on their way. He noted that the academic success and well-being of our students is as important to UP as it is to them.

His Excellency told the students of UP"s mission to Honour Self, Respect Others and Develop the Community, and of our values of excellence, integrity, tolerance, diversity, innovation and service in everything we do. He reminded them that UP places great emphasis on innovation in learning and teaching, entrepreneurship and the societal impact of research, and the professional and personal skills that create and sustain the future for them and for Cambodia.
His Excellency encouraged students to do their own thinking: to be critical and construct their own knowledge, gathering evidence, analysing it and arriving at their own conclusion. He reminded them that knowledge is a lifelong pursuit in which it is important to stay curious, reflective and open-minded.
After an enthusiastic response from our new students, His Excellency adjourned to UP"s Learning Centre, to officially open our new eLearning Centre. The eLearning Centre houses high-speed computers with the latest software and access to a huge repository of online resources. UP has five people including Digital Facilitators specifically recruited to support student learning and to advise teaching staff to bring L&T into the 21st Century.
The eLearning Centre also has brightly coloured, very comfortable bean bags for students to relax in why they discuss their studies, do some quiet research, or hold lively discussions.
Our new students spent the rest of the day on guided tours around the campus, meeting their faculty teaching staff, and familiarizing themselves with the places and courses that will rule their study lives for the next few years. Later, there was enthusiastic karaoke performances, to be followed during the remainder of Orientation Week by further activities with the teaching faculties and more fun as the students get to know new friends and study buddies and become to feel more at home at UP.
what's up on campus
• 18 Dec-2019
Deadline Application for Bachelor degree in health science
• 17-20 Dec-2019
Orientation week for foundation year students
• 28-29 Dec-2019
National entrance exam for associate degrees
• 1 Jan-2020
International new year day
• 7 Jan-2020
Victory over genocide day
RIBBON CUTTING CEREMONY – MEDICAL AND DENTAL CENTRE
UP, Rotary Club of Singapore and Khmer Sight Foundation (KSF), opened a new Medical and Dental Center at 10.00am on 15th December 2019 at Prek Leap National College of Agriculture in Phnom Penh. In his speech at the opening ceremony, President and Vice-Chancellor of University of Puthisastra (UP) Professor Ian Findlay, commended the best wishes of His Excellency Prince Tesso Sisowath of Cambodia who was also present and spoke about very fruitful collaboration with KSF, student volunteers, donors and other stakeholders.
Prof Findlay explained, "These new technologies will help us provide the best training skills in every technique possible and highest quality standards in health care. We provide free eye surgeries and dentistry for the very poorest communities of Cambodia. The opening of this centre will increase capability of UP and KSF to reach out to far more people." The past President of Rotary Club of Singapore, Mr.Stanley J.K Low also affirmed the Rotary Club"s support to the Medical and Dental centre.


15 UP FACULTIES JOINED THE 1ST BIENNIAL COMPARATIVE EDUCATION SOCIETY OF CAMBODIA IN SIEM REAP
Intense globalization and industrialized revolution have huge implications for the role of education in equipping students with both local knowledge and global understanding. The University of Puthisastra (UP) and Cambodia Development Resource Institute (CDRI) cohosted the first biennial conference on the theme "Education for Shared Community and Prosperity". Fifteen UP staff across all the faculties and departments joined the conference as both presenters and participants. Dr Tineke Water, Director of Research at UP, was one of the plenary panelists who discussed "decolonizing methodologies". She also chaired the Emerging Research Space during the conference.
Dr. Chea Sin, Dean of Faculty of Pharmacy, presented about the "Pharmacy Education at the University of Puthisastra: The Journey So Far", while Dr. Cheng Kimhauang, from the Faculty of Nursing talked about the "Developing Professional Identity: Cambodian Nursing Students" experiences of an Academic Program in a University Nursing School." Mr. Sao Sok San, lecturer from Faculty of Dentistry, pointed out about "Teaching Dentistry Outside the Classroom – Experiences of students at University of Puthisastra."
Mr. Vibol Boy, Teaching and Learning Coordinator, was delighted to share his research on "Challenges of Teaching English as an additional language in high schools in Cambodia, and Ms. Chin Chanty, Library manager, talked about the "Envisioning Libraries for the Future of Cambodia." UP foundation year (Ms. Saut sopheakpanha and Dr. Chhith Saosometh) and health counseling department (Mr. Touch Seyha and Ms. Chhorn Rada) also shared their talks about the challenges of learning physics among health sciences students and the need of health counseling education in Cambodia.
At the emerging researcher space during this conference saw our young researchers (Ms. Eng Muyngim, Mr. Chhea Sophearom, Ms. Cheng Chan Mara, and Ms. Hul Marina) present their work with Future Forum 4 months ago. They were excitedly delivering their various micro-interventions to tackle non-communication diseases in Cambodia. Those four interventions are: (1) Green Friday (2) Physical activity-friendly workplace and study space (3) Benefits of Physical activity during pregnancy (4) Education and Health: working together for innovative actions against NCDs in Cambodia. This was a great conference with a lot of sharing, learning, and networking! University of Puthisastra is looking forward to working closely with CDRI, Future Forum as well as other research/health/educational institutes.
New Equipment of Laboratory Sciences Department
Recently, Laboratory Sciences Department, purchased and installed brand new laboratory equipment for Medical Laboratory Technology students.
This means that both students and equipment will be ready for the modern medical technology tool. Welcome everyone to Laboratory Sciences Department.

The Signing Ceremony of the Memorandum of Understanding between UP and Sunrise Japan Hospital
UP celebrated a ceremony at UP on 11th December 2019 to officially sign a Memorandum of Understanding between Sunrise Japan Hospital and UP.
Mr. Keiya Kamata, CEO of Sunrise Healthcare Services Co., and Professor Ian Findlay, President and Vice-Chancellor of UP, signed the MoU that will allow medical (MD) students, Pharmacy students, Nursing students, Medical Laboratory students to get clinical training in one of the best-equipped Hospitals in Cambodia.
Prof. Sandro Vento, Dean of the UP Faculty of Medicine, and Dr. Yoshifumi Hayashi, Clinical Director of Sunrise Japan Hospital, were present at the
ceremony.
MARINA'S YEAR OF SUCCESS
Marina HUL, a year-3 UP pharmacy student, started getting involved in research when she was a in year 2.
From 3rd to 5th July, she used her scholarship to join the 9th Asian Association of Schools of Pharmacy (AASP) conference at Ajou University, Republic of Korea. She certainly was very successful and made UP very proud – her research poster won the best poster awards from over 300 posters from schools of pharmacy from all over Asia.
In October 2019, she was selected to be a young researcher with Policy Lab by Future Forum, where she is working on "Physical activity friendly-office and school redesign for NCD-free generations".
In December 2019, she was awarded travel grant to present her research at the First Biennial Conference of Comparative Education Society of Cambodia in Siem Reap. Her enthusiasm and capacity shows her great potential as a future leader. UP is proud to support her to realize her dream and wish her all the best.

UP Dental Students join Asia Pacific Dental Students Association (APDSA) meeting in Vietnam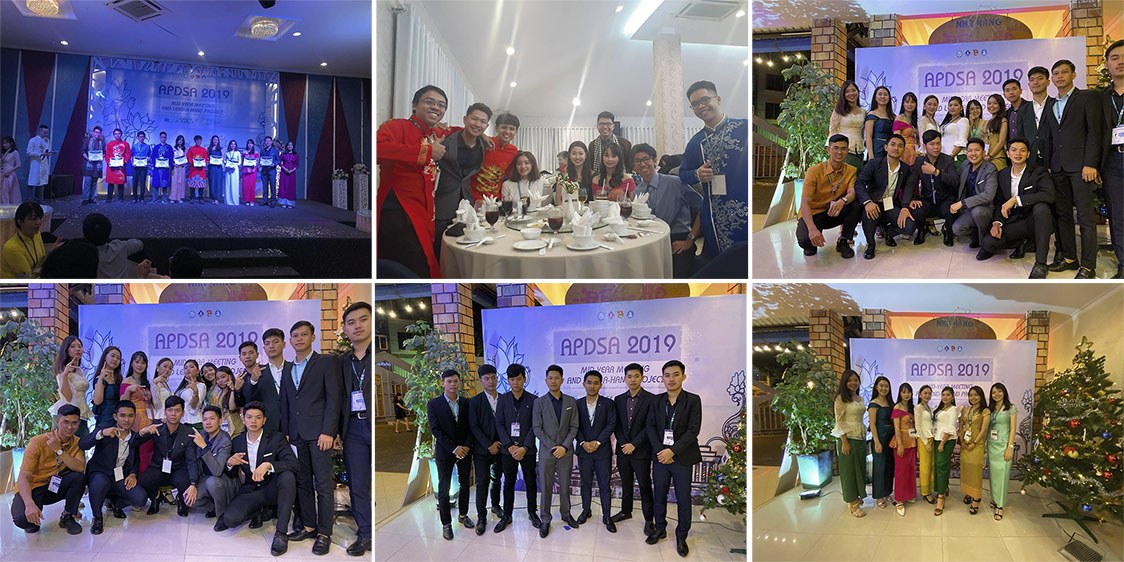 The APDSA Mid-Year Meeting and Lend a Hand project 2019 was hosted by APDSA (Vietnam) recently. They did a fantastic job even though it was the first time that Vietnam had hosted the Congress. The program allowed everyone to learn, enjoy a range of social activities, and help people with disabilities in the Lend a Hand project.
Seven UP dental students participated in the program, lead by Lao Ryna, International President of APDSA. The APDSA annual Congress 2020 will be take place in Siem Reap from 1st to 5th of August 2020. The next Mid-year Meeting and Lend a Hand project will be in Indonesia, and the 2021 Annual Congress in Japan. Many UP students will be involved in the Siem Reap Congress, and UP is the sponsoring university for this event.
COMPLIMENTS FOR UP PHARMACY STUDENTS FROM VARIOUS HEALTH INSTITUTIONS
UP considers it very important that our students are ready for their future and supports students to get the best jobs and best salaries. So its great to hear that our students and graduates are doing well.
UCare Pharmacy, PPM , DKSH, and other health institutes are very impressed by both hard and soft skills of our students and graduates during their
internships, trainings, voluntarism, and employment, enabling them to grow quickly and with full potentials.
This positive feedback from industry tells us that UP is doing a great job and help us to track our students" performance and strengthen the relationship with the healthcare professionals.

UP MEETS NOKOR TEP WOMEN'S HOSPITAL At University of Puthisastra on 2 December 2019

Three members of the NOKOR TEP WOMEN"S HOSPITAL held a meeting with University of Puthisastra to discuss collaboration in the areas of student training and internship, research and Cambodian women"s health education. University of Puthisastra"s representatives were Professor Ian Findlay, President and Vice-Chancellor of the University of Puthisastra, Dr Sandro Vento (Dean, Faculty of Medicine) and Dr George F. Afful ( Partnership and Engagement).
UP Running Club joined the Angkor Wat Half Marathon
On 8th December. 2019, a group of UP staff and student who are members of UP Running Club ran the 5km and 21km"s race in the beautiful temple
complex. Muyngim ENG, one of the club founders, even broke her PB (Personal Best) on the half marathon (21.097 Km) by finishing in a time of 1:44.06 (chip-time).
It was a cool fresh morning, allowing runners to enjoy themselves in the historical world heritage. For Muyngim, it was another long run but this time with more people, better weather, beautiful landscape and no noxious fumes compared to her usual training days in Phnom Penh. Her next races are 5000m in Koh Pich on Dec 22, 2019, and 10000m in Ho Chi Minh City on January 5th 2020.
This was the first race (5km) for Marina Hul, year-3 pharmacy student, who is also a fan of martial arts. Soksan SAO, a lecturer from the Faculty of
Dentistry, was also racing the 5km for his first time.
Sophearom CHHEA, from the Faculty of Pharmacy, said running in the complex of Angkor, made him appreciate the beauty of the Cambodian temples even more meanwhile running with colleagues and student for a change of office environment.
We all finished strong and happy!
UP Students at STARTUP DAY

Last week, UP Students from the ICT Department were part of the Startup Day organised by Startup Jungle (Slash). During this event, 30 local startups and companies open their doors to the public.
From workshops and product demos to seminars and tours of their offices, the 30 selected companies put on a whole day"s worth of events across Phnom Penh as guests are invited to choose which companies they want to see and step into their offices. UP students visited vibrant Startups. Among these: BLOC startup, focusing on food and goods delivery, and Slash, an IT Services company specialised in Artificial Intelligence.
Students were able to see the daily operations of Tech companies, learn about their corporate culture, business model, & human ressource requirements.
Overall many inspriring take-aways for UP students and a great celebration of the Cambodian Startup ecosystem!