The Official Newsletter of the University of Puthisastra (UP)-Vol.15 for 30th April 2019 Download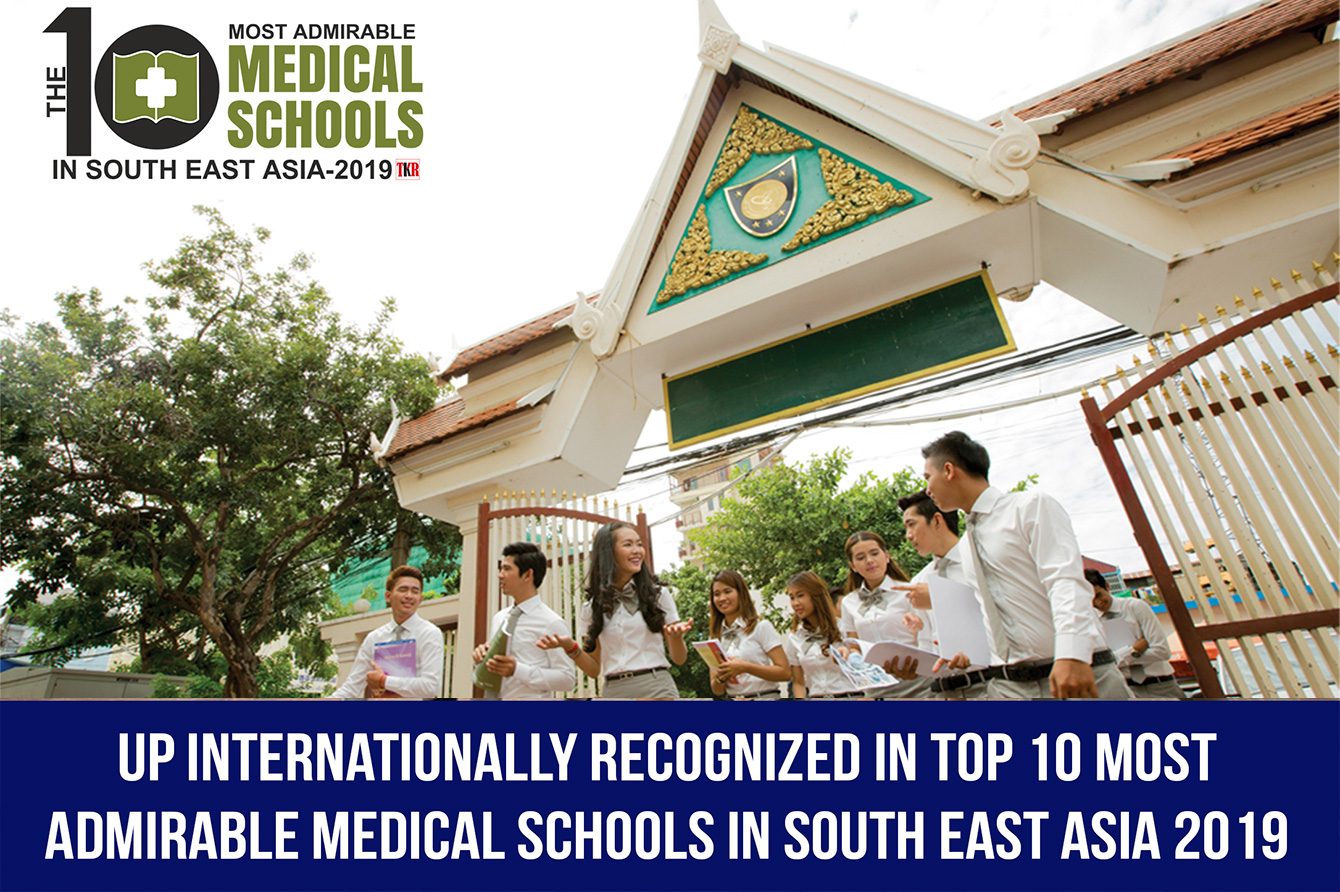 The huge improvements that UP is making to healthcare education has now been internationally recognized – UP has made it to the top 10 Most Admirable Medical Health Care provider in SEA 2019 according to The Knowledge Review (https://theknowledgerevie w.com/the-10-most-admirable-medical-schools-in-south-east-asia-2019-april2019/). UP is the only university in Cambodia to be recognized.
The Knowledge Review recognizes UP's exciting initiatives of:
• Ongoing curriculum improvement to World Standard
• Embedded English language (the language of Health) into the curricula – free of charge
• Communication skills – critical to effectively care for patients
• Critical thinking and soft-skills courses from Year 2. Essential skills for 21st Century
• Essential Anatomy is now installed in new computers in the UP Library. Free of charge.
• Free fast WIFI & upgraded computers and projectors
• Many visiting international experts delivering world best-practice knowledge and skills
• International visits for students and staff – giving students world-class experiences
• Dedicated Learning and Teaching – to improve curricula, improve our teaching and provide modern teaching methods
• Dedicated Research Hub – to maximize student research opportunities
• Learning Lounge and Career Corner – to maximize student success
This is great news for all UP students and staff, not only that but we are making UP even better! Watch this space – some very exciting developments in coming weeks. There is no better time to be studying at UP.
WHAT'S UP ON CAMPUS

–
International Labor Day
–
King Norodom Sihakmoni's Birthday
–
Visak Bochea Day
–
Day of Rememberance
–
Royal Plowing Day
UP Invests funds into Medical manikins for 2019

UP has promised to improve our Medical equipment and now we are delivering. UP is delighted to announce that Medical manikins for 2019 are already starting to arrive. Equipment already delivered includes Deluxe plus adult crisis auscultation, deluxe plus adult crisis, ECG simulator with monitor and memory, suture and stapling skills manikin, dorsogluteal intramuscular injection, airsim advance combo bronchi and spinal injection simulator. They are now ready for our students to take full advantage of.
These manikins help to develop and acquire medical student knowledge and are part of UPs investment in high quality learning and teaching to ensure our students get the best experience in learning, skills and careers to get the best jobs and create and empower 21st Century Leaders.
UP DENTISTRY VISITS AMERICA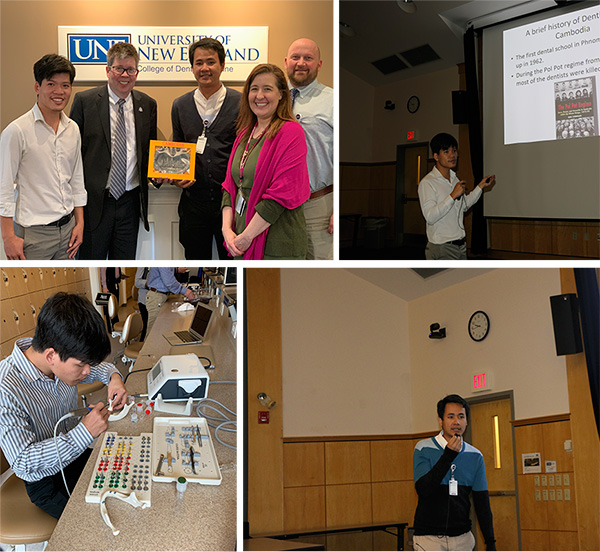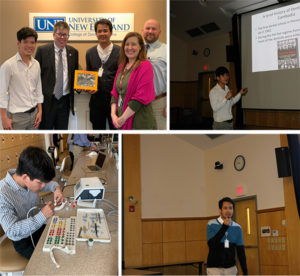 Year 6 dental student Srean Bunsrong and Dr. Horn Sereybot (UP Dental Clinic Manager) recently visited the University of New England College of Dental Medicine in the USA. They were hosted by Dean Jon Ryder and his wife (who is Cambodian). As part of the exchange program they attended classes, took part in simulation lab sessions (where they experienced the state-of-the-art MOOG Simodont Dental Trainer), and observed clinical treatment in the UNE dental clinic. They also had a chance to do hands-on implant placement on plastic models and attend lectures on CAD CAM technology (Computer Aided Design and Computer Aided Creation) used for a wide range of dental prostheses. They also learnt about health in challenging populations such as vulnerable populations in the US, especially in rural areas. They also visited a nursing home where old people live, and met with dentists working in private practice. In addition, they gave a special lunchtime presentation to staff and students about Cambodia, and some unique aspects of dental education at UP.
Beside the valuable time spent at the University, Dr Sereybot and Bunsrong also spent time sightseeing in Portland, Boston and New York. In conclusion, this was a valuable exchange trip which will be repeated in 2020.
UP is the only dental school in Cambodia that offers this golden opportunity to their students & staff.
Visit to UP by UK Royal College of Midwives and Bangladesh Midwives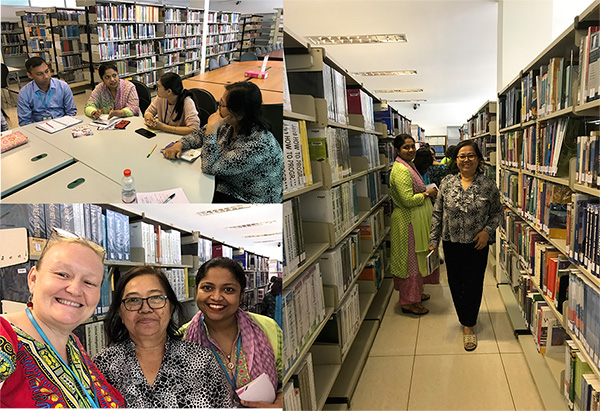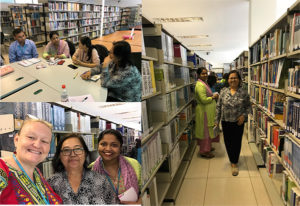 On 12 April 2019 the University of Puthisastra hosted a midwifery delegation from the Midwifery Society of Bangladesh, BRAC University Bangladesh, and the Royal College of Midwives UK. Cambodia is one of the few countries in Asia where midwifery is independent of nursing and where midwives work autonomously; allowing other countries to learn from Cambodia's example.
The delegation met with the Midwifery faculty at UP, visited the skills lab and the library and exchanged many ideas. BRAC University extended an invitation for UP staff and students to visit Bangladesh at later date for reciprocal learning. The UP team involved in the discussions was led by UP's Head of Midwifery Mrs Sim Sophanny.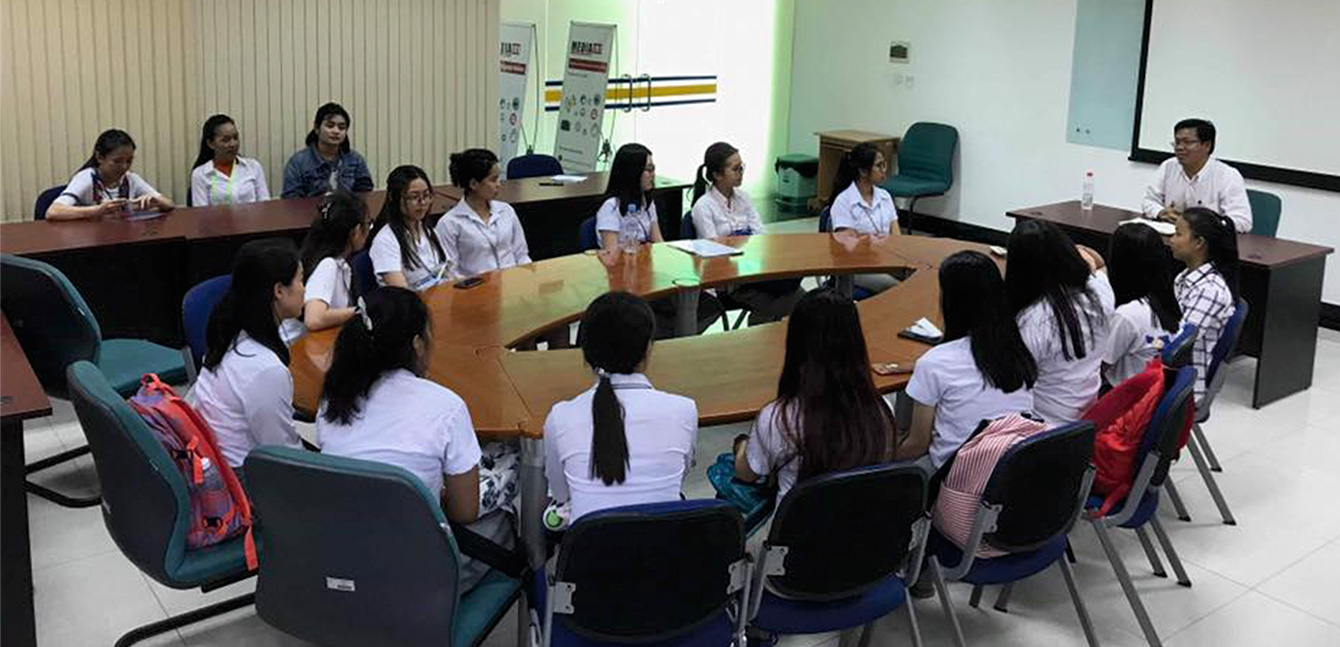 Realizing the dream!
UP pharmaceutical students are incredible! They keep us impressed by their inspiration, hard-work, discipline, and commitment. In a few months' time, 29 UP Pharmacy students from Year 2 to the final year, have been selected to presenting their studies at the 9th Asian Association of Schools of Pharmacy Conference (AASP) in Korea. AASP was established in April 2001 to promote cooperation, networking and mutual learning of pharmacy education, research, and practice among pharmacy schools in Asia. This year the AASP conference will feature a three-day program under the theme of 'Impact of Rapidly Changing Environment on Pharmacy Education, Practice, and Pharmaceutical Sciences' from 3-5th July 2019 at Ajou University, in Suwon, Republic of Korea.

The Faculty of Pharmacy is proudly announcing the great news that 11 student abstracts were accepted by AASP scientific committee for poster presentations during the conference. We are so happy to see our students achieving their academic dreams. Now let's hear from the students about what they feel: Sreypov SRUN, a 2nd year student, says. "I could not believe that I could achieve this dream in the early stage of my academic life.", she said. "This dream would not happen with the support from my team, my lecturers, my Dean, and the other faculties at UP. Thank you very much!" she added. Sophea HAS, a third-year student, excitedly posted the news on her Facebook wall to congratulate herself with this achievement and said she could not wait for this new experience. She is happy to make her friends, family, and university proud of her.
Sivmey EANG, a fourth-year student, feels very excited that her abstract was accepted for the poster presentations. She believes that this experience will add another value to her academic record and future career. She feels so grateful to the UP team for this great achievement. She knows that she is very lucky as other pharmacy students do not get international opportunities. This would be a great start for Sivmey who is passionate in academia and research.
" Seeing the students' achievement is one of my biggest dreams in my life" said Dr. CHEA Sin, the Dean of Faculty of Pharmacy. "I hope they will have a great conference, have fun in South Korea, and bring back home good memories and new energies for their next chapters of life. I would like to thank AASP for giving us this opportunity along with the grants to make this journey accessible for our students".
Dr. Samell KEO, the head of pharmacognosy and the research leader of Pharmacy Faculty who led much of the research and the whole Pharmacy team expressed their joy for this student success.
Hooray to UP students and supporting Pharmacy staff for this historical achievement – demonstrating the high quality of UP's pharmacy students
Health check up at Tonel Bati , Takeo province


On 14-16th April, 2019, Faculty of Medicine of University of Puthisastra conducted a community checkup to villagers at Takeo Sangrant at Tonle Bati, Takeo province to celebrate Khmer New Year. This has real impact as rural areas do not have access to quality healthcare and often have limited health and education opportunities.
Health is the most important thing that we have to take care, yet people who live in rural area simply don't have access to quality health which is why UP encourages all students to increase their knowledge and to help people in rural areas.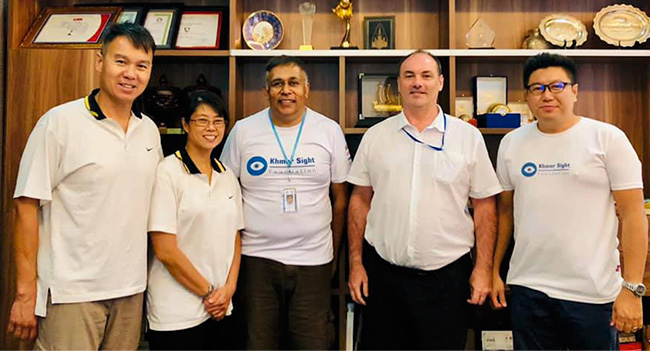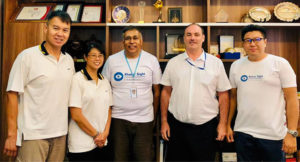 Partnership to help poor Cambodians on floating village on Tonle Sap
UP and Dr Andre Leong, GP from Perth Australia, are partnering to provide new medical services to help communities living in floating villages in the Mekong and Tonle Sap Rivers. UP and Dr Leong are also establishing partnerships with Australian Doctors and Hospitals to provide much needed General Practice training for UP students.
UP students scholarships for SAKURA Exchange Program in Science – Japan


This year, following an application put forward by Professor Tetsu Okamoto from the Faculty of Dentistry, Hiroshima University, five students and five young staff from UPs Faculty of Dentistry have been awarded scholarships under the SAKURA Exchange Program in Science to visit Japan from 4-10th August 2019.
Started by the Japan Science and Technology Agency (JST) in 2014, the Japan-Asia Youth Exchange Program in Science aims to invite talented young people from Asian countries to Japan for a short period to allow them to discover Japan's state-of-the-art science and technology and to participate in exchanges with Japanese talent for the bilateral transfer of experience, skills and research. The program provides financial support (expenses of travel and accommodation), and will include: attending the annual Peace Memorial (Atom Bomb) Ceremony; observation, lectures and a visit to the Bio-dental Colosseum at Hiroshima University Faculty of Dentistry; visiting the Morita Company Factory; visiting the National Museum of Science and Innovation; and sightseeing.
Hiroshima University will be hosting our team and we are very grateful to Professor Koichi Kato and Professor Tetsu for fostering our growing relationship with Hiroshima University. We are very excited to have this opportunity for international visits to make UP students the very best.
UP STUDENTS WIN 1ST PRIZE IN DENTAL QUIZ AT Asia Pacific Dental Students Association (APDSA) Cambodia. The Peak of Dentistry" Conference 2019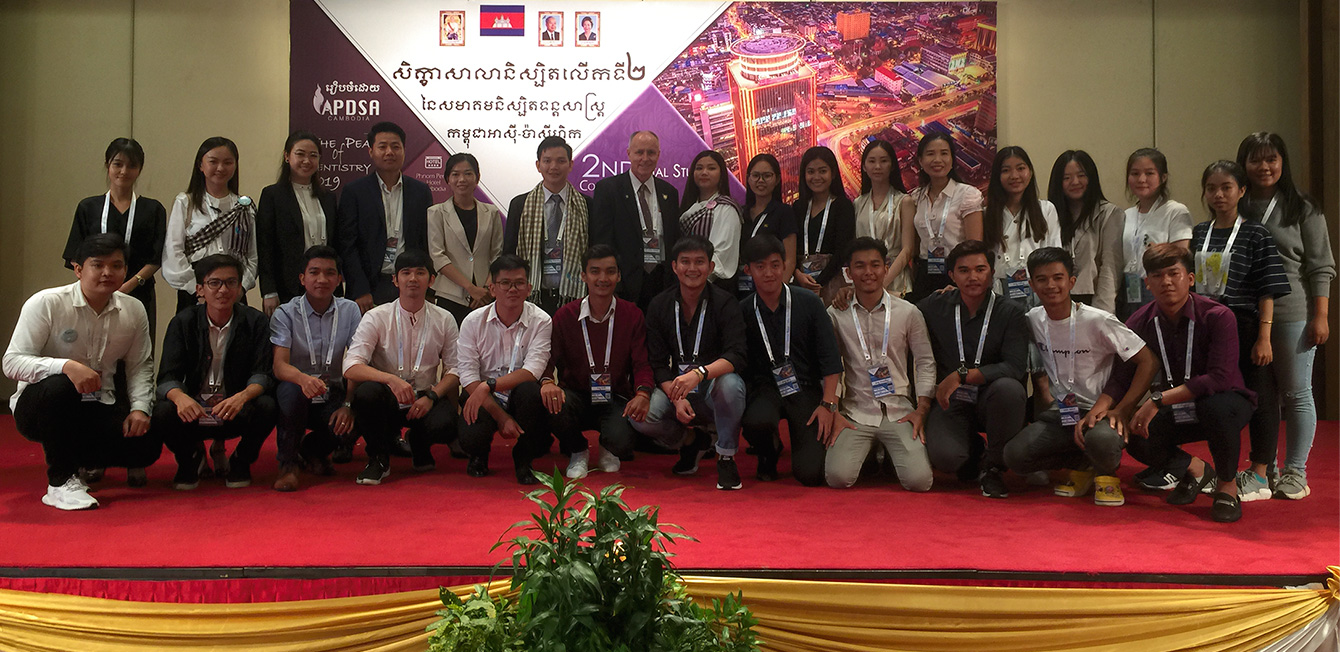 The UP team of year 6 students Choun Lina, Nam Virak and Sary Zaney demonstrated their knowledge of dentistry to the whole of Asia by winning FIRST PRIZE in the dental quiz at the recent Asia Pacific Dental Students Association (APDSA) Cambodia. The Peak of Dentistry" Conference at Phnom Penh Hotel on 29 April.
There were around 120 participants from all the dental schools in Cambodia, including 25 UP students. Three of the 4 guest speakers were UP lecturers, including our Dean Prof. Callum Durward, Dr. Peung Kimsreng (endodontist) and Dr. Nol Rithy (prosthodontist). Dr. Cheang Pengleang, former President of CDSA, also gave an inspirational address which brought some participants to tears.
The conference not only included lectures on important topics for students, but also had a research competition, a hands-on implant workshop, a dental quiz, and some fun and games.
UP Dental students, Lao Ryna, Jemmey who were part of the organizing committee for this years APDSA Cambodia annual event, did an amazing job of organizing the conference and getting 13 dental businesses to help sponsor the event. The trade display was impressive, and companies generously gave away prizes to lucky students. UP student, Ms. Sary Zaney, received a free Implant from Novem Dental Supply. She is wondering what to do with it since she has no missing teeth!
Ms. Lao Ryna, a UP Year 6 dental student from UP, and former President of APDSA Cambodia, would like to thanks and congratulate the hard working APDSA Cambodia LOC, especially the President, Mr. Sun Heng and Vice President Ms Ly Kanhalinta, for their strong leadership in hosting this amazing event.
In 2020, the APDSA Cambodia will be the hosted of the APDSA Cambodia will be hosting the APDSA Annual Congress in Siem Reap, Cambodia. This international event will have around 400 participants from all member countries. UP students are in the planning committee for this important event which will be supported by several local universities.
UP and KKU (Thailand) strengthen their bonds!
The Faculty of Pharmaceutical Sciences of Khon Kaen University (KKU) has been accepting UP intern students for the last three consecutive years. This is another fantastic opportunity to enrich students' knowledge and experiences for both universities. Each year our students report that interning at KKU was an amazing experience – sharing learning experiences and cultures with Thai students. Thai and Khmer students have quite a lot of common cultures and traditions, so the students get along with one another quickly and closely. They make good friends and they enjoy Thai food.

Students not only good life-long friends, but also create great long-term partnerships as well as job opportunities. Both UP and KKU relish their close relationship which is improving research and academic links across Thailand and Cambodia allowing even more students and staff exchanges.
The Dean of the Pharmacy at KKU was particularly impressed by the soft skills and English proficiency of UP students and said that Thai students learn from them. UP students were very pleased to hear than benefits flowed both ways and that KKU really appreciated them.
CLINICAL ORTHODONTICS SYMPOSIUM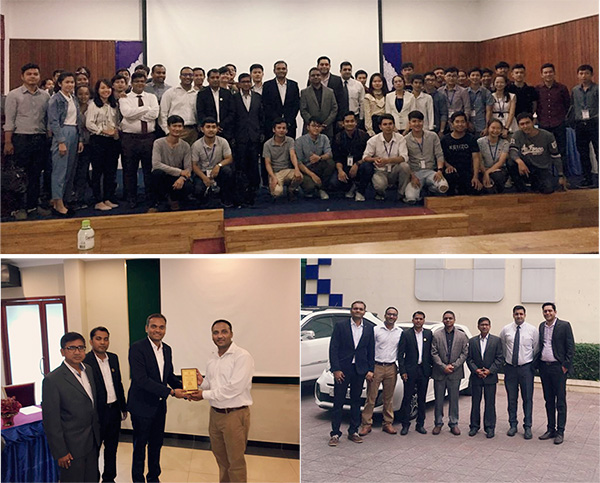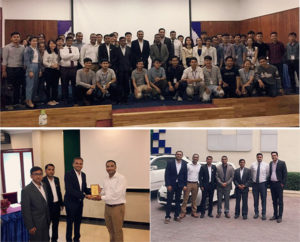 The "Clinical Orthodontic Symposium" was conducted recently through the joint efforts of the South West Maharashtra Orthodontic Study Group (SWMOSG) and University of Puthisastra. This symposium was attended by over 100 practicing orthodontists, general practitioners and students. Two local orthodontists combined forces with the large group of orthodontists from India to cover a wide range of interesting topics.
The "Clinical Orthodontic Symposium" was conducted recently through the joint efforts of the South West Maharashtra Orthodontic Study Group (SWMOSG) and University of Puthisastra. This symposium was attended by over 100 practicing orthodontists, general practitioners and students. Two local orthodontists combined forces with the large group of orthodontists from India to cover a wide range of interesting topics.
This reinforced UPs commitment to professional specialist training and UP hopes to announce the beginning of a postgraduate orthodontic program in the near future.
Fire on Street 63 on 24 April 2019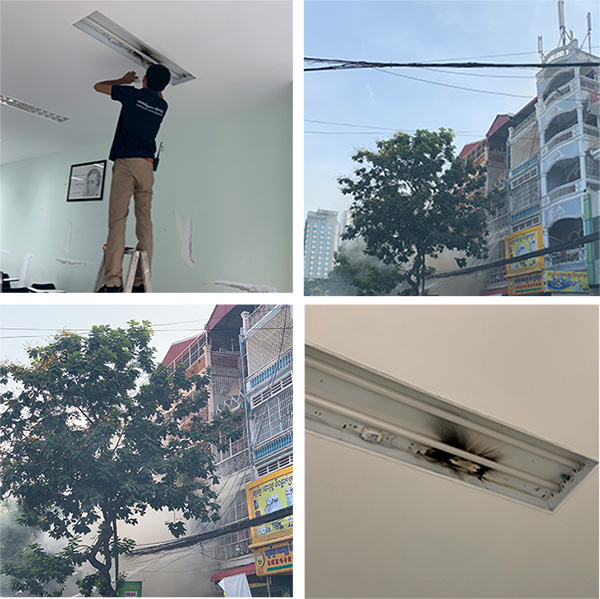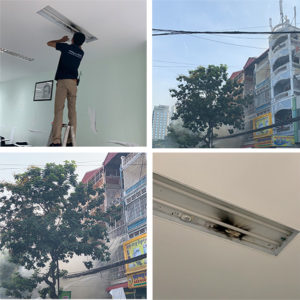 There was a fire in a building on street 63, very near to Building L on Wednesday afternoon, 24 April 2019. To ensure the safety of our students and staff, Building L was immediately evacuated. Fortunately, the fire was contained and confirmed to be successfully put out at about 5:20pm.
UP's technical and security team conducted a safety check and an inspection to identify any damage caused by the fire so that normal lessons could be resumed by 7am the next day.
A report of damages to the lighting in room L32 was fixed on the same day, it was also confirmed that this damage was not due to the fire next door. We are happy to note that there was no damage to UP property and that nobody from UP was injured because of the fire.
We would like to thank the technical and security team for their quick response to ensure the safety of everyone and also like to remind everyone to stay calm in the event of an emergency, listen to the instructions of our safety wardens and evacuate in a calm an orderly manner.