The Official Newsletter of the University of Puthisastra (UP)-Vol.16 for 15th May 2019 Download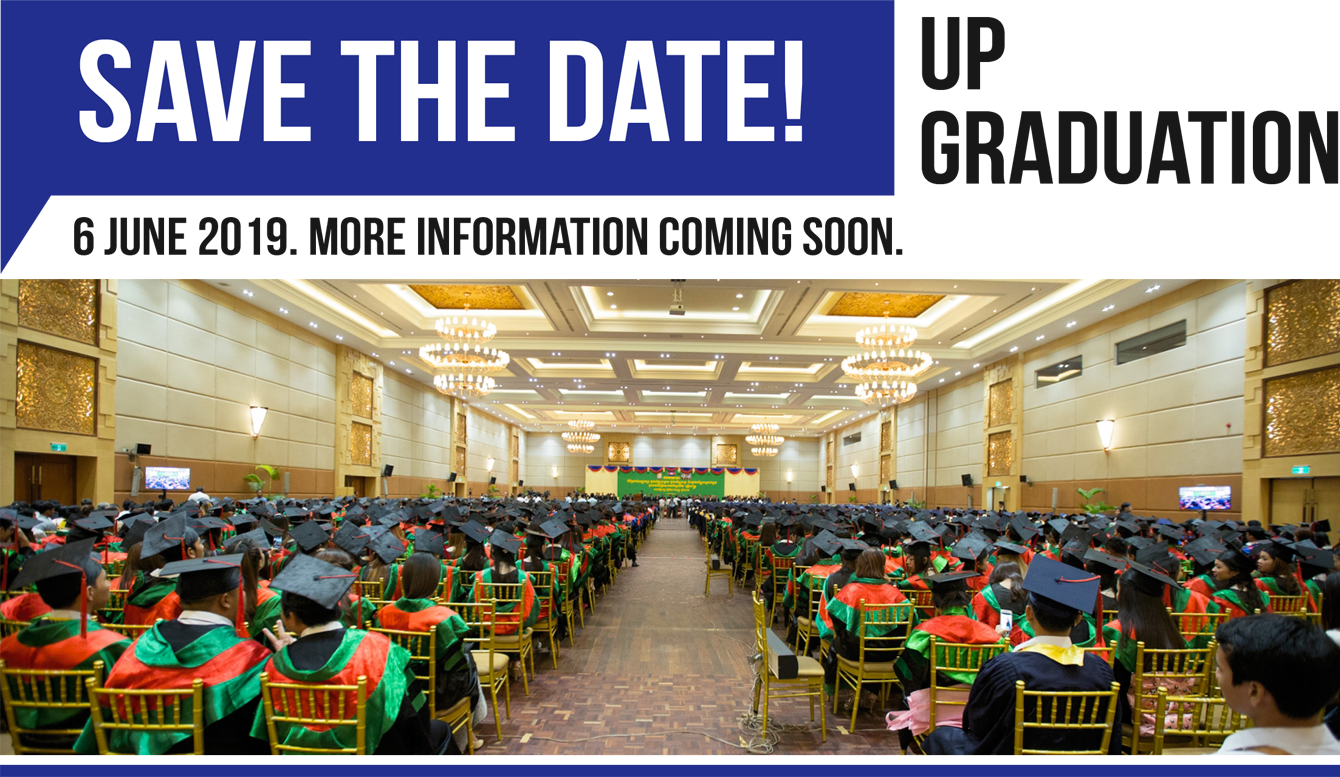 UP Signs MOU with KPJ Heathcare University College, Malaysia to develop postgraduate medical specialities.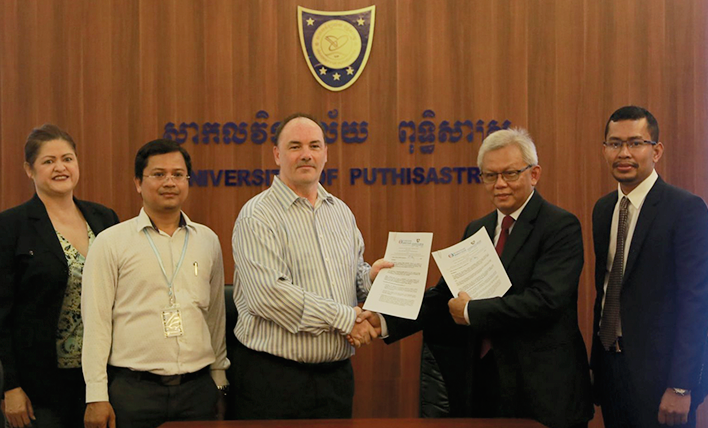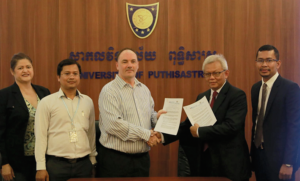 Prof. Ian Findlay, President and Vice Chancellor of University of Puthisastra and Prof. Dato Dr. Lokman Saim, Vice Chancellor of KPJ Healthcare University College, Malaysia recently signed an MOU to explore developing postgraduate medical specialty programmes at University of Puthisastra, Cambodia, in collaboration with KPJ Heathcare University College, Malaysia.
Postgraduate programs are critical for ongoing medical training and UP hopes to offer specialty training in 2020.
UP is one of the few universities in Cambodia to offer FREE, FAST WiFi to all its students and staff.
WHAT'S UP ON CAMPUS

–
King Norodom Sihakmoni's Birthday
–
Visak Bochea Day
–
Day of Rememberance
–
Royal Plowing Day
–
UP Graduation Ceremony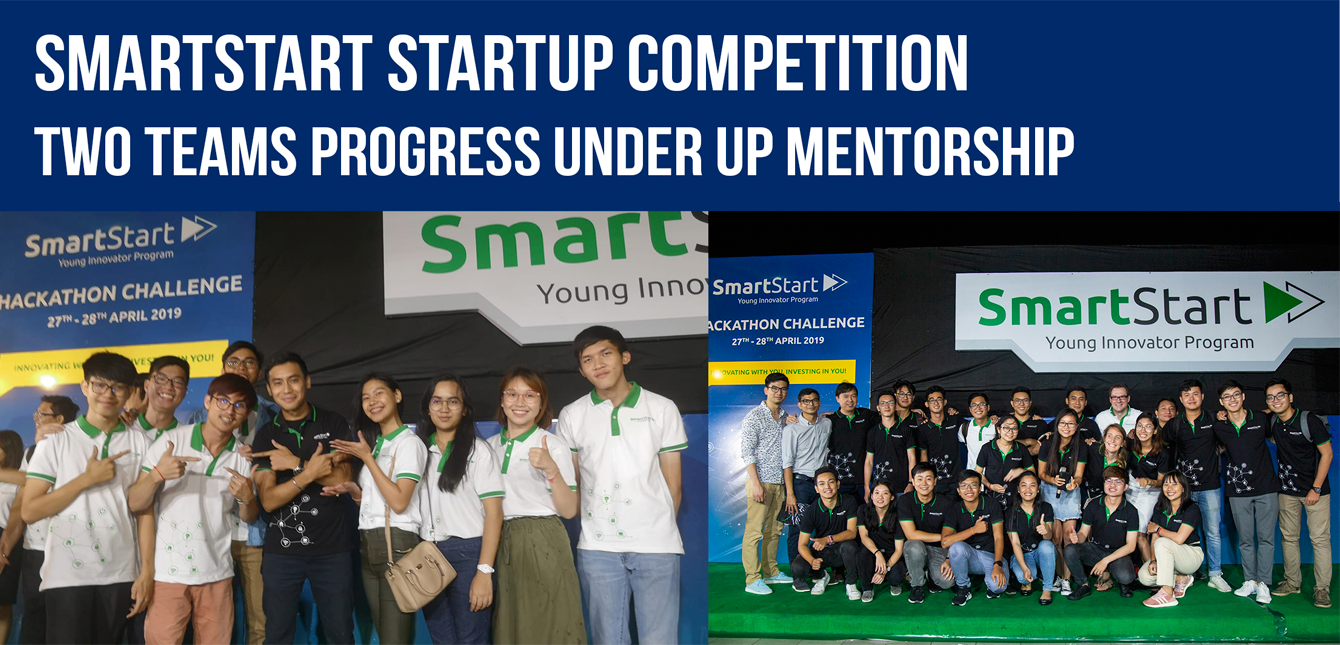 SmartStart is a Young Innovator Program to enable young Cambodian University students to launch their own tech startups together with Smart and Impact Hub. Last week, Kama Sos, the Vice-Dean of ICT, mentored 2 start-up teams who both successfully progressed to reach the next stage of the competition.
The 1st team "Kamong" is an app providing queue-free experience for customers in restaurant. And the second "Alpha-Ed" enables better communication between Schools and Parents. Next week, they are going to Kampong Cham for the 5-days bootcamp, an intensive preparation for the grand final on Sunday 9th June afternoon at Phnom Penh (CKCC). Good Luck to them!
UP LECTURERS ATTEND 10th (AMEA) SYMPOSIUM IN KUALA LUMPUR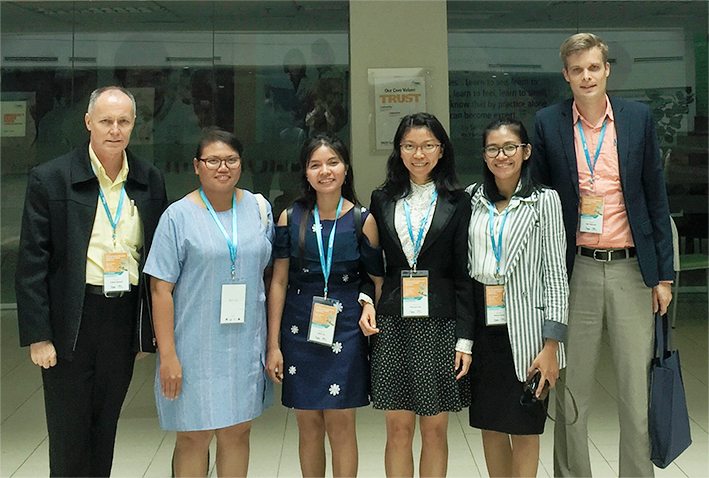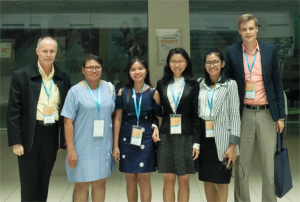 7 UP lecturers from Foundation Year, English, Dentistry, Laboratory, Pharmacy and Nursing attended the 10th ASIAN MEDICAL EDUCATION (AMEA) Symposium from 12-14 April at International Medical University in KL.
The theme was "The 4th Industrial Revolution: Creating a new world for Health Professions Education" and drew a large numbers of speakers and participants from Asia and beyond.
The Chair of the meeting was Professor Vishna Devi Nadarajah, who has previously run a workshop on teaching and learning at UP. Day 1 involved 9 hands-on workshops covering topics such as Cultural Competence, Enhancing Classroom Engagement with Learning Technology, and Creating Your Own E-portfolio.
The event was very worthwhile, with many opportunities to engage with other academics to share ideas and learn from each other. In March 2020 IMU will host the OTTAWA Conference which focuses on assessment in health sciences education.
UP believes that participating in international events is critical if we are to learn and implement World Best Practice to make UP students and Cambodia improve healthcare for its citizens.

The world is moving very quickly and UP believes that if we want to succeed then we need to keep up by being innovative and seizing opportunities. Master Students from ICT had a great introduction to Dropshipping by Florian Tep, a successful self-made entrepreneur. He taught our students how to build an e-commerce business from scratch, with a small investment and without product stock ! Thank you Florian !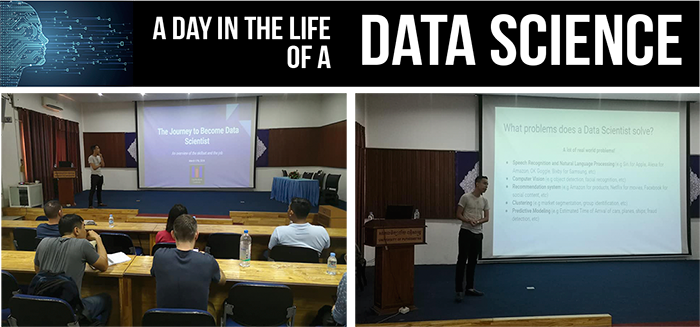 Did you know that Data worth more than Oil? But how do we extract value from data?
Kilian TEP, Data scientist based in Singapore, shared with UP students an overview of his day-to-day job, the wide range of application of data science, and advised on the skills required to become a problem solver using Data. This event was co-organised with the group Data Residents Cambodia which has continued with interesting conversations among all the guests.
Arrival of new Generators!

We are delighted to announce that our generator has arrived and we anticipate that it will be operation at end of May after all necessary safety checks have been completed.
We are aware that the lack of air conditioning in the classrooms due to the power outages over the last few weeks has been a concern for our students and staff. Student and staff comfort is important to us and we would like to assure everyone that UP's Leadership Team has been putting in every effort to address this issue during this difficult time.
Thank you for your patience and we look forward to having this new equipment in operation soon to provide back up electricity in the event of future power outages.
UP DENTAL TEAM COLLECT DATA FOR INTERNATIONAL BETEL QUID CHEWING RESEARCH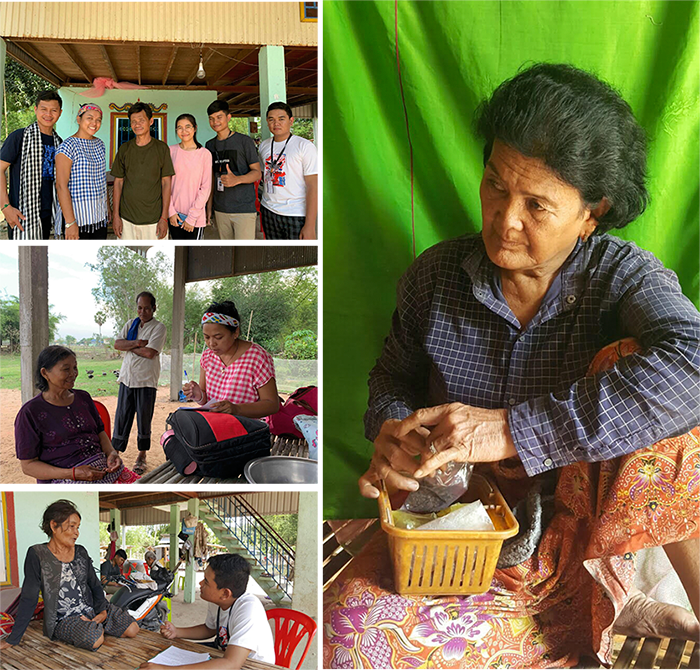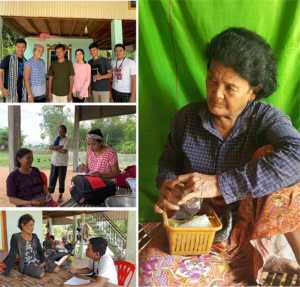 UP is developing an earlier 2018 study to exploring betel quid chewing practices of rural Cambodians. Betel quid chewing and smoking are important risk factors for oral cancer, which affects hundreds of mainly older rural Cambodians each year.
This international research is a collaboration between MAHSA University in Malaysia, Kaohsiung Medical University in Taiwan, the MOH, and UP.
This Betel quid project is a potential life-saver as many of those affected die within 5 years of diagnosis due to late presentation and limited treatment.
The survey team was lead by Dr Sieng Chantida (a recent UP dental graduate) and undergraduate dental students Hen Sopheakta, Im Puthisa, Han Pheara and Sovan Rithy. The group spent 3 days in Svay Rieng province, interviewing 90 betel quid chewers, as well as conducting focus group interviews with several groups of young and middle aged non-chewers.
The team will soon visit Kampong Cham province where betel quid chewing is also common, to repeat the data collection. The results will inform the development of interventions to decrease the prevalence of this dangerous habit, as well as guide MOH policies on betel quid chewing in Cambodia in the future.
FOUNDATION YEAR DELIVERS TEACHER ORIENTATION & STUDENT UPDATES

UP strongly believes that best education comes from the best teaching practices and so is constantly seeking ways to improve to World Standards. An important way to do this is to ensure that both teachers and students know about UPs high quality standards and our expectations to maximize students success.
On 4th May, Foundation Year conducted Teacher orientation. This orientation serves 3 main purposes:
1. updates on recently updated attendance and assessment policies to ensure fairness and high quality across all of UP
2. to provide clarity and consistency about expectations in teaching practice to ensure quality improvements are implemented.
3. updates about leave and review of other policies ensuring that UP teachers are well informed so that processes can be quick and efficient.
23 teachers from all Foundation Year faculties attended. On 6-7th May UP also conducted an update session to more than 90% of 272 foundation year students. The agenda was to help students understand the new semester and what it means in terms of courses they will be studying and the attendance and grading policies. We also talked about our expectations from the students and an update on how to access university resources to help students with their studies.
We hope that by working together in modern, World Class teaching standards, UP students can succeed in their dreams and become leaders in their field. These UP high quality standards plus our existing UP advantages (embedded English, communication skills, employability skills, international teaching & internships, critical thinking, etc) will deliver student success not just in Cambodia but world-wide.
UP staff and new graduates support the Cambodian Orthodontic Association Conference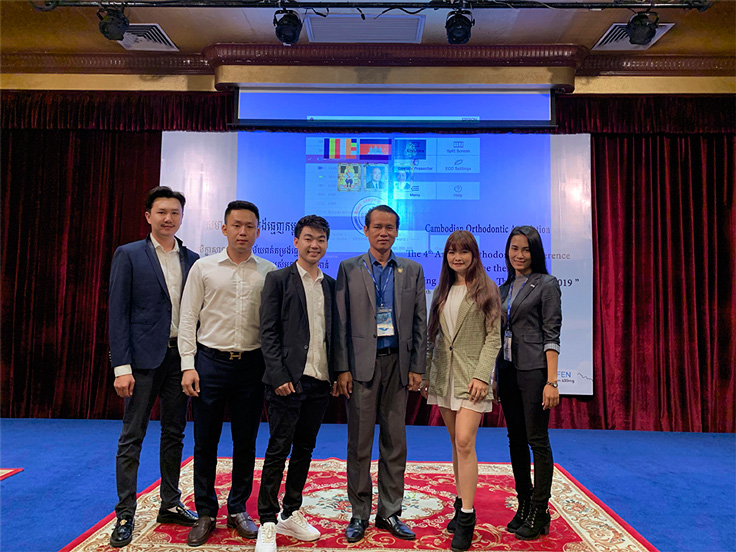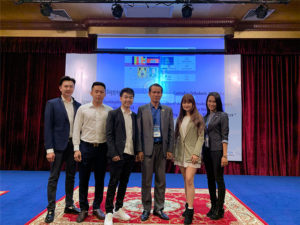 Last Friday was the annual meeting of the Cambodian Orthodontics Association (COA) at the Phnom Penh Hotel. Over 100 dentists (including excellent attendance by UP lecturers and students) attended the meeting, which was opened by HE Thea Kruy, Secretary of State at the MOH. In his opening speech Prof Thea Kruy emphasized the importance of continuing education for all health professionals.
President of the COA Dr Sok Chenh Chhean (UP lecturer) presided over the conference, and following elections handed over leadership to Dr Chum Mony, also our UP lecturer. The newly elected Board includes Dr Yos Chantho (UP lecturer) who is also the President of the Cambodian Association of Pediatric Dentistry. On the organizing committee for the conference were Dr Tort Borany (UP Deputy Head of Dentistry) and UP recent graduates/students Tien Enghong (protocol), Sok Chenheing and Lim Vathana (transportation), and Raksmey Socheat (registration). The conference featured 3 distinguished orthodontics professors from Korea Prof Hyo San Park, Prof Rebum Lee, and Prof Hong Su-Jeong.
UP continues to play a very important role in promoting continuing education for dentists in a variety of fields.
UP Pioneer students in professional health counselling

After the 1st Professional Health Counselling Conference in collaboration with Leeds Beckett University, on 8th of April 2019; UP's Center for Professional Health Counselling organized visits to various community projects and mental health service providers. This was very fruitful in encouraging organisations and projects to work collaboratively. The experiences encountered with the UK team have further motivated our students and teachers to undertake outreach activities to support and strengthen families within the community. They wanted to 'pay forward' and enable individuals in neighborhoods who face difficulties.
Our compassionate teacher and students encountered a man who lost both of his arms in a serious accident. Despite his condition he remains passionate about his son's education. The man's hope for his children's future, despite his physical disability, inspired a teacher (Hoeur Sethul) from the professional health counselling course at UP and some of the second-year counselling students, to fund raise to help support the family. They purchased a cow, clothes, two bicycles, books, school materials and rice to enable and empower the family to move forward following an accident. The bicycles will help the boys get to school.
UP DENTAL CLINIC OFFERS FREE WISDOM TOOTH REMOVAL

UP is partnering (for the second time) with Dental Training Academy (Singapore) to conduct a 3 day course on wisdom tooth extractions. The course lecturers and clinical supervisors are two Oral Maxillofacial Surgeons from Singapore, as well as Professor Hong Someth (OMF surgeon from Cambodia). This course is for qualified international dentists who wish to improve their skills in minor oral surgery techniques. These dentists will all be registered with the Cambodian Dental Council.
The treatment will be carried out in the UP Dental Clinic on 14-16th June.
We are looking for patients (mostly UP students) who might need to have their wisdom teeth removed. The treatment will be provided free, and patients will each receive $20 to cover their expenses. Free medicines and follow-up after treatment will also be provided.
If you would like to find out more about the program, please come to the dental clinic for a free check-up and Xrays ask to speak to Dr Mengkheng, Mr Mengleang, Dr Sothea or Dr Sereybot. The whole process will be explained, and you will receive written information.
ANATOMY REVIEW BY PROFESSOR JENNY HAYES FROM UNIVERSITY OF MELBOURNE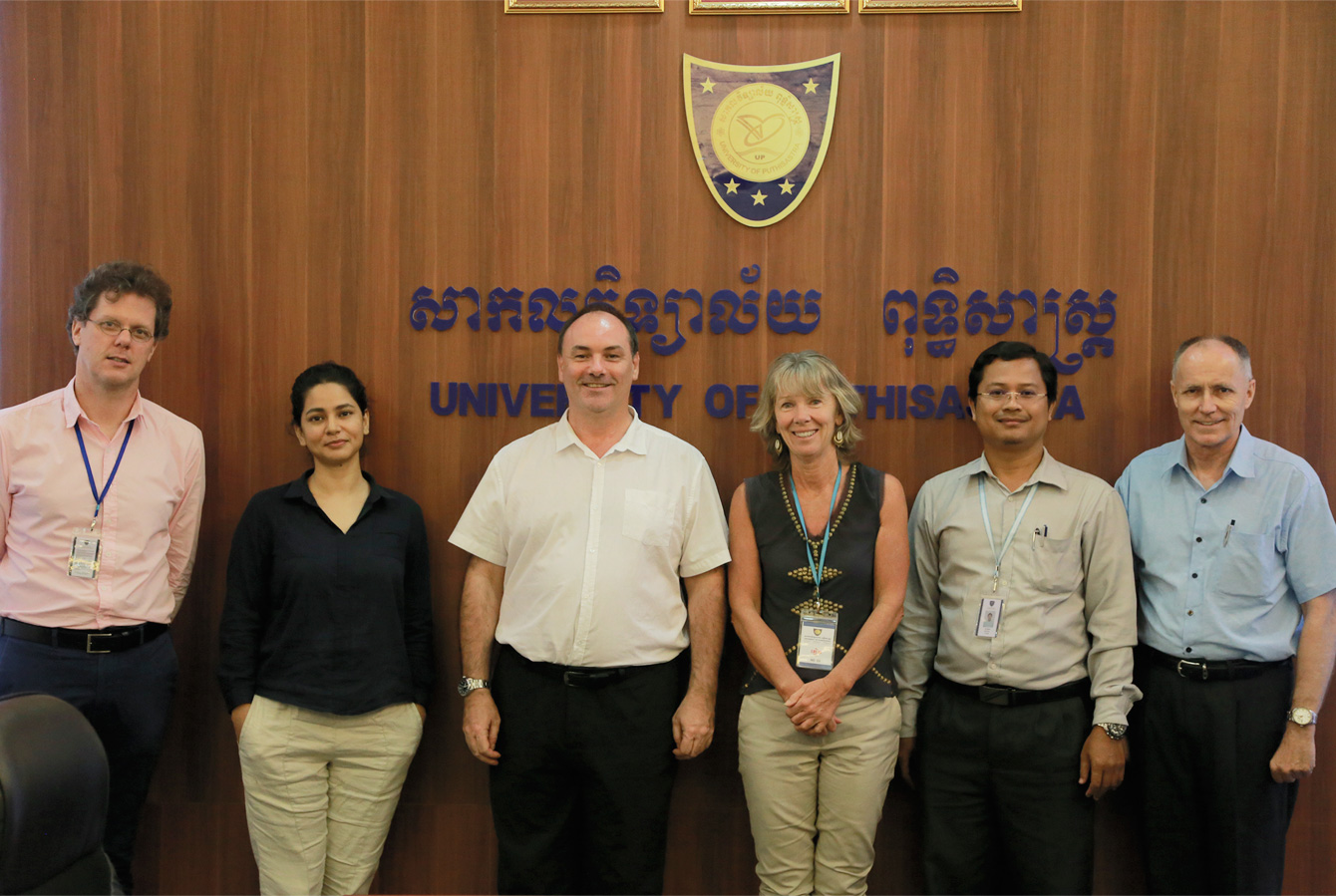 Recently UP was honoured to have Associate Professor Jenny Hayes from the Department of Anatomy at University of Melbourne visit us for two weeks. This was her third visit to UP over the past 5 years but her first time as an invited consultant.
Anatomy is very important as it underpins the study of medicine, dentistry, nursing and midwifery, so a sound foundation in anatomy is of utmost importance for our students. Her task was to carry out a review of our teaching of anatomy and help UP implement international best practice in this subject. A/Prof Hayes wasted no time in meeting Faculty staff, anatomy teachers and students. She attended several anatomy lectures, and was able to view our resources in the library as well as in the anatomy lab and nursing/midwifery labs.
She also reviewed the national curricula, course outlines, and the teaching and assessment methods being used at UP. On her final day A/Prof Hayes met with senior academic staff from to present her findings and discuss activities during her second visit later in the year.
During her second visit she will demonstrate current teaching and learning methods (including those used at University of Melbourne), and run workshops with our anatomy teachers from Foundation Year to Year 3. Through visits by international experts such as Assoc Prof Jenny Hayes, UP hopes to improve the quality of our UP programs to international level.
Yet another example of UP investing in quality education for our students.
UP Faculty of Pharmacy's publishes 2 more papers at International Conference!!!
Congratulations to the joint efforts of the Faculty of Pharmacy and Department of Laboratory Sciences to produce two research papers for international conference at Walailak University, Thailand.
Congratulations to the joint efforts of the Faculty of Pharmacy and Department of Laboratory Sciences to produce two research papers for international conference at Walailak University, Thailand.
Research is important for UP, students and putting Cambodia on the World Stage – UP's Faculty of Pharmacy is delighted with its 22 research posters and papers for international conferences since the beginning of 2019.