The Official Newsletter of the University of Puthisastra (UP) Vol.4 for 15th November 2018 Download
---
[/vc_column_text]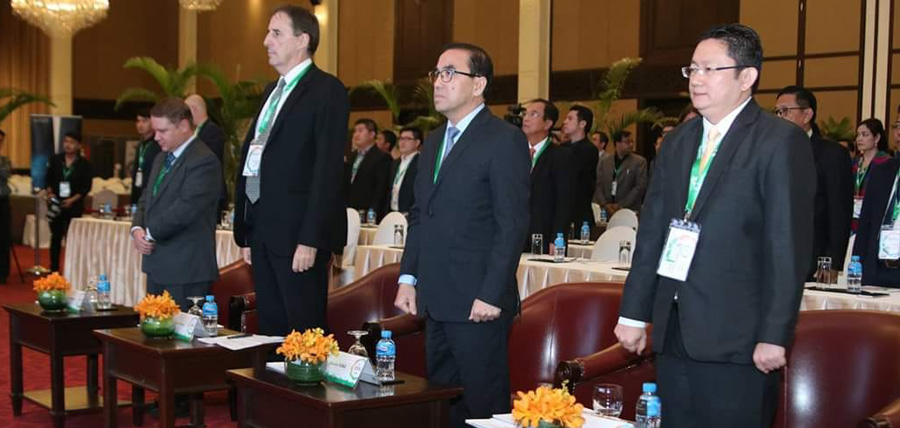 What's UP on Campus
‣ 17 Nov – Deadline of enrollment for faculty of science and technology
‣ 21 Nov – Water Festival
‣ 03 Dec – The Big Lunch
‣ 03 Dec – Start of Classes for Foundation Year Students
‣ 04 Dec – University Orientation Course
VOICE IT UP
---
"My Foundation Course at University of Puthisastra (UP), we learn and do a lot of fun together. Thank UP,  teachers and friends, specially my family."
Heng Kosal, UP ICT Student Year 2
---
UP joined the 4th GAC 2018
The 4th Global Alumni Convention was officially openned by Minister Veng Sakhon, EU Ambassador George Edgar, Australian Deputy Ambassador Luke Arnold and GAC Convenor/IDP Country Director Mao Sreng. Thousands of students, parents, alumni and business leaders were at the
knowledge sharing sessions or the education Expo 11-12 Nov at Sofitel. There are 3 components in this convention including: Global Education & Career Expo, Global Education & Business Forum and Global Alumni Dinner. This is an ideal opportunity for expanding University of Puthisastra
to the international level. The University of Puthisastra (UP) has recently gone through a lot of changes, good part of those changes are the degree programs and the foundation year program it is offering.
Deck chair Dentistry in Cambodia

University of puthisastra partnerships with overseas universities was the driving force that allowed our dentist student to practice with international dentists and gain unique and valuable experience unavailable to most. Recently, we have conducted a joint-treatment with James Cook University (Australia) to treat Cambodian people with issues in paediatric oral health, as well as the difficulties of practicing dentistry in underserved communities.
Discover how to make a difference with UP Dentistry. Experience working in a range of settings, including overseas placements and various opportunity in developing your future career with University of Puthisastra.
4th ASEAN Association of Schools of Medical Technology Congress 2018 (AASMT 2018)
Dr. Chea Sin, Dean of Faculty of Pharmacy, and Mr. Ouk Soksereivotanak, Acting Head of Medical Laboratory Department joined the AASMT in Yangon, Myanmar for 3 days under the theme of "Optimizing Paradigm Shift from therapeutic to promote healthcare with medical technology". And Faculty of Pharmacy and Medical Laboratory Department were officially announced member of ASEAN Association of Schools of Medical Technology and we were also included in the management board of AASMT.