The Official Newsletter of the University of Puthisastra (UP)-Vol.32 for 16th Jan 2020 Download
Successful LEADERSHIP Seminar at UP
Last Sunday 12th January 2020, the ICT Master students have organised a seminar about the Significance of Leadership in a career. It was organised as part of their Leadership class conducted by Mr. Vanna SY. Starting with a leadership challenge where each group of students introduced their project using the communication techniques they have learned, the event was followed by a very instructive speech of Okhna Dr. Mengly J. Quach.
Dr. Mengly J. Quach is a Cambodian American educationist, medical doctor, entrepreneur and philanthropist, and the Founder of the Mengly J. Quach Education, an umbrella for Aii Language Centers (Aii) and American Intercon Schools (AIS).
More than 250 students registered for the 4 hours seminar, where Dr Mengly J. Quach shared his experience and tips in leadership and career. He pointed out that many young Cambodians are lacking of leadership while it's highly valued in a career. To improve leadership skills, he stressed the importance of knowledge, honesty, trust, confidence, commitment, work at school, internship and volunteer work.
In addition to these, Oknha Dr. Mengly J. Quach also conveyed tips about a healthy life and the importance of hygiene, dressing and manners to participants. He encouraged students to read more often and introduced a number of books which could inspire them to be future leaders. Most of the books mentioned are focusing on psychology and social science.
We would like to thank all the ICT Master students for making this event happen, our Leadership lecturer Mr. Vanna SY, and Dr. Mengly J. Quach for his inspirational speech and his great contribution to the Education of young Cambodians.
what's up on campus
• 1 Jan-2020
International new year day
• 7 Jan-2020
Victory over genocide day
• 31 Jan-1 Feb 2020
UP wide first aid Workshop
UNIVERSITY OF PUTHISASTRA PARTNERS WITH NEW YORK UNIVERSITY (NYU) IN THE "HEALTHY KIDS CAMBODIA" PROJECT
The Healthy Kids Cambodia (HKC) project aims to decrease the caries burden among children by bringing together NGOs, public schools, universities, and individuals with the common goal of improving the oral health of Cambodia's children.
A team of 22 personnel from NYU (a mix of dentists, dental specialists, dental students and support staff) and dental students and dentists from UP joined forces last week at Chaktomok Primary School to provide free dental treatment to over 200 children, under the banner of the HKC project. The NYU team brought a large amount of mobile dental equipment from the US with them. This is the third time that NYU has visited Cambodia to support the project which has the support of the Oral Health Bureau at the Ministry of Health, and the School Health Department at the Ministry of Education, Youth and Sport.
The children in Cambodia have a severe experience of dental caries and most of the children treated last week were experiencing mouth pain or had a cavity in their permanent front teeth. The team from NYU mainly provided the more advanced level of care that some of the children at the school needed, including high quality white fillings, extractions, and root canal treatments. Students from UP had already seen all of the children during 2019 and had provided Level 1 care – including introducing a daily toothbrushing and handwashing program, and applying silver diamine fluoride to "arrest" dental caries in the primary teeth. Last week UP staff and students worked alongside their American colleagues to ensure children received the best care possible. The opening ceremony was attended by Her Excellency Soeur Socheata, Under Secretary of State, Ministry of Education, Youth and Sport, Dr. Sieng Tida and Dr Bethy Turton (One-2-One Cambodia), Dr Hy Bunhay (My Village Health Service Association), Mr So Thy (Principal, Chaktomok Primary School), Dr Callum Durward (Dean, Faculty of Dentistry at UP), and the dental teams from NYU and UP. UP greatly values its partnerships with the Ministries, NGOs and international groups to promote its mission to help improve the health of underserved Cambodians.
More internship opportunities for UP Pharmacy students in coming vacations

University Gadjah Mada (UGM) in Jogyakarta, the most preferred school in Indonesia, and Universitas Airlangga offer the internship opportunities for year-4 and year-5 UP pharmacy students. The offer includes the tuition fee and accommodation during both spring break (mid-March to April 2020) and summer break (Aug to October 2020).
Now the students will have three choices of international internship: Khon Kaen University, Universitas Airlangga and University Gadjah Mada. That is a great news for many UP pharmacy students!
UP WELCOMES STUDENTS FROM UNIVERSITY OF NEWCASTLE IN AUSTRALIA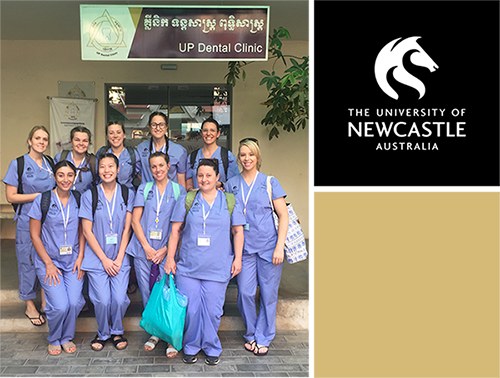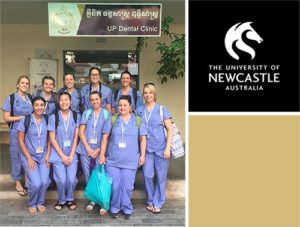 18 Oral Health Therapy students from University of Newcastle in Australia arrived in Cambodia last week to support the Healthy Kids Cambodia project for disadvantaged children from the PIO (in Stung Mean Chey) and Cambodia Children's Fund (CCF) NGOs. During the two weeks they are here, the students will rotate (in groups of 6-8) between PIO, the UP Dental Clinic (where PIO children have been referred for more advanced treatment) and the Cambodia Children's Fund (CCF).
The Newcastle team has been coming to Cambodia for the past 4 years, but this is the first time they have partnered with UP. Their mission is to help support the implementation of the Healthy Kids Cambodia school oral health program, which UP students are also part of. The overall coordinator of the project is One-2-One Cambodia. During the 2 weeks the Newcastle students are in our clinic they will provide a range of basic dental treatments with assistance from our own UP students and staff. The logistics for the visit were organized by Ground Asia, a local company which facilitates volunteer visits to Cambodia. The students each had to raise funds to join the trip, and are accompanied by lecturers from the University of Newcastle to supervise and mentor.
Dr. Sin Chea kicked formally elected as OBSERVER of BOARD of DIRECTORS of Asian Association of Schools of Pharmacy

Hearty congratulations to Dr. Sin Chea on his recognition! All the sacrifices that he have made in his job paid off. Commitment, confidence and accomplishment are the things that we've always assumed to be synonymous with his character. The Asian Association of Schools of Pharmacy (AASP) is an international organization whose mission is to promote oneness amidst diversity in advancing and enhancing the quality of education and training in its member schools of Pharmacy. This is going to be a golden opportunity to unlock many opportunities for University of Puthisastra. He would be able to promote cooperative advancement of pharmacy education and research among all school members. Apart from this, he could stimulate the exchange, and dissemination of ideas and information of education, science and practice among health professionals and educators.
International Year of the Nurse and Midwife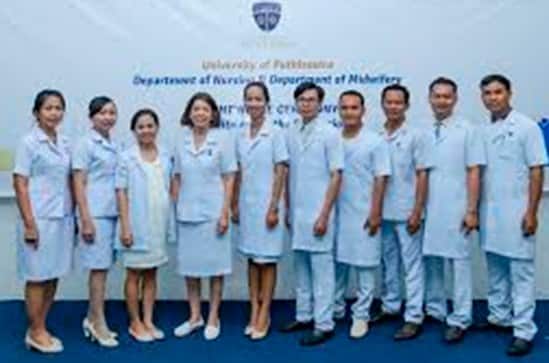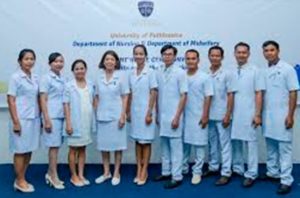 The World Health Organisation (WHO) has declared 2020 as the International Year of the Nurse and Midwife. Worldwide, nurses and midwives play a vital role in providing health services, and they can often be the first and only point of health care in their communities. Nurses and midwives are the largest workforce globally and provide support across the life course for individuals, families and communities and provide invaluable leadership for health protection and preventative healthcare. Nurses and midwives are essential to the achievement for universal health coverage. Nurses and midwives constitute more than 50% of the health workforce in many countries, and also more than 50% of the shortfall in the global health workforce to 2030. Strengthening nursing will have the additional benefits of promoting gender equity (SDG5), contributing to economic development (SDG8) and supporting other Sustainable Development Goals.
UP is proud to support the Faculty of Nursing and Midwifery and nurses and midwives throughout Cambodia and will be contributing to the NursingNow! Campaign, a three-year effort (2018-2020) to improve health globally by raising the status of nursing and contributing to country-level dissemination and policy dialogue around the State of the World's Nursing report.
Year-3 pharmacy students started their hospital Pharmacy internship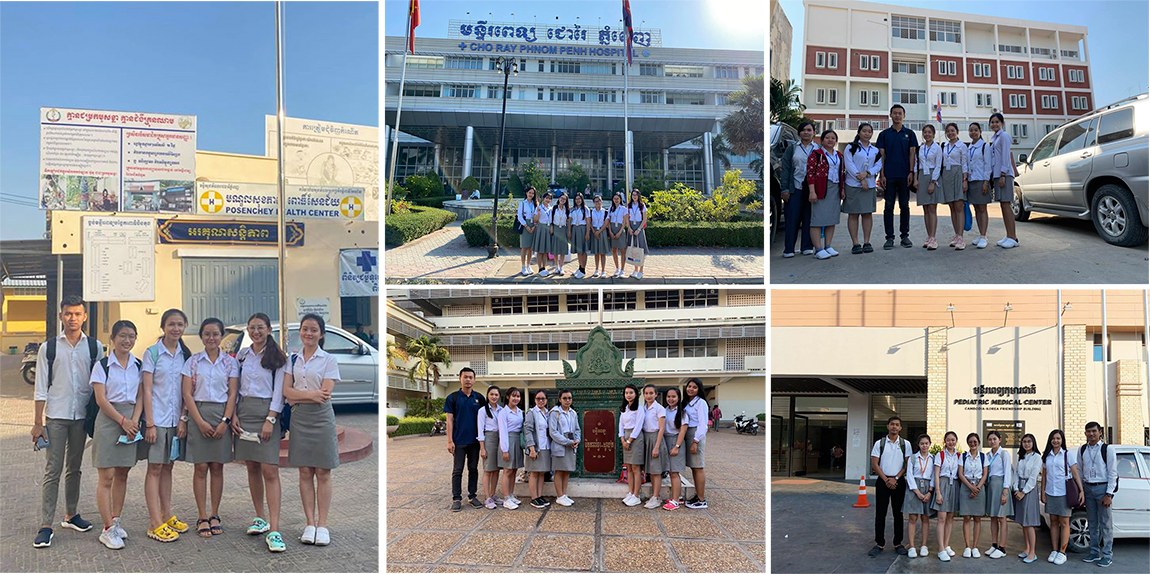 92 Pharmacy students from year 3 just began their internship for the first time in their student lives. Their internships are taking place in different hospital pharmacies at both private and public hospitals in Phnom Penh. On January 04, 2020, UP Faculty of Pharmacy conducted an orientation to guide
students about the goal and objectives of this internship. At the same time, this orientation encourages students to take interest in the internship and try their best to learn and practice in pharmacies and warehouses.
FACULTY OF DENTISTRY STAFF ATTEND IMPLANT CONFERENCE IN CHIANG MAI, THAILAND

Earlier this month 5 lecturers and new graduates from the Faculty of Dentistry at UP were invited to attend the 5th Thai-German Dental Congress co-organized by Chiang Mai University, the Private Dentist Association of Thailand, and the German Society of Oral Implantology (DGOI). The main objective of the congress was to update knowledge about implantology, which is a rapidly changing field. The meeting attracted world class speakers from all over the world including Germany, Australia and Thailand. Increasingly dental implants are becoming accepted as the best possible option to replace missing teeth, and it is important that our own UP dentists and students are able to provide such treatment with a high level of competency.
The 5 UP dentists who attended the conference (Dr Horn Sereybot, Dr Tak Ranuch, Dr Soy Rasy, Dr Kaing Koung, and Dr Boy Vanseng) will share their knowledge and experience with our undergraduate students who currently study implants in the final year of the DDS program. Students who pass the implants course can provide implants to patients for only $300 (including the crown). UP has a collaboration with the Chiang Mai University Center of Excellence in Implantology to help improve implant education in Cambodia. UP aims to become the leader of dental education in Cambodia in the future, and employing the top dentists and dental specialists to teach our students modern techniques is one important way to achieve this goal.
Chulalongkorn University offers many scholarship opportunities for UP postgraduates

During the 38th Board of Direction of Asian Association of Schools of Pharmacy (AASP), Dr. Sin Chea had the opportunity to meet up with other deans and professors from other universities in Asia. One of them is from Chulalongkorn University. After the discussion, both universities agreed to support UP postgraduates to pursue their master degree and Ph.D at Chulalongkorn University. This is such a great news!
UP DENTAL GRADUATES PROVIDING WORLD CLASS DENTAL TREATMENT
UP dental students have 4 years of clinical training during their time at UP. More than half of our clinical tutors are specialists, who happily to share their knowledge and skills with the students. We have been hearing good reports from employers about the quality and abilities of our new graduates. Dr Khy Daravuth was one of the top students in our first batch. After graduation last year, he joined the Rowen Dental Clinic and has established himself as an excellent cosmetic dentist. His team includes Dr Chea Senghuy and Dr Menglong from the same class, who worked together on these cases.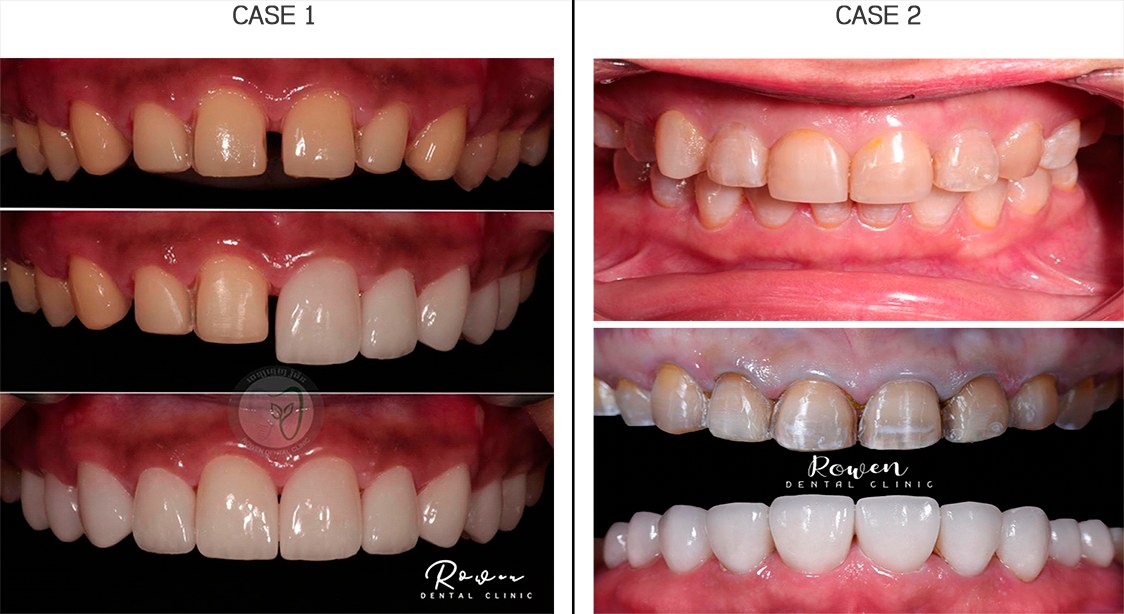 Case 1: A 28 year old women who was unhappy with the colour and spacing of her front teeth. Dr Daravuth carried out a cosmetic "make over" using Emax Veneers. The results are stunning and the patient was very happy with the result.
Case 2: This 26 year old female patient took tetracycline antibiotics as a young child which caused brown staining of the teeth. The photos below show the preoperative appearance, after tooth preparation, and the final Emax veneers.
UP Faculty of Pharmacy gained momentum in 2019
UP Faculty of Pharmacy is improving continuously and gained its momentum in 2019. The following are the major achievements of the year:
1. Enrollment rate
• UP Faculty of Pharmacy had the highest number of students who chose UP pharmacy as the first priority compared to other faculties across UP and was the 2nd preferred school of pharmacy in Cambodia. This year we got 152 students who passed to study pharmacy at UP, which is about 54% of the
students coming to UP this year.
• UP Faculty of Pharmacy had the highest enrollment across UP after the national entrance exam result was released.
2. International Achievements
• UP Faculty of Pharmacy become the only school of pharmacy in Cambodia who is the academic institutional member of FIP (International Pharmaceutical Federation), in world school list of school of pharmacy, member of the board of director for ASEAN Association of Schools of Medical Technology, member of ASEAN PharmNet, member of AASP (Asian Association of Schools of Pharmacy), and member of World Union of Herbal Drug Discovery.
• Dr Chea Sin, Dean of Faculty of Pharmacy was appointed as the observer member of board of directors for Asian Association of Schools of Pharmacy from July 03, 2019.
• One of our students gets the best presentation award for research paper presentation in the International Conference on the 4th industrial revolution and its impact at Walailak University, Thailand.
• 29 students received 50%-100% travel grants to attend The 9th Asian Association of Schools of Pharmacy at Ajou University, South Korea
• Two students received the best poster awards in the The 9th Asian Association of Schools of Pharmacy at Ajou University, South Korea
3. International internship/study tours/conferences/exchanges
111 students had been out of the country to join International internship/study tours/conferences/exchanges:
• One-month international internship at the Faculty of Pharmaceutical Sciences of Khon Kaen University (KKU), Thailand (41 students joined).
• The International Conference on the 4th industrial revolution and its impact at Walailak University, Thailand (9 students attended)
• The 4th Industrial Revolution: Creating a New World for Health Professions Education at International Medical University, Malaysia (7 staffs attended)
• The 9th Asian Association of Schools of Pharmacy at Ajou University, South Korea (29 students attended with 50%-100% travel grants).
• The 6th International Pharmacy Summer School, at University of Muhammadiyah, Yogyakarta (5 students attended).
• The Asian Science Camp, China (1 year-2 student)
• The Health+ program, Lublin, Poland (1 year-2 student)
• Study tour to International University of Health and Welfare and Japanese Association of Medical Technologist (4 students joined)
• The 3rd International Conference on Pharmacy Education and Research Network of ASEAN (ASEAN PharmNET 2019), held in November 14-15, 2019,
Yogyakarta, Indonesia (15 students and one staff attended)
• National University of Singapore (NUS) agreed to accept pharmaceutical students' internship in Pharmaceutical Technology
4. Research
UP pharmaceutical students and lecturers published one full article in USA University Online Journal, 25 research abstracts and posters in local conference and magazine, and 27 research abstracts and posters in international conference and journal. As a result of this, 110 UP pharmaceutical students got actively
involved in the 38 research projects. Among these abstracts and posters, three of them received the best poster awards at the International Conference on the 4th Industrial Revolution and Its Impact, at Walailak University, Thailand and at the 9th Asian Association of Schools of Pharmacy, at Ajou University, in Republic of Korea.
5. Conferences
• The 3rd Pharmaceutical Research Conference at University of Puthisastra, Cambodia was held on December 20-21, 2018. 16 speakers joined the
conference (about 91 pharmacists and students joined it)
• The 2nd pharmacy conference was held in November 01 and 02, 2019. 17 speakers joined the conference (about 124 pharmacists and students joined it)
6. Extra-curriculum activities
• During the 1st semester break, 58 pharmacy students had completed volunteering work in community pharmacies, medical laboratories, and pharmaceutical industries.
• In the 2nd semester break, 49 pharmacy students volunteered to work in community pharmacies, and pharmaceutical industries/companies (in which 12 students found the places by their own).
• 28 pharmacy students joined project Lokun with NUS medical students and health professional from Singapore.
• 12 pharmacy students joined project Sabai with with NUS medical students and health professional from Singapore.
• 8 students joined for CHPAA Projects, held on February 11-16, 2019
• White Coat Ceremony was held on November 06, 2010 (107 students joined it)
• Successfully held community health, charity, and team building project: Medicine use review, NCD screening, Health Education, Charity, Ekiden, Team building games (January 11-12, 2019) (260 students joined)
• 1st Ekiden Race (Running event) (January 12, 2019) (150 students joined)
• STEM Festival (February 21-23, 2019)
• Community outreach (year 5 pharmacy students) (June 28, 2019) (69 students joined): Year 5 pharmaceutical students went to conduct the community outreach for 4 days from June 25 to June 28: risk factors screening for diabetes, and hypertension, health education, medicine use review and provide charity to about 4 hundred people in a commune in SR province. Students had practiced and gained a lot from this program. Moreover, we also conduct an ethnobotanical survey among people living in that commune for publication.
• Discovery Festival (June 27-28, 2019)
• Parasitology project at Takeo province (year 3 students) (July 21, 2019) (100 students joined)
• Career Conference (August 19, 2019): 5 panel discussions (around 20 students participated in each panel)
7. Students successes
1. Two batch 2 students won scholarship to continue their master degree at Khon Kaen University. This also came as a result of our good collaboration with them.
2. One Alumni passed a scholarship to study master in France due to our faculties support and recommendations.
3. Two year-2 Pharmaceutical Students went to do poster presentation at the national and international conference on biomedical sciences and medical technology 2019 from June 20-21, 2019 at Walailak University, Thailand
4. 5 Year-4 Pharmaceutical Students were accepted to join the 6th International Pharmacy Summer School at Yokyakarta in Indonesia from July 22 to August 04, 2019.
5. 29 UP Pharmaceutical Students went to join the 9th Asian Association of Schools of Pharmacy at Ajou University, Republic of Korea with 11 research posters. Two of our posters got the best poster awards among over three hundred posters presented during a three days conference from July 03-05, 2019, 9th Asian Association of Schools of Pharmacy
6. Three year-4 pharmaceutical students received three awards during the 6th International Pharmacy Summer School in Indonesia, one of them received the award as the most active student, another one received the award as the most cheerful student and the last one received the award as the friendliest participant.
7. 6 UP Pharmacy Alumni passed exam to become a government official for the ministry of health: 2 from batch 1, 2 from batch 2, and 2 from batch 3, So far 13 Alumni became government officials and work in both in Phnom Penh and province.
8. One pharmacy student was selected to join Voices of Youth Cambodia, UNICEF Cambodia through story telling competition.
9. Two staffs and two students were selected by Future Forum to join a one-week training on policy research in Mondulkiri called lab policy. All costs are covered by Future Forum.
10. Three staffs and two students will present their research projects at First Biennial Comparative Education Society of Cambodia in SR.
11. 4 UP pharmacy students won the 2nd and 3rd place in the final Kinal Prize Health Research organized by Kinal Foundation and PPM
8. Collaborations
1. Signed MoU with Ucare Pharmacy, the biggest pharmacy chain in Cambodia