The Official Newsletter of the University of Puthisastra (UP)-Vol.23 for 01st Sep 2019 Download
THE 1st UP CAREER CONFERENCE 2019

The University of Puthisastra (UP) hosts its very first, university wide Career Conference, involving staff and students across all faculties. With the strong turnout by both graduates and the industry, there are already plans to turn this into a yearly event. The Careers Conference demonstrates UP's commitment towards strengthening its partnerships with international as well as domestic brand names, from both the healthcare and the Information and Communication Technologies (ICT) industries. It also showcases UP graduates who are job ready from Day 1. This Conference is designed to enable UP graduates and connect them with potential employers, who are outstanding brand names in their respective industries.
UP is delighted to have the following sponsors taking part in the Careers Conference: Diethelm Keller Siber Hegner (D.K.S.H.) (Platinum), Eng. Go Dental Supply Company (Gold), iOne (Silver Plus Event Partner), and Dynamic Pharma Co. Ltd (Silver). Sponsors are leaders of industry, some of which are multinationals with offices worldwide. The Careers Conference will feature workshops, a discussion forum and a job fair. In the workshops, the following topics will be covered: interview skills, developing quality curriculum vitae, critically important employment skills and soft-skills such as critical thinking and communication, and professional networking.

Aside from learning how to pen a good curriculum vitae that would showcase their competencies effectively and how to present themselves for a successful job interview, graduates will also reinforce skills making them a safe bet for future employment. Graduates will also learn how to make the best of professional networking opportunities. The Conference will also feature a Leadership Workshop where participants will learn how to improve their employability skills, enabling them to be good workers and better leaders. Other workshops will also present aspects of work life in local conglomerates and multinational companies, and a panel discussion to help the graduates understand recruitment criteria of potential employers – enabling UP graduates to get the best jobs and the highest salaries. These are extremely valuable platforms that will align graduates' aspirations and job expectations with those of the prospective employers.
The forum also provides information about the current industry trends, in order to guide job seekers towards making the best possible decision for their future careers. The Career Conference aligns the gap between the expectations of job seekers and potential employers – paving the way for a lower risk of job change within a short time and a more successful recruitment exercise for employers who will find it easier to hire the right skilled candidate for their vacancies.
"UP has a long and proud history of working closely with industry to help ensure graduates have both the hard and soft skills that industry needs. The Career Conference is one of the many events that reflect our commitment to our partners and our students", said Professor Ian Findlay, President and Vice-Chancellor of UP.
---
FIVE UP MEDICAL STUDENTS JOIN ON 17th IMSPQ, INDONESIA
Recently Faculty of Medicine had successfully sent the medical students to join on 14th, 15th, 16th of IMSPQ at Malaysia and Indonesia. On august 21 -22, 2019, Deputy Dean of Faculty of Medicine, Dr. An Srim, led the medical students to join in the 17th of IMSPQ again at Jakarta, Indonesia.
IMSPQ allows not only our UP students to practice their knowledge, but importantly they can build the relation with professor and the team work in Medicine field. Moreover, UP university can improve the great potentials to the internationals. UP will hopefully continue to encourage and motivate for outstanding to join an international competition and Our University will also be promoted directly and indirectly to the society and can be stand on the international stage.

FIRST THESIS DEFENSE FOR UP DENTAL STUDENTS
On Wednesday last week a group of 3 dental students from the first graduating class, Chray Mengkheng, Da Sreykhouch and Khun Shunhour, gave the first ever Thesis Defense of the Faculty of Dentistry. In front of a large crowd of students, staff, supervisors, examiners, and the President of UP, the students presenting their research entitled "Effectiveness of Silver Diammine Fluoride for Arresting Caries Treatment in a Convenience Sample of Children at Api Wat Mean Chey Primary School ". The power-point presentation was followed by about 20 minutes of vigorous questioning from the examiners and audience, following which the examiners adjourned to discuss the results. The final outcome was that the thesis passed with Credit. The three students, examiners and Faculty of Dentistry staff then had photos taken together.


The abstract of the research is below:
Background: Silver Diamine Fluoride (SDF) is a clinically applied treatment that controls active dental caries and aids in preventing further progression of the caries process. Aim of study: To establish the effectiveness of SDF in arresting dental caries in 6-12 year old Cambodian children. Methods:
A longitudinal observational study was conducted using a convenience sample of 167 children from Api Wat Meanchey primary school who were
recruited following consent. Participants received two applications of SDF (Cariestop 30%) at six months intervals and follow-up examinations after
1 year.
Oral health education was provided to the participants at the beginning of the study and a school tooth brushing program was in place. Results: 118 (70.7%) of the participants were followed up after one year of which 56.8% were female. The mean dmft/DMFT at baseline was 10.5 (SD 7.6) / 4.6 (SD 4.9). At follow up 82.5% of open carious lesions were arrested. Conclusions: Application of 30% SDF solution two times per year was an effective way to manage caries in this very high caries risk population.
---
get to know UP Dean of Pharmacy
Dr Chea Sin, Dean of Faculty of Pharmacy, University of Puthisastra (UP), Cambodia is committed to work at UP, and dedicated to lead and make change in pharmacy education in Cambodia.
Dr. Chea Sin completed his Bachelor Degree in Pharmacy in 2002 at University of Health Sciences (UHS), Cambodia, and then a Master in Public Health at National Institute of Public Health,
Cambodia, and a Master of Education at Panhasastra University of Cambodia (PUC). In August, 2006, he graduated in Doctor of Specialized Pharmacy in hospital pharmacy from University of Health Sciences, Cambodia and University of Mediterranean, France. He had been working as an intern of pharmacy in Martigues hospital in France for 18 months (November 2004 to April 2006).
He started his professional career as a store and stock manager for all U-Care pharmacies in
Cambodia in April 2006.
From October, 2006 to January 2012, he had been working for RHAC (Reproductive Health Association Of Cambodia) as an Inventory Control Manager and Procurement Team Teader. At that time he was also a member of national contraceptives security working group at the Ministry of Health, Cambodia. From February to June 2012, he had been working as an Associate Editor/ Editing and Production Manager/Member of Management Team for PSP (Ponleu Sokhapheap Organization). In that organization, he was an Associate Editor for Cambodian Journal of Nursing and Midwifery (CJNM) and Cambodian Journal of Medicine (CJM). At the same time, he was also a principal investigator for target survey for Cambodian Journal of Medicine (CJM). From July 2012 to May 2015, he had been working for PharmaProduct Manufacturing (PPM) as R&D Manager, Deputy General Manager, and Director of Quality Management, R&D, and Regulatory Affairs, and GMP project leader. From June 2015 till now, he has been working for University of Puthisastra (UP) as Head of Pharmacy, Deputy Director of Research Committee, Dean of Faculty of Health Sciences in charge of Medicine, Pharmacy, and Medical laboratory, and finally as Dean of Faculty of Pharmacy, Chair of Curriculum Advisory Committee and Deputy Director of Research Committee for UP.
Meanwhile, he has also been a member of editorial board for ASEAN Journal of Pharmacognosy, board member of Phnom Penh Pharmacy Council, and Vice President of Regional Pharmacy Council for region 1, which covers Phnom Penh, Kandal, Kampong Chhnang, and Kampong Speu. Until now he has been publishing 1 paper locally and 8 papers internationally, 35 research posters at the international level, and 29 local conference papers, excluding three theses and the supervision of 6 Master Theses. He has edited four issues of local journals and seven issues of international journal.
He has also been a peer reviewer for one international research article. So far, he has received three awards: RHAC best performer award for 2010 (best performed staff of the year), Excellence Performance for 2015 from University of Puthisastra' president and a Cambodian youth role model appointment letter by Prime Minister Hun Sen. In 2019, he received the gold medal from Prime Minister Hun Sen for his contribution to the building of Cambodian nation.
Microbiology Workshop supported by DMDP


On 16th-17th August 2019, Laboratory Sciences Department University of Puthisastra cooperated with Diagnostic Microbiology Development Program (DMDP) conducted 2-day workshop on Basic clinical microbiology specimens, bacteria identification and method for Antimicrobial Susceptibility
Testing (AST), M02.
Workshop Objective:
1. Collaborate with microbiology institution in various universities in Cambodia
2. Assess free online resource of current standard for antimicrobial susceptibility testing, CLSI M100
3. Introduce standard recommendation method to perform antimicrobial susceptibility testing (AST) M02
4. Basic identification Gram positive and Gram negative bacteria
5. Awareness of antibiotics resistance
6. Gathering microbiology network within country
7. Introduce routine culture media and its quality-controlled from Central Media Making Laboratory
8. Enhance safety and security in laboratory
---
UP Receives 2 Scholarships for Exchange Program at Mahidol University
Choun Lina (year 6 dental student) and Dr Horn Rithvitou (dental trial research coordinator at UP) have both received scholarships to attend Mahidol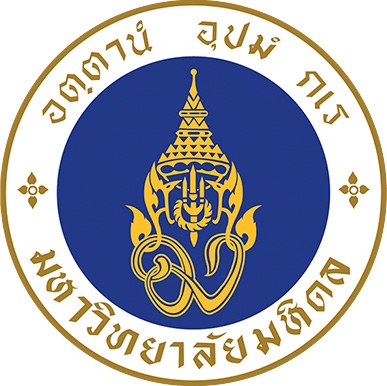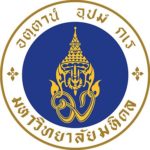 University for 2-4 weeks during August/September. Lina started his program this week which involves observation and other learning activities across many departments Mahidol, along with students from dental schools around SE Asia. Dr Vitou will be spending his time working with Faculty from the Department of Dental Public Health on a research project on silver diamine fluoride, using data from the SDI clinical trial currently underway in Cambodia. UP was very fortunate to receive these scholarships which are hard to come by.


UP English class students publish their own magazine
As part of the English classes for the year two pharmacy, students had an opportunity to look at ways of communicating information to the public a really important part of being a health professional! Communicating health messages around healthy lifestyles, responsible drug use (i.e. antibiotics) and advice is essential to the role of the of these future pharmacists. Under the supervision of Jake Pederson, the team of English Department lecturers, including Jeff Siggins, worked with the students to develop their English skills; communicate information to the public; and invent creative ways of sharing information with people. It was decided that the last task of the year would be to produce a magazine.
This was a student led project which showcased the motivation and abilities of our UP students. From coming up with the idea, to choosing the student editor, copy writing, and photography, the students managed every step of the process. The end product was a highly professional glossy magazine called UP 19. Topics presented in UP 19 included unregulated pharmacy clinics in the community; San Sebastian's famous Spanish chef; making fish amok; tourism in Cambodia; film reviews and more. The end product is something that you could expect to buy at Monument Book shop or find in the seatback pocket of an aeroplane.
Students learnt creative ways to communicate information; increased their English proficiency skills in using internet-based applications such as Canva for publishing; deciding credible sources when researching their information (WHO and Center for Disease Control – Yes! Wikipedia – No!) and using more than one source to confirm their information.
The students really enjoyed the project particularly when they produced the final magazine. Students commented that they learnt so much – but as importantly they had fun doing it! The students acknowledged the impact a teacher can have – having a teacher that believed in them; supported them; encouraged them and who was inspirational made all the difference to their experience in the classroom. Thank you Mr Siggins!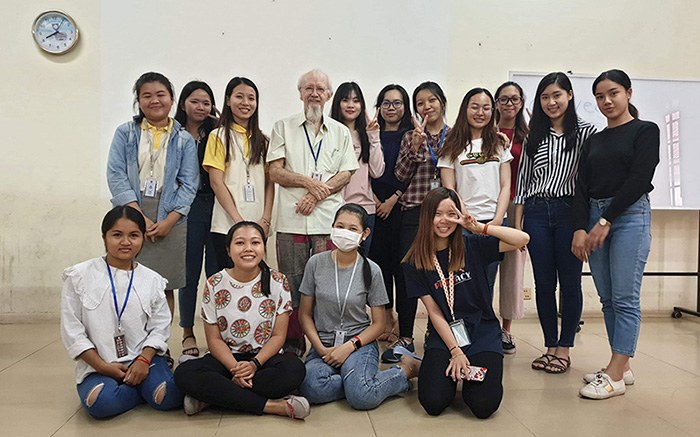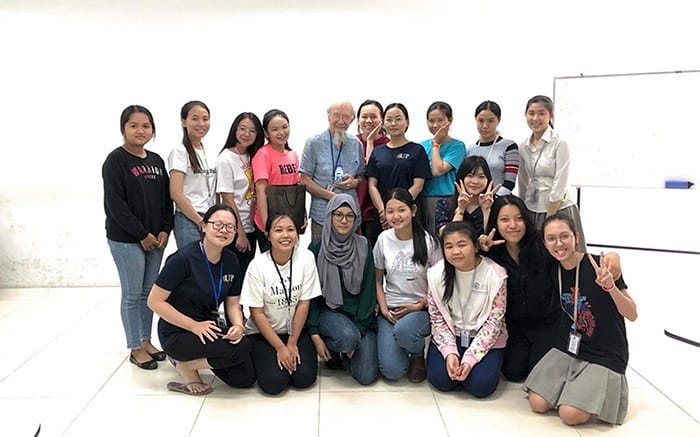 ---
Visit by AHHA dental team from Australia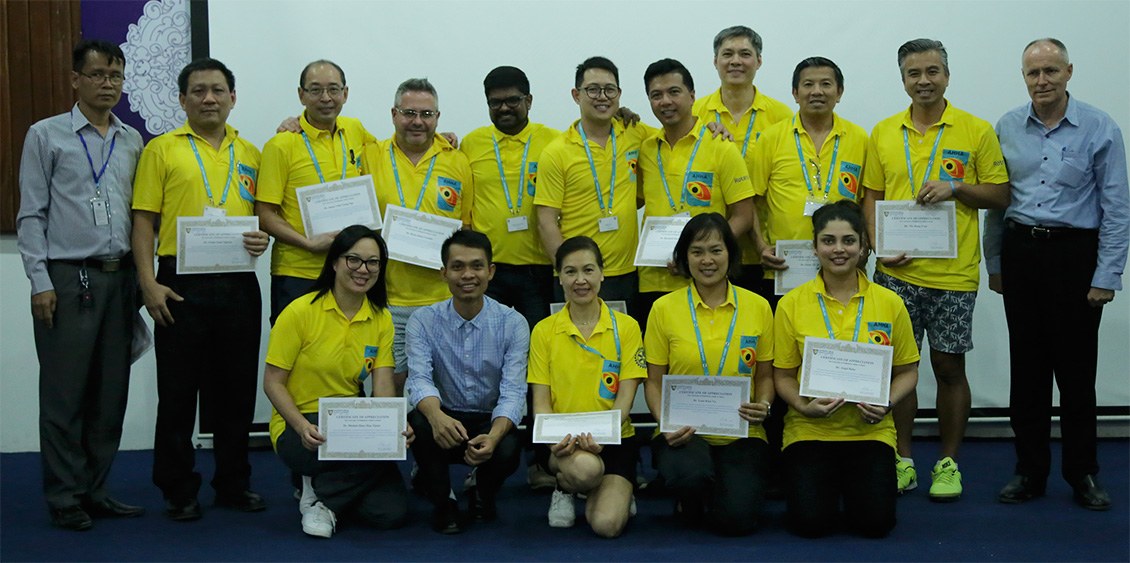 This was the fourth visit by AHHA (Australian Health and Humanitarian Aid) to Cambodia. AHHA has three branches – one branch provides free eye surgery (mainly cataract operations) to restore sight for hundreds of patients (many of them blind) from the provinces at the Khmer Soviet Friendship Hospital (in cooperation with the Khmer Sight Foundation which is based at University of Puthisastra (UP)). The second branch of AHHA is the dental team which helps provide free dental care for disabled and underserved children and adults at the UP Dental Clinic. The third branch provides medical checkups and free medicines for poor people in Phnom Penh and the provinces.
This year a large team of 20 volunteer dentists, dental assistants, and helpers from Australia spent 4 days with UP staff and students. Additional help was provided by the My Village Health Services Association and 8 staff from the National Bank of Cambodia. During the week 505 disadvantaged Cambodians were treated, including about 100 disabled children. 20 of these children with severe dental problems were referred for later treatment under general anesthesia at a private hospital. This treatment will be carried out by two UP volunteer pediatric dentists, with hospital fees paid for by AHHA. Treatment provided during the week included 398 restorations and 372 extractions. The AHHA team provided all the dental materials needed, and this year also donated some valuable pieces of dental equipment including a rotary endodontic machine, local anesthetic syringes, two portable dental units and a portable X-ray unit.
On Thursday the 4 pediatric dental specialists in the AHHA team conducted a half-day conference for students from several Cambodian dental schools, focusing on pediatric dentistry. UP is very grateful for the generosity of AHHA and looks forward to working together with them again next year.


On 22 August 2019, the group Japanese students named "GRAPHIS" including 7 nursing students, 1 biomedical students and 1 Pharmacy student have visited University of Puthisastra. GRAPHIS is a group of Student Medical Support NGO who provides medical and educational support to Cambodia. The aim of the visiting to Univeristy of Puthisastra is sharing about health care system, current health issues and for building relation between Cambodian students and Japanese students.
At the end of the visit our team were invited to join the Sakura Club which includes previous participants from many countries and aims to foster better understanding between peoples in the Asian region.
UP students and staff are very grateful to Professor Tetsu Okamoto and his colleagues at Hiroshima University, who made this extremely valuable visit possible.
---
Coding class for kids at UP!

Raintree has partnered with UP to welcome coding class in our venues. The program, called Tiny Coding Cats, is a FREE programme for 100 Cambodian students aged 8 to 12. Designed to inspire curiosity, creativity, and resourcefulness, the program prepares the young students to code variety of original animations, stories, and games in just 6 weeks. This early-stage digital education programme is a partnership between Saturday Kids and Raintree, pioneered by Smart Axiata and Smart for Cambodia. Applications are still open for young kids here: raintreecambodia.com/events/2019/8/9/tiny-coding-cats. Expected starting date: 5th October 2019.
VISIT BY DELEGATION FROM UiTM
Last Friday UP had a visit from a delegation from Malaysia's largest public university – UiTM (Universiti Technologi Mara). The group of academics and dental students from the Faculty of Dentistry had been in Cambodia to participate in a volunteer program in one province. During the meeting with UP staff and the Director of Research, Dr Tineke Water, fruitful discussions were held on academic and student exchanges, and future collaborative research. UiTM offered UP the chance to join in a multi-center study field-testing a new App they have developed to teach dental students the inferior dental nerve block injection technique on a mannequin fitted with sensors, and with visual and audio feedback. They, like us, also have a strong interest in research into oral cancer, which is also prevalent in Malaysia. The team leader, Professor Hazmyr, Head of OMF Surgery, extended a warm invitation for UP staff and students to attend their UiTM Dental Students' Scientific Conference in mid-February 2019. Several overseas dental schools join this conference which includes a range of activities including oral and poster presentations, 3-minute thesis presentations, a suturing competition, table clinics, and video and photography competitions. 10 UP dental students will be going to spend a week on exchange at UiTM later this year.

ICT CAREER FORUM
Tech Jobs of the future was the main topic of the ICT Career Forum. Students were very enthusiastic to learn more about the trending career path in technology. Big Thanks to the volunteers and all the panelists Mr. Kim Ann from MPTC #CyberSecurity, Mr Sopheakmonkol Sok founder of Codingate #SoftwareDevelopment, Mr Yin Seng AI Lead at Slash Foundry #AI, Mr. Sok Heanh Data Scientist at Smart Axiata #DataScience, Mr. Ming Jin Siew Senior Data Analyst at Smart Axiata #DataAnalytics

---
6 UP pharmacy graduates were selected to be government officials for the MoH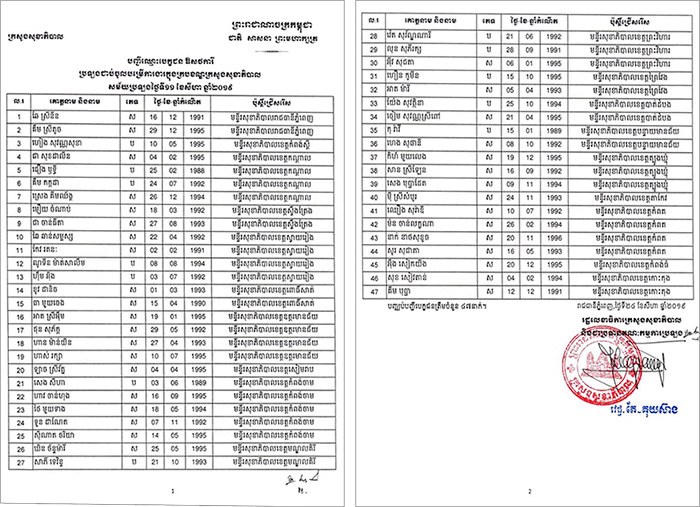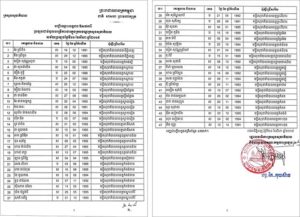 Phnom Penh- on August 11, 2019, 472 pharmacist candidates took national exam to be government officials for the Ministry of Health (MoH) in different provinces of Cambodia. 47 pharmacists passed the exam, in which 6 of them graduated from the Faculty of Pharmacy of University of Puthisastra (UP).
Congratulations and Kudos to MOEUY Chamnab, CHEA Chanthida, HAN Mannyinn, HAS Reaksa, SAPHY Tevin, and UNG Seakying for passing this exam; they are going to work in Steung Treng province (x2), Udor MeanChey (x2), Mondulkiri, and Kompong Thom respectively.
We wish you success and happiness in your new jobs! Be a role model at your workplace and do your job well for a better healthcare in the community!
Scholarship to Beijing!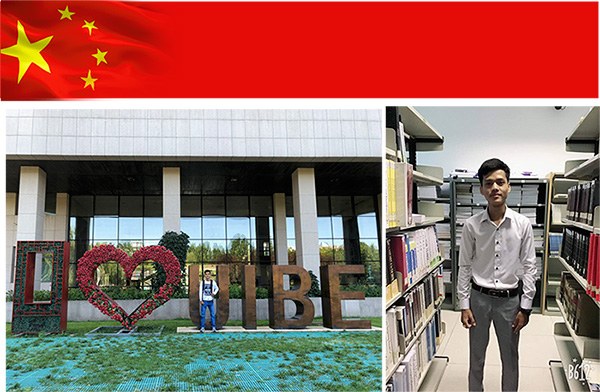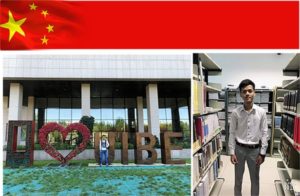 One of our ICT student in Foundation Year, Kang Saoraksmey just arrived in Beijing where
he will continue his studies in Computer Science at the University of International Business
and Economics of Beijing (UIBE). UP is fully supportive of promoting international
opportunities to our top students.
Congratulations to him!
20 year-4 pharmacy students are ready for international internship in Thailand during this summer break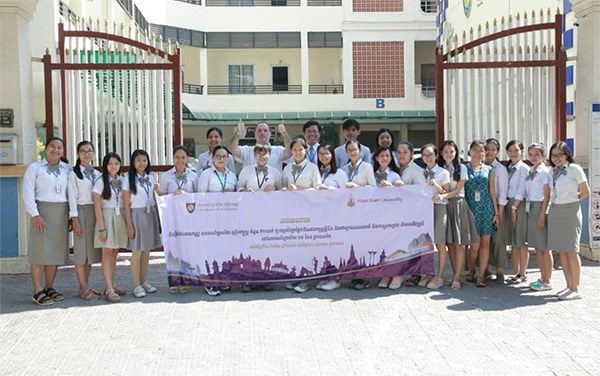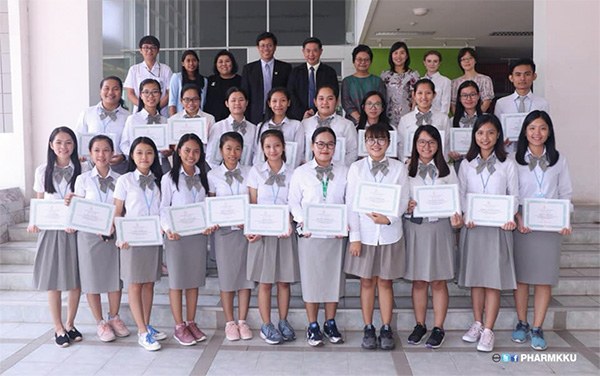 An internship can provide career-building experience and be a stepping stone to the dream job. Seeing the importance of gaining skills and experiences which might not be acquired in a school setting, our students have decided to spend their vacation to intern at the Faculty of Pharmaceutical Sciences of Khon Kaen University (KKU) in the North-East of Thailand. They are going to do their one-month internship in 4 different domains namely Clinical Pharmacy (14 students), Community Pharmacy (4 students), Research and Development (1 student), and Pharmaceutical Technology (1 student). Apart from that, students will also be able to make new friends, exchange the environment of study and cultures, which is very good for their self-development as university students.
---
5 research abstracts accepted as poster presentation at the 6th ICPAPS & the 3rd ASEAN Pharmnet 2019 in Indonesia
Aiming to facilitate the experts meeting and sharing the knowledge among the pharmacists, the Faculty of Pharmacy, Gadjah Mada University will hold the 6th International Conference on Pharmacy and Advanced Pharmaceutical Sciences (ICPAPS 2019). The ICPAPS 2019 is themed "Exploring the Local Wisdom for Advanced Pharmacy Education and Research" and organized in collaboration with the 3rd International Conference on Pharmacy Education and Research Network of ASEAN (ASEAN PharmNET 2019) which also occurs every 2 years.
The Faculty of Pharmacy, University of Puthisastra (UP), has encouraged students to attend this important conference. Finally, 5 research abstracts of 12 pharmacy students (from foundation year to year III) were accepted as poster presentation. Interestingly, two among the 5 abstracts were conducted by foundation year pharmacy students who just early started their bachelor of pharmacy. They are so excited and looking forward to this fantastic journey.
Their topics of research are as follows:
1. Traditional Therapeutic Model Applied by Folk Healers in Koh Kong Province, Cambodia: A Qualitative Study
2. Phytochemical and Thin Layer Chromatography Analyses of Methanolic Leaf Extract of Citrus medica L. (Reaksaa) Native to Cambodia
3. Phytochemical and Thin Layer Chromatography Analyses of Methanolic Root Extract of Combretum trifoliatum Vent. (Voa Troahs) Originated in Cambodia
4. Marine Phytochemical and Thin Layer Chromatography Analyses of DifferentTissues of Carcinoscorpius rotundicauda Latreille (Horseshoe Crab) Originated in Cambodia
5. Polyherbal Formulation Used During Postpartum Healthcare: Steam Sauna Practiced by Women in Cambodia
We hope that our students will have a great time in Yogyarkarta meeting with other researchers, academia, students, practioners in health institutions and industries, policymakers, and communities from all over the world to exchange and share one another experience and research results in different aspects related to pharmacy and pharmaceutical sciences.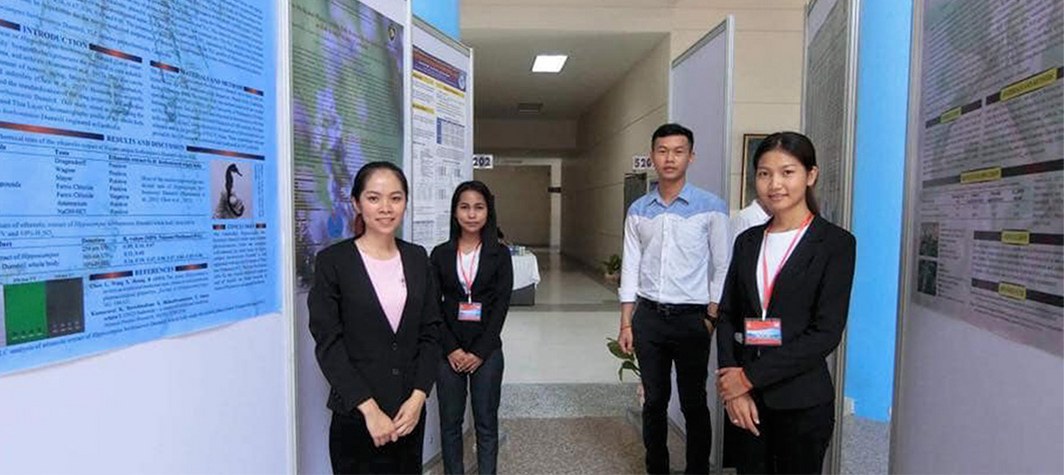 ---
UP PLANNING TO HOLD SEVERAL
POSTGRADUATE COURSES
IN DENTISTRY IN NEAR FUTURE

UP is finalizing plans to start several postgraduate courses in the near future for Cambodian dentists who wish to improve their knowledge and skills in certain areas of dentistry, or become clinical specialists. The courses planned include:
The Faculty of Pharmacy, University of Puthisastra (UP), has encouraged students to attend this important conference. Finally, 5 research abstracts of 12 pharmacy students (from foundation year to year III) were accepted as poster presentation. Interestingly, two among the 5 abstracts were conducted by foundation year pharmacy students who just early started their bachelor of pharmacy. They are so excited and looking forward to this fantastic journey.
❖ Diploma of Orthodontics (part-time over 2 years)
taught by a visiting group of orthodontists from Canada and US under the International Federation for Dental Education (IFDE) and Health Volunteers Overseas (HVO). The Director of the course is Dr Jean Marc Retrouvey who is Director of the Craniofacial Program at McGill University in Montreal, Canada. Dr Retrouvey has successfully run this course at the two largest national dental schools in Vietnam for several years. The course is taught in modules, and each dentist is supervised to treat two fixed appliance cases in the UP dental clinic over the duration of the course. Local orthodontists will be involved in supervising the clinical aspects. 20 dentists will be accepted into the course which will probably start in March 2020.
❖ Diploma of Implantology (part-time over 18 months)
taught by a group of highly qualified and experienced specialists (implantologists, periodontists, prosthodontists) mainly from Australia. The course Director is Dr Patrick Tseng who has been a regular visitor to Cambodia in recent years. The course is based on a similar program that has been running for many years at an Australian university. Up to 15 Cambodian dentists can take the course, which is not sponsored by any one implant company. Dentists will need to treat a minimum of 5 patients during the course. The course will be taught in four 2-week on-site modules – with distance learning and additional clinical practice occurring in between. Local specialists in periodontics and prosthodontics will provide support and help supervise clinical cases, including implant planning, implant placement and final restorations. The course is planned to start in December 2019.
❖ Master of Orthodontics and Master of Endodontics (3 year programs)
These courses for a small number of dentists are still in the planning stages and more will be announced later. The courses will utilize expert
international and local lecturers, and will be of a high standard.
For more information, interested dentists can contact Dr Kong Kalyan, Assistant Dean in the Faculty of Dentistry or Tel: 085-415044.