Global education is real at UP!

For the last 4 years, UPs Faculty of Pharmacy has been Cambodia's Top Pharmacy educator providing the best opportunities for pharmacy students to showcase their research and present their abstracts at the international conferences.
For example, in the first seven months of 2019, 68 UP pharmacy students went abroad for international internships and conferences in Thailand, Indonesia, Poland, China and the Republic of Korea. Among them, 21 pharmacy students conducted international internship at Khon Kaen University, Thailand; 9 pharmacy students attended the international conference at Walailak University, Thailand; 2 pharmacy students joined the International Conference in Nakhon Si Thammarat, Thailand; 5 pharmacy students will join International Pharmacy Summer School at Universitas Muhammadiyah Yogyakarta, Indonesia; 29 pharmacy students got travel grants to attend the Asian Association of Schools of Pharmacy Conference at Ajou University, Korea; 1 pharmacy student will do exchange program in Poland; and 1 pharmacy student will attend the conference in China.
UP trains Cambodian students to be global citizens by teaching intensive English programs which are taught by native speakers. Every Tuesdays and Thursdays from 12:30pm-1:30pm, UP also there is an English corner where students can have a chance to practice their English with native speakers in an informal setting!
UP is making sure that within the next 5 years, Cambodia will be full of skilful and talented researchers that could bring innovative solutions to help solve the many problems in Cambodia's health-care system.
UP FORMS 'YOU SMILE I SMILE' CHARITY DENTAL TEAM TO HELP DISABLED CHILDREN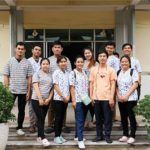 UP has recently formed a group of volunteer students who will focus on improving the oral health of children with Special Needs (eg those with intellectual and physical disabilities).
Under the supervision of team leader Dr Chray Mengkheng, the 10 students from year 3 have already visited schools for disabled children and carried out dental examinations and fluoride applications. This special group of children often miss out on chances to get dental treatment or they are forced to participate in treatments in settings that are unwelcoming for them. The new "You Smile, I Smile" team has purchased colourful dental gowns to wear, a soft floor mat and pillows for some of the children to lie on, in order to make dental treatment friendly and accessible. Although the work is sometimes challenging, the students enjoy the experience and love meeting and getting to know the children.
It is hoped that through ongoing training and experience, the "You Smile, I Smile" dental team can bring basic preventive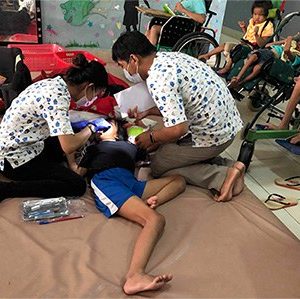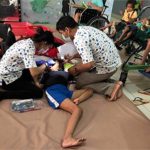 and treatment services to these children, mostly on-site in the schools which they attend. Some children will be offered more advanced treatment later at the UP Dental Clinic.