UNIVERSITY OF PUTHISASTRA
TO REOPEN ON 21ST SEPTEMBER 2020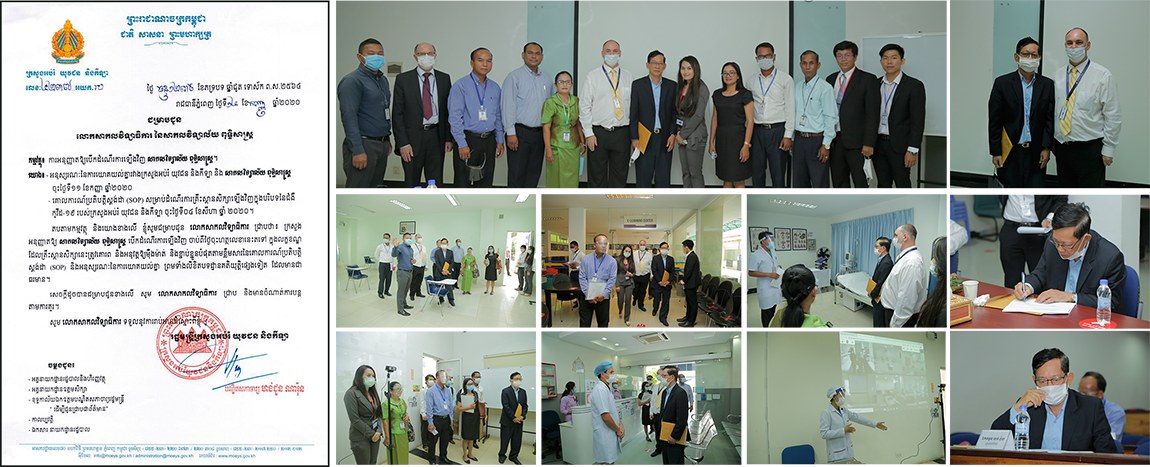 I am delighted to give you some excellent news: -following a successful inspection visit by the Ministry of Education, Youth & Sport (MOEYS) and lots of work behind the scenes at UP, I can now confirm that we will be physically reopening our campus to all students and staff on 21st September 2020.
The University of Puthisastra (UP) was deeply honored on 9th September 2020, to welcome an official inspection and MOU signing led by H.E Yok Ngoy, Secretary of State of the Ministry of Education, Youth and Sports (MOEYS) and delegates for the reopening of the University of Puthisastra. UP is now set to reopen and extend the warmest welcome to our students on the 21st of September 2020. His Excellency the Secretary of State, and MOEYS delegates praised the university's preparations and were very pleased, following their personal examination of the excellent implementation of the new Standard Operating Procedures (SOP) and other health, hygiene and safety measures required by the Ministry and Royal Government of Cambodia.
MOEYS also praised UP's commitment to COVID-19 education and information. The MOEYS delegation were also very pleased with their inspection of UP's online learning systems which have allowed almost 15,000 hours of online learning and assessment to continue during the last 6 months of lockdown. UP would like to extend our heartfelt appreciation and thanks to H.E. the Secretary of State and the other delegates for spending their valuable time to visit and inspect our university. We are delighted to announce that UP exceeded MOEYS very high standards in keeping staff and students safe, and we are proud to announce that UP will be reopening very soon.
UP is one of the first universities in Cambodia to be allowed to reopen. We are really looking forward to welcoming both students and staff back to campus – UP has been very quiet without you. We know from all the messages you sent to us in the last six months that you've missed us. We have missed you too!
Our return to campus marks a move into a new era of teaching and learning. Fortunately, UP has led the way in Cambodia with online learning and we will continue to do so, because providing students with the best possible education remains our number one priority.
Everyone at UP is looking forward to extending our warmest welcome to our students when they return to campus. We are excited to move into a new era of teaching and learning that will take place with the highest standards of hygiene and safety practices in place to combat any risk of COVID-19 transmission.
| WHAT'S UP ON CAMPUS | -16-17-18 September 2020, pchum ben days                              -24 september 2020, constitutional day |
| --- | --- |