The Official Newsletter of the University of Puthisastra (UP)-Vol.36 for March 2020 Download
UP REMAINS OPEN AND FULLY OPERATIONAL
CORONA VIRUS

– SENSIBLE PRECAUTIONS

A new coronavirus (SARS-CoV-2) which causes the disease called COVID-19 is spreading across the world. For simplicity, the situation will be referred to as COVID-19. Although the seriousness and impact of the virus is currently unknown, it is prudent to prepare for potentially serious disruption which will affect all parts of society, including UP.

Universities are trusted sources of information and UP, as a one of Cambodia's leading health sciences universities, has particular responsibility to pass on authoritative, reliable and truthful information and updates to staff, students and the general public. The Cambodian Government and WHO are providing good, regularly-updated advice and information on the disease and UP is following these closely.

The safety and well-being of all UP staff and students, and UP's wider community is very important. Finding ways to maintain UP's core business (education) during the outbreak is also a priority.

UP has therefore developed a staged approach in response to COVID-19, based on the advice of WHO and the Cambodian government. But the situation is changing rapidly so if changes occur, we will let students and staff know as quickly as possible.
CURRENT SITUATION AND PRECAUTIONS
1. Promote handwashing on a regular basis – soap/handwash is available in toilets and public areas including library and Canteen. Dry hands with paper towels after using the toilet.
2. Students and staff with fever > 37.5 °C and cough or sneezing must avoid coming to UP until they are better. Outside UP, such students and staff should wear a mask when in the vicinity of other people to help prevent transmission of infection to others. UP will provide greater flexibility in regards to attendance, when absences are due to respiratory infections.
3. All staff and student overseas travel to high-risk countries have been canceled. Current high-risk areas are mainland China, Japan, South Korea, Spain, Italy and Iran. Travel has also been cancelled to those countries who have imposed relevant travel restrictions.
4. People who have recently (from 1st March) returned from a region with a high level of COVID-19 infection will not be permitted to enter UP. Current high-risk areas are mainland China, Japan, South Korea, Spain, Italy and Iran. Signs will be erected outside gates informing staff, students and the public.
5. Everyone entering UP will be required to apply hand sanitizer, including those entering the dental clinic. The gates will be partially open to facilitate the dispensing of the hand sanitizer by the security team.
6. UP continues to educate staff and students on COVID-19 and how to prevent transmission. This is being done by email, Facebook and in all classes including reminders at beginning of each class about appropriate hygiene measures and signs of infection.
7. Staff and students are being encouraged to purchase hand sanitizer for personal use
8. UP continues to manufacture hand sanitizer for use within UP, and for sale to staff, students and the public
9. All meeting room, office and library furniture such as desks/tables, computer keyboards and mice should be wiped down with sanitizer/disinfectant before use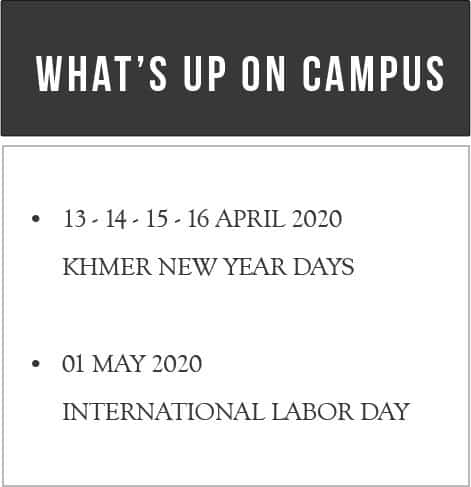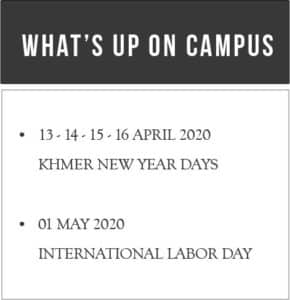 1o. All staff and students are asked to avoid unnecessary physical contact (including shaking hands and social kissing) and where possible observe a 1.5m distance between themselves and other people.
11. Drink bottles should be for personal use only and not shared. UP provides free clean water at the dispenser near Dental Clinic. Drinks are also avail able from Coffee-Box and canteen.
12. UP is preparing to continue to educate students and staff how to work remotely in case of illness or in the event that UP closes for a period of time
13. IT Department is putting IT systems in place and ensure that access to email and work files remain accessible even during a period of university closure should UP close.
14. Each Faculty and Department is developing plans of how students can continue to learn and how staff can continue to work and communicate during health-related absences and/or closure of the university. Academic Board is collating such plans to ensure consistency.
KEY MESSAGES ARE:
Practice good hand hygiene (frequent hand washing with drying of hands; use of hand sanitizer)

Practice good respiratory hygiene (cough or sneeze into elbow or a tissue, then bin it and wash/dry hands)

3. Avoid inappropriate/unnecessary use of masks

4. Avoid shaking hands and social kissing

5. People who have recently (last 2 weeks) returned from an area experiencing high numbers of COVID-19 cases, and people who exhibit symptoms of COVID-19 should self-isolate until they recover. Those become seriously unwell and/or develop a fever, you should seek medical attention. They should not come to UP until better.

6. Those who have respiratory symptoms (eg cough, runny nose, sneezing) should wear a mask to protect others from droplet infection.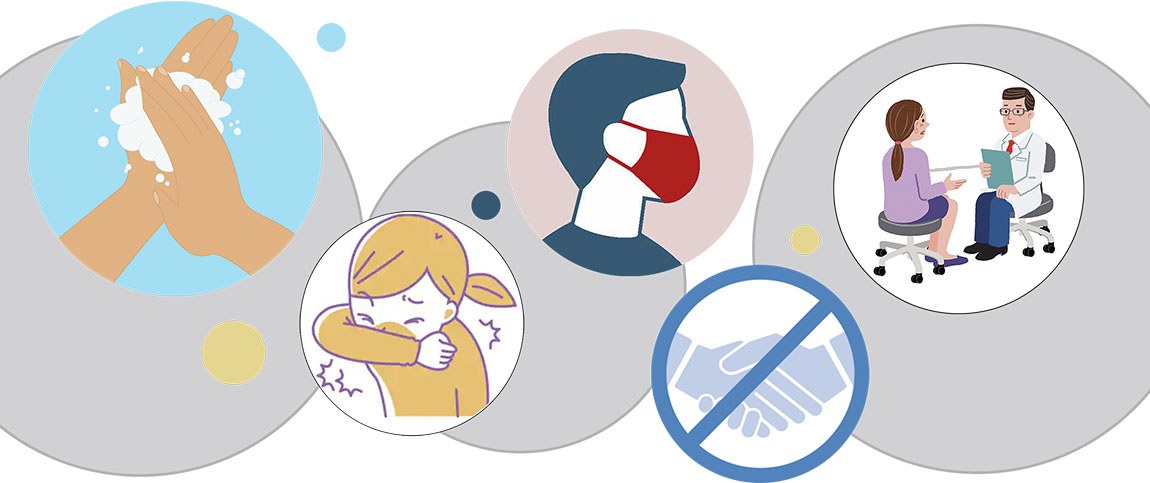 APPROPRIATE HYGIENE MEASURES INCLUDE:
Washing your hands regularly with soap and water or with sanitizer
Cover your mouth and nose when coughing or sneezing
Avoid contact with anyone who has flu-like symptoms including fever, sore throat, cough, or shortness of breath
Seek medical attention if you feel unwell
If you chose to use a mask, use it appropriately
Avoid sharing food, cutlery, crockery and other personal hygiene items
Avoid physical contact as much as possible e.g. shaking hands, social kissing
Avoid touching your face, shaking hands and rubbing your eyes as much as possible.
Handrub (sanitizer) made by UP Laboratory to address
Covid-19 pandemic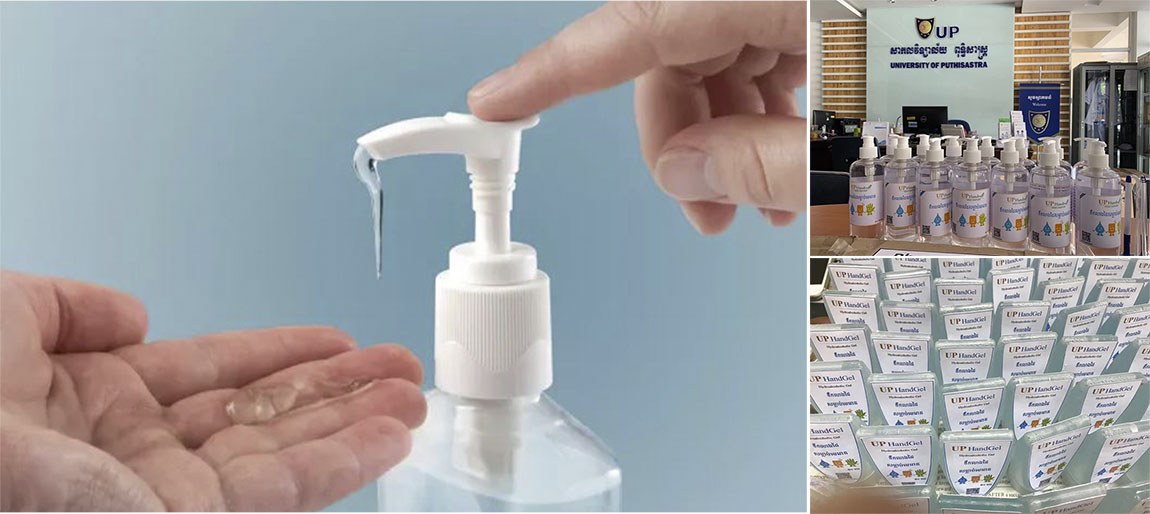 UP and WHO are encouraging everyone to practice hand and respiratory hygiene and safe food practice. This has resulted in the price of protective masks, hand sanitizers and raw materials particularly alcohol to has increased rapidly.
Responding to this global issue, UP's pharmacy laboratory has developed and produced handrub solution and gel in accordance with WHO-Recommended Formulation. The production of these disinfectant handrub was carefully made with appropriate raw materials and complied with quality control measures in the pharmaceutical laboratory.
So far, UP handrubs have been freely distributed to thousands of students, faculties and staff of UP. Handrub is also widely available in UP toilets, meeting rooms, front office, administrative office, finger print places, entrance gates around UP campus to promote hand washing and healthy hygiene.
Faculty of Pharmacy also produced handrub to distribute freely to the public in Koh Kong town few months ago as well as making UP handrub available in the exam rooms during National Exit Exam. Not only does it reflect UPs contribution to preventing COVID-19 to UP staff and students as well as the wider community, it reflects that high quality of staff and resources available within UP Faculty of Pharmacy.
The Faculty of Medicine Provides Free Screening for Liver Fibrosis at UP
Liver fibrosis is a liver condition that may progress to liver cirrhosis, a disease that can lead to very serious complications and even to death. The Faculty of Medicine at UP is conducting a Ministry of Health-approved study utilizing FibroScan®, a special ultrasound-like machine, which can measure the presence and extent of fibrosis of the liver.
The study started on 3rd March and involves people who are not aware of, and have never been diagnosed with any liver disease. The screening is voluntary and free and involves adult people (over 18 years old). The times are Tuesday (8:30am-12:00pm), Thursday (8:30am-12:00pm & 2:00pm-5:00pm) and Friday (8:30am-12:00pm). The screening is done in room L11, first floor, Building L (above the Dental clinic), Street 180 entry of UP Campus. Participants will receive information about the results of their exam immediately after its completion. The exam is conducted by a specialist doctor certified in the procedure, does not cause any harm or pain and lasts 10-15 minutes. We plan to study at least 500 persons; so, take advantage of this opportunity, come and get screened – its free and could save your life!

UP Nurses and midwives Pledge at Nightingale Ceremony
On 3rd March, 2020, the Faculty of Nursing and Midwifery hosted the Nightingale Pledge Ceremony prior to clinical practicum. The purpose was to reinforce their nursing practices with professionalism, commitment, dignity and compassion in order to promote health care system in Cambodia.
Professor Ian Findlay, President and vice-chancellor and Mrs. Andrea Burke Ryan, Dean of Nursing & Midwifery Faculty also commemorated Mrs. Florence Nightingale "Lady with the lamp" who was the first founder of scientific nursing care. The ceremony was commemorated by students holding candles to represent bringing light into their profession. The students also encouraged by the phrase, "Care of the patients with ethical professionalism and with all of your heart as you wish to get best care when you ill".
Bachelor of science in nursing bridging program

UP Pharmacy Student wins Hun Sen Research Runner-Up award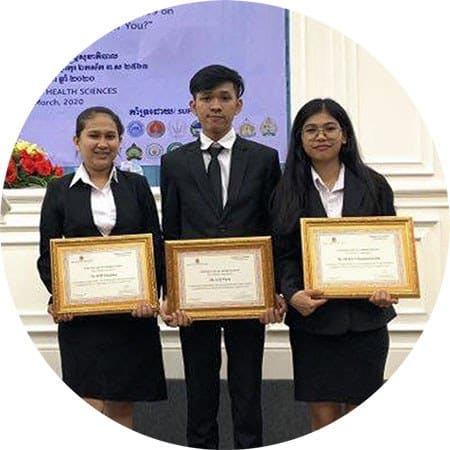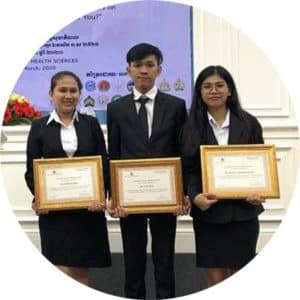 Pirou LAY, UP year-3 pharmacy student (who teamed up with Chandina KIM and Sokunsereyrath DOEUN, UHS year-3 medical students) won runner up Award at Samdech Techo Hun Sen's Research Prize 2019 under the theme "What kind of University is ideal for you?" which was organized by Ministry of Education, Youth and Sport and Rector Council of Cambodia.
Pirou's team had been preparing hardly for almost 4 months for this competition. Their research topic was about what resources Medical Universities needs to address the challenges of 21st Century learning and teaching. During the selection process, 52 research teams from 17 different universities in Cambodia had summited their conceptual notes and applications. Only 29 teams were selected in the first round and invited to attend the workshop held at University of Health Sciences on the 5th of November, 2019. In the second round, research teams were required to submit their research proposal. Only 10 out of 29 research teams proceeded to the next round on the 24th of December, 2019 when the selected teams submitted their full article. In the final round, 7 teams had completed their full article and they were required to do the presentation using slide presentation, poster, or video clip on the 5th of March, 2020 during honorable participation from H.E Dr. Hang Chuon Narong, Minister of Education, Youth and Sport. Although another six teams including Pirou's team did not win the award, it provided the team with a great motivation and insight experiences in the field of research. Pirou's team was especially proud to be the youngest team – 3rd Years, other teams were from Yr 6 and above. UP is very proud of Pirou and his team – it demonstrates a strong future in Cambodian research. Well done Pirou's team!
UP Medical Students Join Laparoscopic Surgery Simulation Training at Sunrise Japan Hospital
As part of UP-Sunrise Japan Hospital cooperation, on 11th March 2020 seven UP medical students were invited to join the Laparoscopic Surgery Simulation Training offered by Dr. Manabu Okawada.
Laparoscopic surgery is a modern technique that causes less pain, shortens the time in the hospital after surgery, and leaves little scars. We are pleased that our students have the opportunity to get acquainted with modern surgical techniques thanks to the cooperation with Sunrise Japan Hospital.

Incoming Programming Course from ICT Department Join the Python Bootcamp (Level 1)!

UP DENTAL CLINIC INTRODUCES DR SOY RASY SPECIALIST IN RESTORATIVE DENTISTRY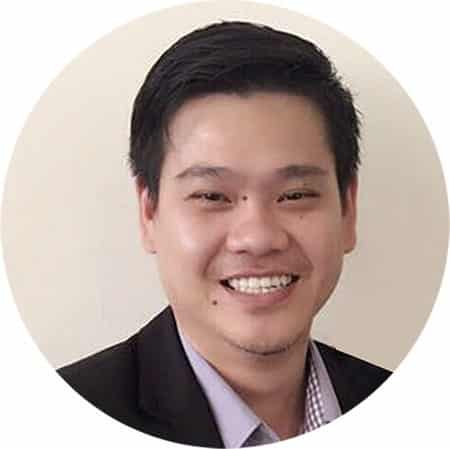 Dr Rasy undertook his Masters in Restorative Dentistry (which included endodontics) at Khon Kaen University in Thailand. Since his return, he has become one of our most popular and hard-working clinical tutors, as well as leading the course in restorative dentistry and providing treatment for private patients.
Dr Rasy is well known for helping students who encounter problems with their endodontic (root canal treatment) cases, such as broken instruments in the canal, or blocked canals. Dr Rasy is also expert in the use of the Dental Microscope – which has helped enormously in managing such difficult cases.
Dr Rasy welcomes private patients who wish to receive high quality dental care at reasonable prices.
Delhi Pharmaceutical Sciences and Research University, India offers many exchange program and training opportunities for UP students and faculties
Delhi Pharmaceutical Sciences and Research University (DPSRU), is the first Pharmacy University of India established Under Act 07 of 2008, Govt. of NCT of Delhi. The University currently has 5 units: (1) Delhi Institute of Pharmaceutical Sciences (DIPSAR), (2) School of Pharmaceutical Sciences, (3) School of Allied Health sciences with center of Physiotherapy, (4) Academy of Sports Sciences Research and Management, (5) DPSRU Innovation & Incubation Foundation (DIIF). DPSRU runs courses in D. Pharm. B. Pharm. M. Pharm. (Cosmeceutics, Drug Regulatory Affairs, Pharmaceutical Analysis, Industrial Pharmacy, Pharmaceutical Biotechnology, Pharmacognosy, Quality Assurance, Hospital Pharmacy, Pharmacology, Pharmaceutics, Pharmaceutical Chemistry, Clinical Pharmacy); MBA (Pharmaceutical Management); MPH (Master of Public Health); MHM (Master of Hospital Management); B.Sc (Sports Science) with pharmacy focus and certificate courses in Yoga. From 2018-19, several new courses have been planned including post-graduate courses in sports sciences and genemic based drug delivery. DPSRU also strives to extend the horizons and explore the unimaginable potential of Pharmaceutical sciences for the benefit of human race by giving prime importance to research. Students from M.Pharm and Ph.D are involved in various research projects. From this year, DPSRU agreed to give UP pharmacy students and faculties exchange program and short training for 14-day period with free accommodation. This great opportunity will be given as another alternatives to UP pharmacy students and faculties to expand their oversea experiences. Faculty of Pharmacy is trying hard to enlarge the horizon regarding international collaboration.


As the result, UP pharmacy students are able to do their internship/exchange program/training in many parts of the world. We do hope pharmacy students will benefit much from this great opportunity.
MEET DR ANAND MARYA ONE OF UPs EXPERT ORTHODONTISTS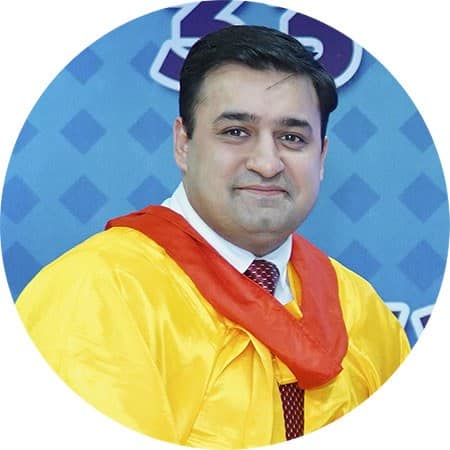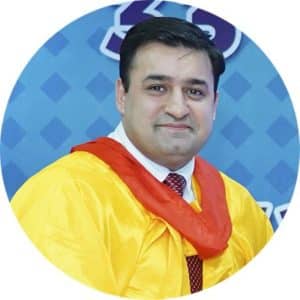 Dr Anand works part time at UP where he teaches our dental students in the field of orthodontics, as well as treating patients 3 evenings per week in the UP dental clinic. After graduating from Seema Dental College in India, he completed a Master's degree in orthodontics at the University of the East in Manila. In February 2020, he was awarded Membership of the Faculty of Dental Surgery by the Royal College of Physicians and Surgeons, Glasgow (MFDS RCPS), the only dentist in Cambodia to gain this qualification. Dr Anand enjoys study and is currently undertaking his PhD at Thammasat University on a scholarship awarded by the Thai government.
In addition to his academic activities, Dr Anand is a member of the International College of Dentists (ICD) and is the Section Chair for the Pierre Fauchard Foundation. Both of these international organizations engage in volunteer work to help the poor and to advance the dental profession through a range of activities. In his free time Dr Anand likes to travel to conferences where he is a regular guest speaker; he also writes papers on orthodontic subjects for publication. He is currently teaching in a part-time orthodontic program for overseas dentists at UP, which also involves many of our UP students.
Dr Anand is a key member of our orthodontic team and will be involved in teaching in the new Master of Orthodontics program which UP hopes to start later in 2020.
If you or your friends or family need orthodontic treatment, please make an appointment to see Dr Anand or one of our 2 other orthodontists at the UP Dental Clinic.

RESEARCH SPACE: Pharmacy education at UP, The journey so far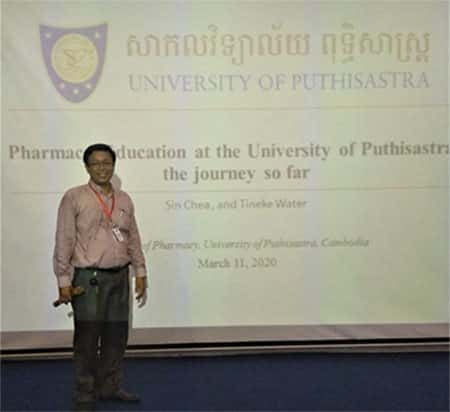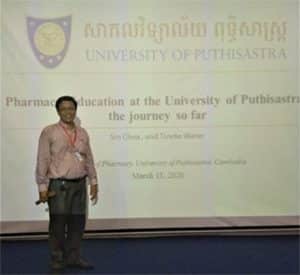 UP runs a research seminar every Wednesday afternoon at 4pm – Research Space. This week Dr Sin, Dean Faculty of Pharmacy gave a really interesting presentation on the evolvement of pharmacy education in Cambodia from a product-orientated focus to a patient-orientated focus.
Although UPs Faculty of Pharmacy follows the national curriculum developed by the Ministry of Health (MoH) and the Ministry of Education, Youth, and Sports (MoEYS), however UP has added much more to the curriculum to support student learning, practice and competencies to meet the current needs of society.
Dr Sin described how study tours and community outreach projects have been integrated into the curriculum to provide students with opportunities to practice in the real-life settings; as well as building students' soft skills. Other subjects have also been integrated into the curriculum to orient and prepare students to practice in the clinical settings, undertake clerkships and equip students with research skills. Critical thinking skills, communication skills, employability skills and English language are critical to this. The review of the development of pharmacy education at UP provided by Dr Sin, gave a fascinating comparison between the Cambodian curriculums with the regional Asian Pharmacy Education framework.
Presenting the 2020 Emerging Researcher Group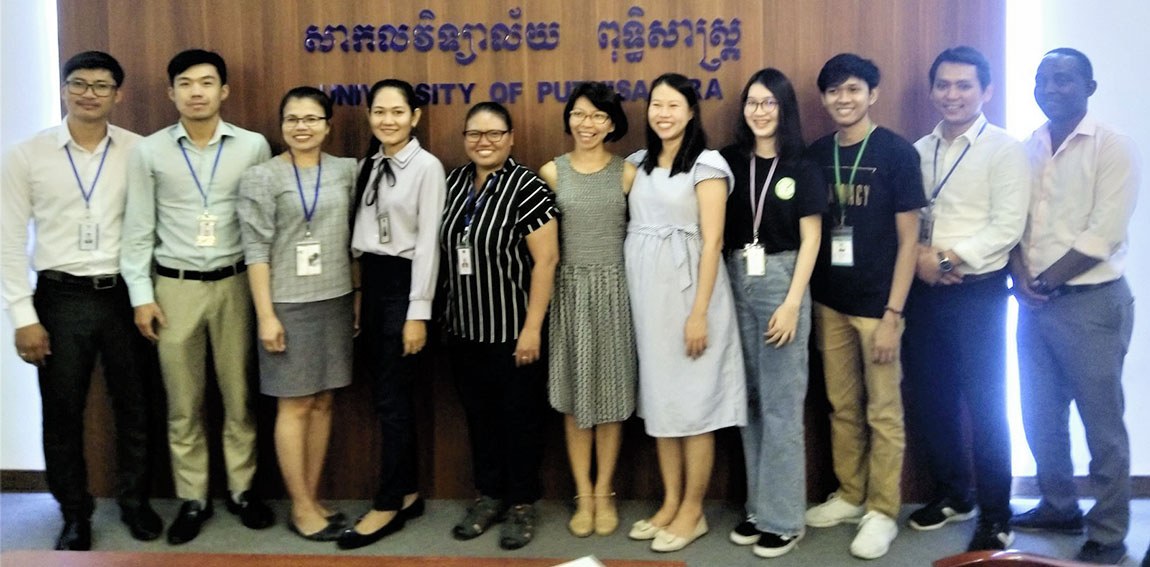 The 2019 Emerging Researcher Group with the new 2020 Emerging Researcher Group! Last year the Emerging Researchers had their proposals accepted and attended a Future Forum Policy Lab Bootcamp in Kirirom; attended the international CESCAm conference in Siem Reap hosted by CDRI; and on the 25th of March 2020 their policy briefs will be published!
The 2020 group are looking forward to more research activities; meeting other emerging researchers in Phnom Penh and belonging to a community of researchers which includes other organizations and universities. This year the Emerging Researcher group includes two students.
UP Presents GYM & YOGA Club

UP presents one of its own Gym and Yoga clubs. These club serve the purpose of getting UP students experience their extra class activities and to promote healthy lifestyle. All UP students and staff are encouraging to join this club every Tuesday and Thursday. For Yoga class, starts from 4:00pm – 5:00pm at the Club room and Gym starts from 5:30pm – 6:30pm. These clubs are available from now on and Free Admission!
To be part of the club, please contact Student Support Office at Room E12 in Building E, UP campus.
Interview by swipeRx with UP year-5 pharmacy students
Ms. Sokmeymey THY and Ms. Khemery UTH had shared their experiences in using swipeRx app during the interview by swipeRx team. It was great experiences for them as the users and the winners in swipeRx club. swipeRx is application created specifically for pharmacists, pharmacy owns, pharmacist assistants, pharmacy students and for who work and run business in the field of pharmacy in Asia allowing users could share information, access tips provided by different experts, ask and answer questions related to pharmacy profession.
Meymey and Khemery discussed the benefits of swipeRx "The 3 majored preferable contents for me are drug information, breaking news, and asking the questions in swipeRx" said Khemary. Similarly, "In the app, important contents which I like the most are medication information, hot news around the world and vaccination" said Meymey. Both students concluded that swipeRx has really contributed to development of their learning capacity in many ways. It is served as trustful reference and source of both general and technical information regarding the medications and diseases. They hope that all pharmacists and pharmacy students will be able improve their knowledge and skills through this modern app.